Prominent Dallas Pastor George Mason Challenges White Christians to Help Seek Justice for Botham Jean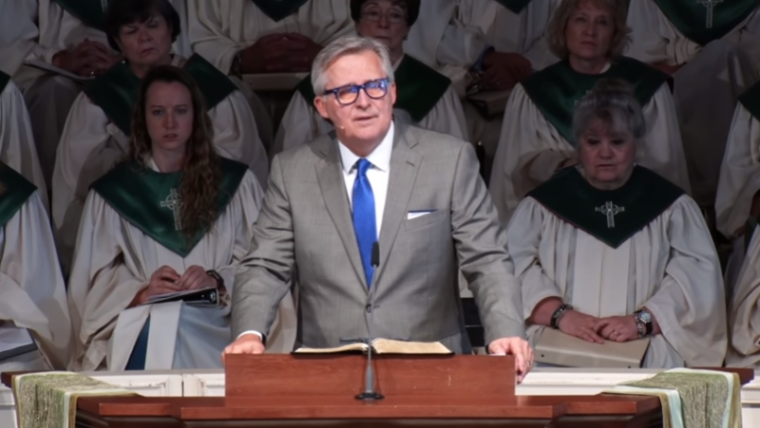 George Mason, a prominent and longtime senior pastor at Wilshire Baptist Church in Dallas, Texas, challenged white Christians on Sunday to help seek justice for Botham Shem Jean, the black man who was shot dead in his home by Dallas police officer Amber Guyger.
"It's been a hard week in Dallas. The fatal shooting of a young an impressive professional man named Botham Jean by an off-duty police officer, Amber Guyger, is a tragedy that has rocked the soul of this city," Mason told his congregation Sunday.
"This police officer shot an unarmed citizen in his own home. The victim was black, the officer white. Even if race didn't factor into the event initially, nonetheless, the preferential treatment of the officer by the criminal justice system reminds us that justice in the city and in this country is still not colorblind — whether you are white or black or brown or blue," he continued. "And then the smear campaign of the dead man's character started immediately after his funeral, which is a long and nasty practice used against people of color to gain sympathy for the defendant. Lord have mercy."
Mason said he attended Jean's memorial service last Thursday and was touched by Jean's faith. The following morning, he said he joined with a diverse group of Dallas pastors including televangelist Bishop T.D. Jakes in meeting with the city's district attorney, Faith Johnson, to discuss the handling of the case.
Once their meeting with Johnson was over, Mason said the pastors then had some "honest" discussions about how white Christians have supported Christians of color.
"One black pastor thanked the white pastors for being there but expressed frustration with the way what he called how white churches have privatized the Gospel so much so it keeps our congregations from understanding that the call for justice is not optional for Christians. And he wondered why we don't speak out more. We leave it to them. They're on their own," Mason said.
"Bishop Jakes talked about how hard it is convincing the black youths in his church to stay with the Christian way of following a nonviolent Jesus when they're hearing lots of things from other people [who are] saying 'that's not getting us anywhere.' And a culture that's dominated by white preaching that's continually defending policies that are rooted in white supremacy and racism," Mason continued.
"He says, 'I believe you care because you are in this room, but we need to know more than where your heart is. We need to hear you say clearly in your pulpits and in the streets that white supremacy and racism is wrong.' And no more generalizations. And know, it will cost you something to do so. But isn't that what Jesus calls us all to do? To deny ourselves, take up our cross and follow Him?" he asked his congregations before responding.
"It is and psst! It's not just preachers. What is God calling you to risk of your own life, in your own relationships for the sake of the Gospel of Jesus Christ? How will you deny yourself in order to take up that cross and follow Him?" he asked. "If we want to call ourselves by the name of Jesus we have to stop defending things Jesus would condemn and we have to start loving people like He did. It may cost us friends. It may even cost us our life. But after three days, give or take, there's always a rising with Christ."
One Monday, the group of pastors who met with Mason penned an op-ed published in The Dallas Morning News calling for justice in the case of Jean's death.
"Past injustices are not remedied by further injustices, but they do explain the strong reaction amongst some of our fellow citizens. For this reason, we stand together in our call for the acknowledgement of any undeserved privileges already unjustly granted to Officer Guyger by virtue of her uniform. We demand full transparency, consistency, and integrity in the days ahead as the judicial process progresses," the pastors wrote.
Jean, 26, was a worship leader at Dallas West Church of Christ and worked at PricewaterhouseCoopers at the time of his death. He graduated from Harding University, a private Christian university, in 2016 with a degree in accounting and management information systems.