'Purpose Driven Life' Pastor Rick Warren Announces Title of Third Book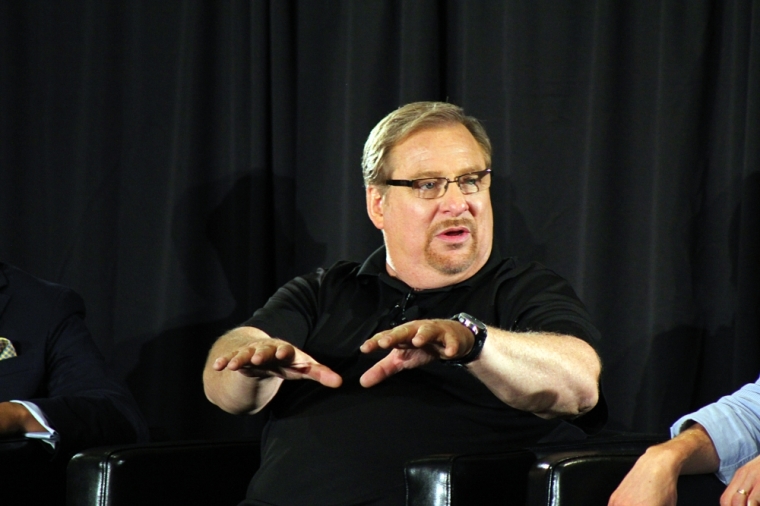 Saddleback Church pastor Rick Warren, who wrote one the most translated books in the world after the Bible, has announced the title of his long-awaited third book, which will focus on the Lord's Prayer and how Christians can apply it into their lives.
The Hope You Need, as his new book is titled, will draw inspiration and closely analyze the Lord's Prayer, which is one of the most widely known Christian prayers in the world.
"[The Lord's Prayer] gives us 10 pictures of God, it gives us 10 reasons for hope, it gives us 10 promises to build our lives on, and it gives us 10 steps for renewing our lives and growing," the pastor explained.
Warren revealed that he began writing a third book around Easter two years ago, The Gospel Herald reported, but it was postponed following the tragic suicide of his son, Matthew.
"I decided to put the book on hold ... I was in no shape to write a book. I thought, 'It's not time ... when God wants me to write it it'll come along,'" Warren told his Saddleback congregation.
Warren asked for prayers as he seeks to finish up the book by August.
He previously authored The Purpose Driven Church in 1995 and The Purpose Driven Life in 2002, with the latter going on to sell 30 million copies worldwide, becoming one of the highest Christian best-sellers in the world, as well as one of the most translated books after the Bible.
The Purpose Driven Life was redesigned for millennials in a 10th anniversary edition in 2012, hoping to reach out to the younger generation. The new book was titled What on Earth Am I Here For? The Purpose Driven Life, with Zondervan marketing executive Rich Tatum telling The Christian Post back then that the title follows a dialogue, question and answer format.
"It seemed like that makes more sense with this generation — leading with the question and the answer is the Purpose Driven Life rather than leading with the answer and then subtitling it with the question," Tatum explained. "It seems to make it more relevant and to appeal to this generation, the millennial generation and slightly older."
Warren leads one of America's largest megachurches in Southern California, with an estimated weekly attendance of 20,000 people.