Ray Lewis Gets Backlash for Kneeling in Protest During National Anthem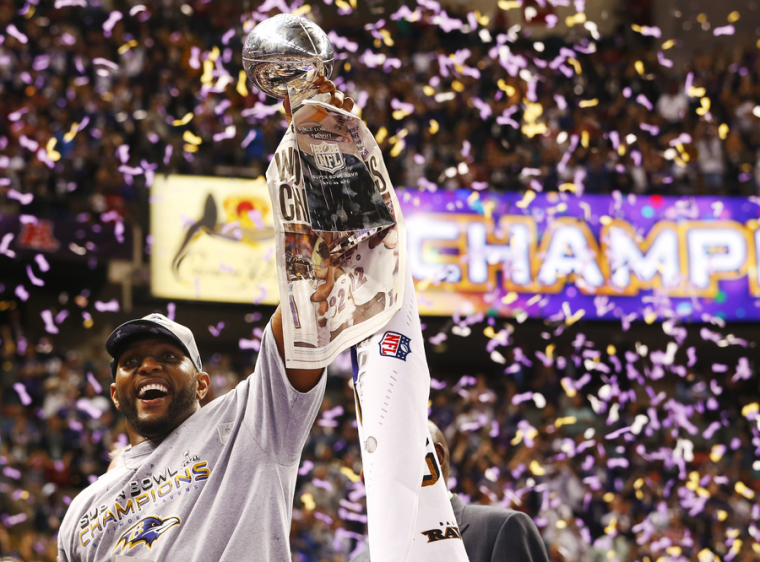 Former Baltimore Ravens linebacker and born-again Christian Ray Lewis is being skewered by both longtime fans and critics on social media for kneeling in protest with NFL players during the playing of the U.S. national anthem ahead of a football game against the Jacksonville Jaguars.
Lewis joined his former team at Wembley Stadium in London on Sunday in taking a knee on the field as part of sweeping protests in the NFL in response to controversial comments by President Donald Trump urging team owners to fire players who kneel in protest during the national anthem.
"Wouldn't you love to see one of these NFL owners, when somebody disrespects our flag, to say 'Get that son of a b**** off the field right now, out, he's fired. He's fired!'" Trump said during a campaign event for Sen. Luther Strange, according to AL.com.
Former San Francisco 49ers quarterback Colin Kaepernick began kneeling during the performance of the national anthem last season to protest social injustice and his message has resonated well beyond the NFL. Since becoming a free agent, however, Kaepernick is currently without a team and his supporters have argued that he remains unsigned because of his activism. He indicated earlier this year that he would be ending his kneeling protest and stand for the national anthem instead.
As Kaepernick continues his wait to be signed, Lewis, who was once accused of killing two people but went on to retire as a darling of the NFL, encouraged him to be silent. Lewis told Kaepernick to just focus on football and not get caught up with the "nonsense" activism in a video message posted online.
"If people really want to help you, if they really want to help you, man, they'll pray for you, brother," Lewis said. "They'll lead you the right way and stop encouraging you to be caught up in some of this nonsense. The battles you fighting, brother, people way before us have been fighting these for many, many, many years."
Lewis said he prays for Kaepernick, who he called his "brother for life," and noted that he keeps the unsigned player's name in his Bible.
"The football field is our sanctuary," Lewis said. "If you do nothing else, young man, get back on the football field and let your play speak for itself. And what you do off the field, don't let too many people know, because they gonna judge you anyway, no matter what you do, no matter if it's good or bad."
So when Lewis took to not one but both of his knees during the national anthem on Sunday, it was stunning to many of his fans and they let him know it on social media.
"As a hero in my eyes and in my son's eyes, I am really disappointed in your action to take a knee during the national anthem. I was so excited for your stand for God but now so sad for your actions against our country. We are one country under God. Don't expect God to bless us when you turn away from your country. I was so upset when I saw this yesterday but extremely crushed when I saw you participating. Sad day Ray, sad day!!!!" wrote Mary Belcher Felts on Lewis' Facebook page.
Black critics like New York Times bestselling author Shaka Senghor skewered him on Instagram, calling his protest a "pusillanimous gesture."
"Dear @raylewis your pusillanimous gesture today during the Ravens game is insulting to the men and women of this country fighting against injustice. It is opportunistic of you to conveniently kneel on a day when you knew the National spotlight would be on the protest," he wrote Sunday.
"Your self-serving criticism of @kaepernick7 makes you one of many talking heads that can't be trusted. You had your chance to stand beside Kap and stand up for oppressed people, and didn't use it. Do not try to dupe people into believing that you somehow had a change of heart. Your gesture was pitiful and insulting to oppressed communities seeking justice and respect in this country. You are as tone deaf as Trump on these issues," he continued.
"You have used divisive rhetoric that currently locks Kap out of a job he is qualified to do. As a player you were a stellar leader, but as a commentator you fall short, because you have failed to use your platform to inspire the youth of today to stand up against racism and bigotry. In closing I beg of you to get off your knees and stand up for Kap like a man. Peace! #writingmywrongs," he ended.
Fellow writer and civil rights activist Shaun King shared the comments on Twitter, noting that he agreed with Senghor who he called "one of my heroes."
Others, like sports legal analyst Exavier Pope, however, appear to appreciate the gesture.
"Ray Lewis has seen the light. #BALvsJAX #TakeTheKnee," he noted on Twitter.