Renee Zellweger Movie 'Same Kind of Different as Me' Declares 'God Turns Trash Into Treasure' (Trailer)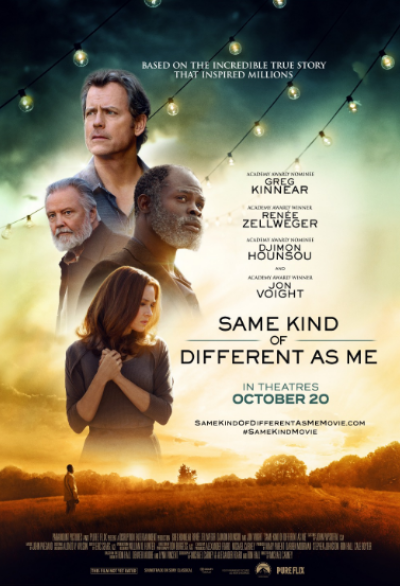 Hollywood actress Renee Zellweger stars in the upcoming film "Same Kind of Different as Me" about the true story of a wife who salvages her marriage and transforms her adulterous husband's life by getting him involved in her work at a homeless shelter.
The film, which is based on the best-selling book of the same name, also features Jon Voight, Djimon Hounsou, Greg Kinnear and Olivia Holt, and will be in theaters on Oct. 20.
"After admitting to his wife about his extramarital affair, international art dealer Ron Hall (Greg Kinnear) wants to heal his marriage to his wife Debbie (Renée Zellweger). In return, Debbie asks him to volunteer at the homeless shelter with her. After having a mysterious dream, she asks Ron to befriend an angry homeless man [named Denver] with a brutal past (Djimon Hounsou). One random act of kindness leads the three of them on the most remarkable journey of their lives," the film's synopsis reads.
In the featured trailer for "Same Kind of Different" the Christian contemporary song "My Story" by Big Daddy Weave can be heard in the background as scenes from the movie are show along with commentary from the cast and the real-life Ron Hall.
In the trailer, Hall recounts the moment when his wife, Debbie, told Denver, the homeless man she befriended, "'God has a calling on your life and you're gonna live to see it.'"
Hounsou added that Debbie and Denver "had a strong connection, spiritually."
In a line from the movie, Denver tells Hall: "God is in the recycling business of turning trash into treasure."
While the movie isn't billed as a faith-based film, it was produced by Paramount Pictures and popular Christian entertainment company, Pure Flix.
"One of the things that I love about this story is that there are so many themes of healing," Zellweger, whose character is the center of the film, said. "By sharing this mission to help other people they come together again."
Hall added, "The only thing that will ultimately change a person is to love them and to not give up on them and that's what I want the world to see."
The book, Same Kind of Different As Me, was on the New York Times best-seller list for over three years. Before Denver died in 2012, Hall and Denver shared their story at speaking events throughout around the country and visited more than 200 shelters nationwide. The two reportedly helped raise $32 million for the homeless through their speaking engagements. Hall still continues the nationwide tour.
For more information about the film, click here.