Retiring Leader of Church-State Watchdog Group Talks Faith, Misconceptions About Legal Organization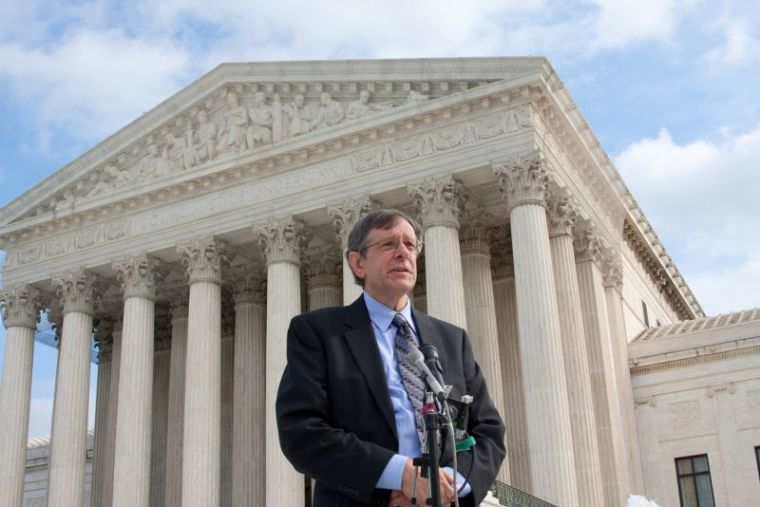 A retiring leader of a major Washington, D.C.-based church and state watchdog group has said that through his tenure he sought to have his organization be "more aggressive" on litigation against religion in public policy.
The Rev. Barry W. Lynn, executive director of Americans United for Separation of Church and State, is scheduled to retire from his post after approximately 25 years of leadership.
In an interview with The Christian Post on Thursday, Lynn explained that since becoming executive director, Americans United has "taken a much more aggressive stand than my predecessors in regard to litigation."
"When I got there, we had one lawyer who mainly did amicus briefs and now we have six or seven lawyers in any given year including law fellows and litigators," explained Lynn.
"We've got two other senior lawyers who also are magnificent litigators. I think I have a team of people that have done the extraordinary work of growing the organization."
Below is an edited transcript of CP's interview with Lynn. Topics discussed in this interview include how Lynn became involved in Americans United, cases his organization tends to avoid, and what he believes is the biggest misconception about the organization.
CP: How did you first become involved in Americans United for Separation of Church and State? And how did you become executive director?
Lynn: I was interested in the question of the power of religious organizations to effect public policy in a negative way. When I was in college, and I found out at that time the Catholic Church was in such control of everything in communities, including in progressive places like New York — that a roommate of mine was not able to obtain an abortion with his girlfriend, even in places like New York. This is pre Roe v. Wade and pre-legalization of abortion in New York, which came a few years before Roe v. Wade.
What I learned at that moment was the extraordinary clout that religious organizations can have to impose their theological views on others. And I found it exasperating and dangerous.
I spoke at some of [Americans United's] annual meetings, when I was still working for the American Civil Liberties Union, and I found that it was a great organization pursuing a singular purpose. Because to me the separation of church and state is a thread that ought to run through public policy so that we can always recognize that we make laws in this country, based not on theology of any particular group, but on the basis of a commonly shared values of the Constitution itself.
CP: What do you believe is the most common misconception people have about Americans United for Separation of Church and State?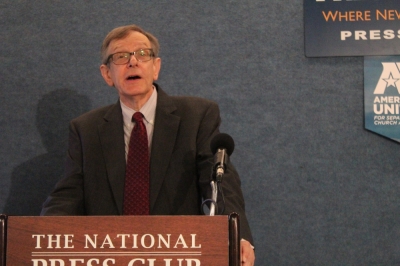 Lynn: There are some people, perhaps mainly critics of the organization, who believe it is an all-atheist organization and that is not true. I think one of the great strengths of Americans United is that it has such diversity. That it has not only people who have no religious belief, but lots of people who do and who take that belief very seriously. And I think that provides us with a great opportunity to talk about the separation of church and state. There are plenty of other groups, and some of them are quite good at what they do, but they also have an agenda of non-theism, but we don't have, you might say, a theology. We just have a commitment to the Constitution.
I spoke to an American Atheists Convention a few years ago, and I said, "we've got a couple of things that you and I" — meaning you the audience and myself — "disagree about. I believe in God and you don't." And I said, "but we'll be arguing about the existence of God two thousand years from now and we only have 25 years" — this is pre-Trump — 25 years to make sure that we protect the separation of church and state. So let's worry about that first, and then we'll get into theological arguments later.
CP: You are an ordained minister in the United Church of Christ. During your time as executive director, have you also been overseeing a congregation?
Lynn: No. I mean, this has been my more-than-full-time job. I do weddings, I do funerals, and I do preach in various churches of various denominations. But I do not have a regular congregation, that would be, I'd spend too many weekends out of Washington to make that even considered feasible.
CP: For those who might not be familiar, how does the UCC accommodate you not having a congregational assignment?
Lynn: They don't require that a person have a church and the UCC does not have assignments in the same way that many Methodist communities do. There's no requirement that you move in any specific amount of time. It's very congregational focused in part because one of the major branches of the United Church of Christ were the old Congregational churches. The churches with the white steeples in every New England town. And they take very seriously the idea that the congregation should choose the people who lead it. They would be highly aghast if the Church nationally told them what they should do and who they should hire.
CP: Do you recall any efforts, like litigation, that other church-state watchdog groups took part in but your organization consciously refused to support?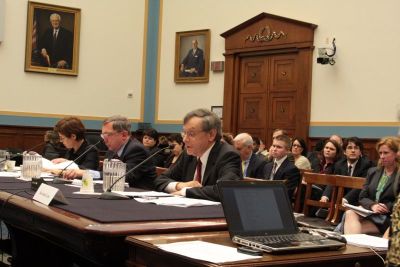 Lynn: It's not so much on the merits, but there was a lawsuit challenging the Clergy Housing Allowance, and we didn't participate in that. We talked to and learned the strategy of the group that did, but just for I guess you might call technical reasons, we chose not to get involved in that.
But it's rare. I think in general, we don't always get into every case, not because we don't agree with it but because we think there's capable counsel on the side that we would take so we don't try to do that.
And on the issues that are not obvious to some as core church-state issues, we're not trying to take the question of abortion litigation or LGBT rights and impose our view. We think we know a lot about the religious aspect of it, and lately, both on the cases of access to contraception and the rights of the gay community, I think we've been extraordinarily helpful, similarly we've played a bigger role in the immigration cases. The clear immigration ban on Muslims, no matter what some of the people in the administration call it, that is its practical effect, and we've had a great deal of involvement, including with attorneys general around the country.
CP: While you mentioned not really doing litigation per se on abortion and LGBT issues, Americans United has specific positions on those issues. Do you believe that this might be problematic given that with both issues you do see secular arguments on both sides?
Lynn: I think fundamentally, the real power behind the anti-choice movement in regard to [abortion] and the opposition to the rights of LGBT Americans is fundamentally religious. I know that there are people who are secularists who have problems with the rights of gay people and problems with reproductive choice, but frankly those people are few in number.
Overwhelmingly, both of these issues are argued as religious issues. When Mitch McConnell and others were supporting the Constitutional Amendment to define marriage as one man and one woman, they consistently used the words 'sacrament,' they were doing it to protect the 'sacrament of marriage.' And although I'm happy to believe that it's a sacrament, I also know that a sacrament is a religious term. And if you're passing a constitutional amendment to preserve a religious doctrine, you got no business passing it in the first place.
CP: Critics of your organization have argued that it's selective in its outrage. That when clergy lobby for liberal causes or when Democrats quote the Bible to justify public policy, that Americans United seldom raises objections. How do you respond to the accusation?
Lynn: I would say the accusation is totally false. Here are a couple of examples.
One year, when Pat Buchanan was running for president and there was a Republican and a Democratic candidate, I was really proud that not only did Pat, who I knew personally, not only did he call to complain about something that one of the parties was doing, both of the parties complained about something the other party was doing. And I was able to say, "thanks for the information, I do want to tell you though that we have filed a complaint in all of those cases." So we filed one against a church that was supporting Pat, a church that was supporting the Democrat, and a church that was supporting the Republican.
These days, people like the Alliance Defending Freedom of course urge their congregations, or congregations that see the world as they do, to affirmatively violate the law right before the election and then send their sermons into the Internal Revenue Service and some of these pastors do send the comments to me also. And if it really is an endorsement, not some vague statement about policy, we're happy to report them in the same way.
As far as quoting from the Bible and other things, I think that if one were to talk to Senator Joe Lieberman, who was of course running with Al Gore, I think he'd be surprised to think that we were not vigorous critics of his efforts to make religion a part of that campaign. And I do remember sitting at CNN when he was being announced as the vice presidential candidate. He made some overt statements about religion and I was there criticizing him that day.
A third example, in California, in order to be sensitive to the Muslim community, or at least that was the claim, homework assignments were given in several schools to memorize prayers from the Qur'an. And a lot of groups just didn't touch that, but I think that it would be so obviously unconstitutional to require students to memorize parts of the Bible that it should be equally unconstitutional to have them memorize verses from the Qur'an.
CP: What is the current status of the succession process? Has a new executive director been chosen yet?
Lynn: The process continues. I am planning to leave toward the end of November. That was the plan from the beginning. There is another board of trustees meeting in early November and whether it will be completely resolved by that time, I don't know. But there will be — and I'm not playing any role in picking my successor — but there is an interim process in place that I think the board will vote on in November, so that there's some kind of continuity. Existing people on the staff would become co-interim directors and then from there they have a little breathing room to pick my successor.
CP: Is this retirement a complete retirement, or do you plan to do work elsewhere?
Lynn: I have a couple of offers I'm thinking about. And I've told everybody that I'll be looking at them more seriously Jan. 1, 2018. But during the month of December I'm planning to spend a lot more time rocking and even changing the diapers of my 12-week-old twin granddaughters.