Rick Warren on Gay Marriage: 'Tolerance Does Not Mean Approval'
Saddleback Church pastor Rick Warren has said that being tolerant of homosexuals does not mean one approves of their choices, while appearing on "CBS This Morning" Tuesday to promote the re-release of his book, The Purpose Driven Life, on the 10th anniversary of its publication.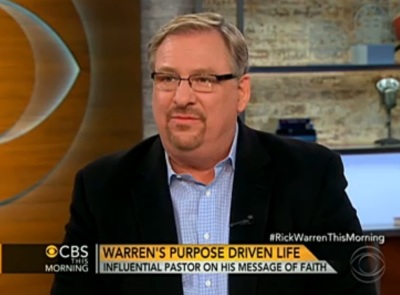 Warren, whose book has sold over 60 million copies worldwide, a record for a non-fictional devotional book, was asked by "CBS This Morning" hosts Charlie Rose and Norah O'Donnell a number of questions regarding morality, politics, and same-sex marriage.
The California megachurch pastor said that according to the Bible, people need to be tolerant of all views, just like Jesus was – but that does not mean approving of all choices.
"Gay marriage is a very personal question," Warren responded when asked why he does not support it. "I have biblical views regarding what marriage is about. I am not in favor of redefining marriage, I'm not. It's not illegal to have a gay relationship, so it's not a big issue to me."
O'Donnell reminded Warren that according to the latest poll data, the majority of Americans now support gay marriage. The pastor said that this is because the U.S. is a democracy, where "no one wins all the time."
"I happen to believe that life begins [at] conception – but that's not the law. Nobody is leaving the country. We have a wide spectrum in America, and we have to work for the common good," he continued.
Warren also insisted that people in disagreement are still able to work together on important issues.
"I don't happen to believe in everything that my gay friends believe, but when they want to end AIDS, I'm a co-belligerent with them. We have given millions of dollars to fight AIDS from around the world, and we have worked with both gays and straights. I can work with an atheist, I can work with a Mormon, Muslim, Buddhist, Jew – and that's one of the issues we have to work on."
Pressed by Rose to further explain some possible disconnect between being tolerant and the pastor's opposition to same-sex marriage, Warren explained:
"The problem is that tolerant has changed its meaning. It used to mean 'I may disagree with you completely, but I will treat you with respect. Today, tolerant means – 'you must approve of everything I do.' There's a difference between tolerance and approval. Jesus accepted everyone no matter who they were. He doesn't approve of everything I do, or you do, or anybody else does either. You can be accepting without being approving."
At the start of the program, Warren talked about The Purpose Driven Life, saying how it is as important now as it was 10 years ago.
"God is love. Life is all about learning how to love God and each other. I am most worried about this 20-something generation that is without work. I talked to some people on the plane – one said I went to college for 4 years, can't get a job. So what is my purpose?" he said. "About 20 percent of America read the book 10 years ago – but now a girl who was 12 years old is now 22."
The discussion then turned to the re-election of President Barack Obama – with the hosts reminding Warren that just days before the General Election on Nov. 6, he tweeted: "Why would anyone jobless today vote to remain the status quo instead of change unemployment?"
The Saddleback Church pastor explained that he is politically neutral and does not lean to the left or to the right, and that his tweet was meant to inspire people to think consider if their voting decisions would create change.
"We spent 2 billion dollars on an election, and nothing changed – same Congress, same Senate, same president. So should we expect change? I'm not so sure," he said.
When Rose asked Warren about God's plan in re-electing President Obama, the pastor said that God's purpose remains a mystery to people in a lot of events.
"I was at the Notre Dame-USC game, people were praying for both sides to win – God didn't have an opinion on that," the pastor said, referring to the college football game.
"God's more interested in your character than your career. What you do is not as important as who you become. God is extremely interested in who Barack Obama is becoming," he added.
The morning show hosts then reminded the pastor that polls have shown secularism in America is growing, with church attendance down – but Warren said that such reports are often exaggerated, and Christianity will likely live on for another 2,000 years.
"Predictions on the church's demise are highly exaggerated. Kingdoms come and go – where is the Syrian empire, where is the Nazi regime? One of the problems is interpreting the data. There is a result that came out that said that the number of Protestant Americans has dropped – but nobody calls themselves a Protestant anymore. I don't know a single person that calls themselves a Protestant. I'm an evangelical, I'm a Catholic, but nobody calls themselves a Protestant anymore."
Warren also noted that church attendance has remained at stable levels since the 1950s.
"It's neither higher nor lower. More people will go to church during one weekend than attend all sporting events in one year. Put that in perspective. More people will go to a synagogue, temple, or church than go to all sporting events in one year," he re-emphasized.
Warren is also currently promoting What on Earth Am I Here For?, a booklet based on the first three chapters of The Purpose Driven Life that he says gets to the core of the message.