Rick Warren Warns Church Planters on Following Trends, Focusing on Growth Over Quality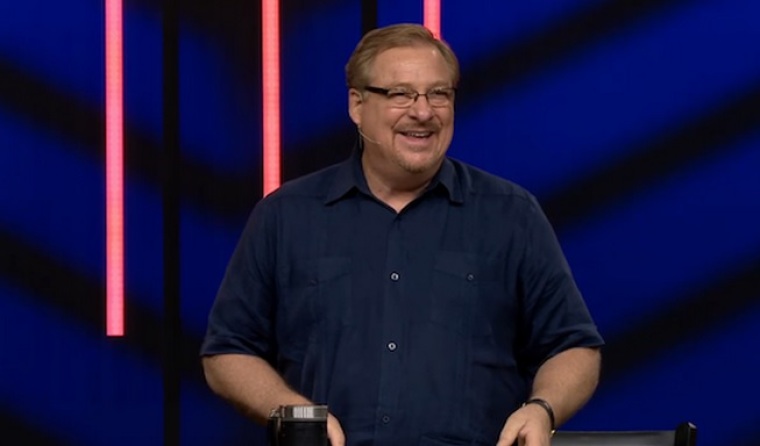 In order to last in ministry, church planters need to adhere by certain guidelines that change the mold of how they build their church structure, said Pastor Rick Warren during the Exponential West conference this past week.
Warren addressed conference goers to utilize his experience as a leader in ministry of over 40 years. He told church planters that about half of them were not going to make it, according to statistics, unless they started doing something radical.
"You must be very careful how you build. Some build with gold, silver, precious stones even wood, hay and straw but the day will come when fire will reveal the quality of your work and if what you build survives, you will receive a reward," Warren said on Thursday of the three-day conference.
He added, "The success of your ministry isn't about size or speed, regardless of those 'large church lists.' God isn't going to judge you based on those things because those are human measurements."
In speaking about his success and how his ministry has lasted four decades, Warren noted that many church planters are preoccupied with the latest church trends or with what is "currently in or hip." He advised that instead of worrying about such things, planters need to focus on implementing strategies that will last, not just bring in large crowds.
 "I could show you how to get a crowd but a crowd isn't a church. Most church planters spend an entire year planning the first service and none planning the second," Warren said.
While he acknowledges that much of his ministerial success is because of God's help, Warren also said he has lasted in ministry because of the "work smarter not harder" concept.
"I know some pastors who pray more than I do and their churches aren't growing," Warren said. "I work hard but I know some churches that work much harder than I do. Dedication doesn't grow a church, skill does."
He added, "You can spend a lot of money to attend a top-notch bible school and seminary education but if you don't continually sharpen your skills, you're as dull as a guy that didn't go to college."
Furthermore, he said that he is not proud enough to say that he has never copied other church models regarding his ministry's work, which he also credits for keeping him in ministry up until now.
"Humans grow by observation, imitation and repetition and yet none of us wants to be imitators, everyone wants to be an innovator and that's why we all suck," Warren said. "I'd rather be an effective imitator than a stupid innovator. I learned a long time ago that I don't have to invent something for it to work … practically everything that we're doing at Saddleback was copied from someone else. "
To conclude his message, Warren advised church planters that more than anything, they need to maintain a pure heart and a clear purpose and process.
"If you want a church that lasts, you have to build it on purpose, integrity, humility and generosity, not on people, personalities or style because the only things that will last forever are eternal purposes of God. This may be a shock coming from me but purpose is not enough."