Robert Griffin III Turns 'Know Jesus' T-Shirt Inside-Out at Press Conference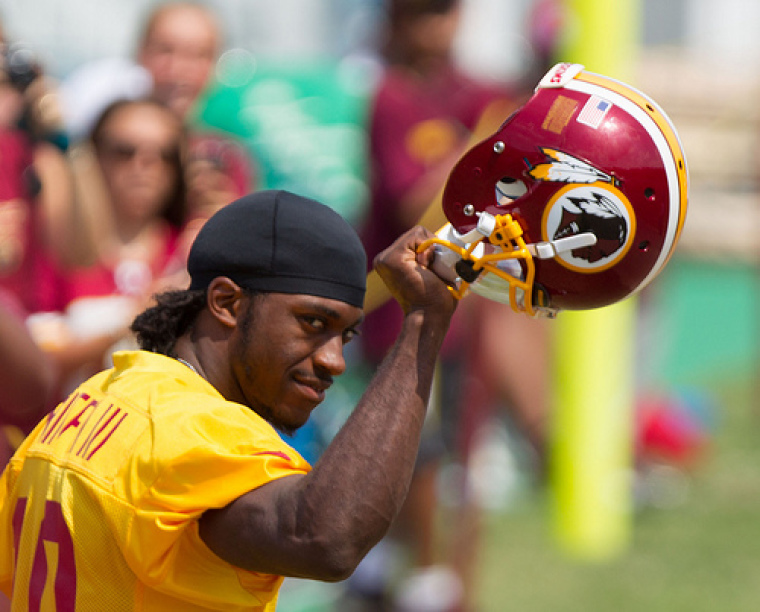 Robert Griffin III attended a press conference discussing Sunday's football game where the Redskins quarterback appeared to have turned his Jesus-themed shirt inside-out.
Ahead of a press conference about the ankle injury he sustained during Sunday's match against the Jacksonville Jaguars, RGIII donned a blue t-shirt that read "Know Jesus Know Peace." However, once the press event was underway, the NFL star's shirt was turned-inside out so that the Christian message was unreadable. One reporter for the Washington Post even tweeted a side-by-side comparison of RGIII before and during the press conference.
Following the unusual appearance, questions arose as to why the outspoken Christian athlete would turn his T-shirt inside-out. Later that day, Richmond Times-Dispatch reporter Michael Phillips offered an explanation for the incident, implying that RGIII's shirt was not a Nike product and therefore is was banned from public appearances. Furthermore, RGIII has been fined in the past for wearing non-Nike apparel.
Meanwhile, the future is uncertain for RGIII following Sunday's ankle injury, but the athlete is optimistically looking to God.
"Appreciate all the support & prayers," RGIII posted to Twitter on Sunday, Sept. 14. "God has a plan & I ride with Him thru the ups and downs! Staying the course."
"In the meantime… Let's get on a winning streak baby!!!!! #HTTR," he later added.
Additional details about RGIII's return will be revealed Monday following his MRI. The NFL star's career has been dominated by major injuries over the past two years. The Baylor graduate touched more on the latest ankle wound during the press conference on Sunday.
"You never want to be hurt. You want to be out there and available for your teammates," RGIII explained, according to CBS DC. "It was just an unfortunate situation because it wasn't on a hit or anything. It was just something that happened. But in moments like this you've just got to keep the faith, stay with it and just believe that everything happens for a reason and God has a plan."