Robert Jeffress: Trump 'Most Faith-Friendly President' Ever, Ended 60-Year War on Religious Liberty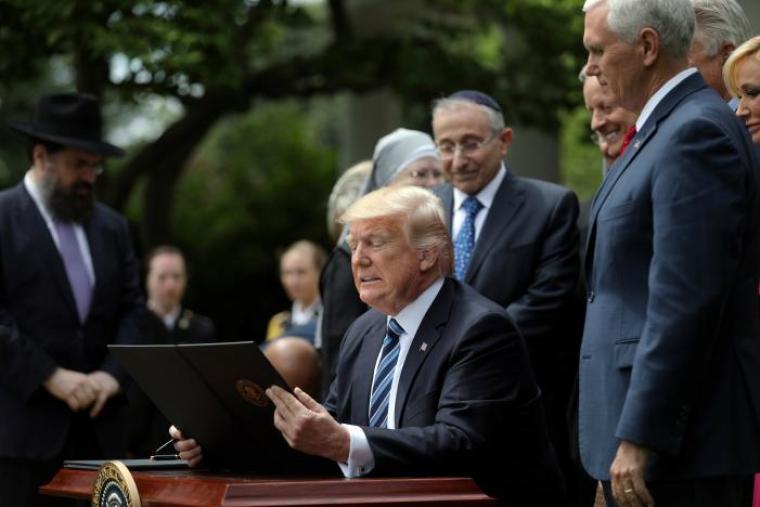 Dallas megachurch pastor and one of Donald Trump's most loyal evangelical supporters Robert Jeffress believes that the executive order signed by the president last Thursday marks the end of the United States government's "war on religious liberty."
Jeffress, the pastor at First Baptist Dallas who was one of the first prominent evangelicals to begin appearing at Trump campaign rallies and serves on the president's evangelical advisory board, appeared on "Fox and Friends" Saturday to speak about Trump's upcoming trip to Saudi Arabia, Israel, and Rome, and on Trump's executive order promoting free speech and religious liberty.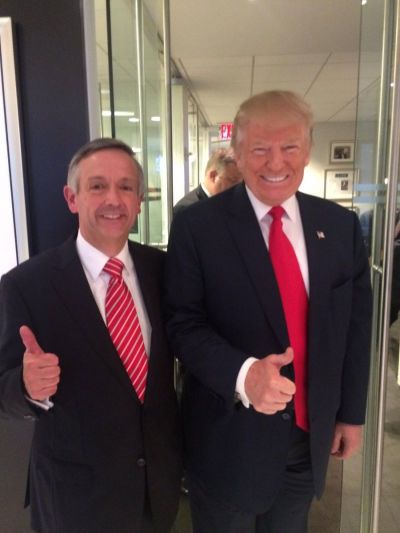 Jeffress, who was invited to the Oval Office on Wednesday to discuss the order, shot down claims from some conservatives that the order is too watered down.
"What I am saying to people is that this executive order marks the end of the 60-year-old governmental war on religious liberty," Jeffress said. "The fact is, it is not a road map — a detailed road map — it's a compass saying [that] government is changing direction."
"Instead of assaulting religious liberty, it's going to protect it," he continued. "Look, as revered as Ronald Reagan and George Bush were by evangelicals, neither they, nor any other president has taken the bold, courageous action of this president, which is why I say without hesitation [that] President Donald Trump is the most faith-friendly president in U.S. history."
The executive order does a few different things. First, it declares that the administration will work "vigorously" to protect First Amendment rights. Additionally, it instructs the Internal Revenue Service to relax enforcement on the Johnson Amendment, a rule that threatens churches with the loss of their tax-exempt status if they endorse candidates or engage in politicking, and it tells the Department of Health and Human Services to consider providing religious exemptions to Obamacare's contraception mandate. It also instructs the Department of Justice to issue guidance to federal agencies to advise on how religious liberty should be protected.
Because the order doesn't outright create any new regulations or religious protections, many have criticized the order. The liberal American Civil Liberties Union even declared that it wouldn't file a lawsuit over the order because it believes the order was nothing more than an "elaborate photo-op with no discernible policy outcome" that "portends but does not yet do harm to the provision of reproductive health services."
On Thursday, Jeffress, a Fox News contributor, was a guest on "The Story with Martha MacCallum" when Rev. Barry Lynn, the executive director of Americans United for Separation of Church and State, who in the past has reported churches to the IRS for Johnson Amendment enforcement, was brought on the show to discuss the order.
"I do think [Trump] made it very clear that he believes there is some attack on religion. I can tell you, there has never been in the history of this country any pastor, any rabbi, any imam who has been penalized by the federal government, not during the last administration, not so far in this administration for what he or she said from the pulpit about any controversial issue," Lynn said of the Johnson Amendment. "You can be pro-choice, you can be anti-war, you can be on the opposite sides of those very issues. No one has ever been penalized."
"The only restriction in the so-called Johnson Amendment is that you can't convert your church or a synagogue into what amounts as a political action committee," Lynn added. "You can't cross the line and endorse or oppose candidates for public office. So, when the president said today that there is no free speech for churches, maybe he hasn't been in enough churches lately."
Jeffress responded: "I want to remind Berry Lynn that he sent me a letter 20 years ago threatening my church's tax-exempt status, not because I endorsed a particular candidate but because I stood against an issue that was a moral issue in our community," Jeffress said. "Government has no business policing speech from the pulpit, period. That is against the First Amendment."
At the very end of the encounter, Lynn stated that Jeffress "did endorse candidates."
In 2011, Lynn sent a letter to the IRS that accused Jeffress of violating the Johnson Amendment by posting his endorsement of former presidential candidate and Texas Gov. Rick Perry on his church's website. However, the video was prefaced with a disclaimer that Jeffress' opinion did not represent the view of the church.