Sarah Huckabee Sanders Addresses Red Hen Restaurant Controversy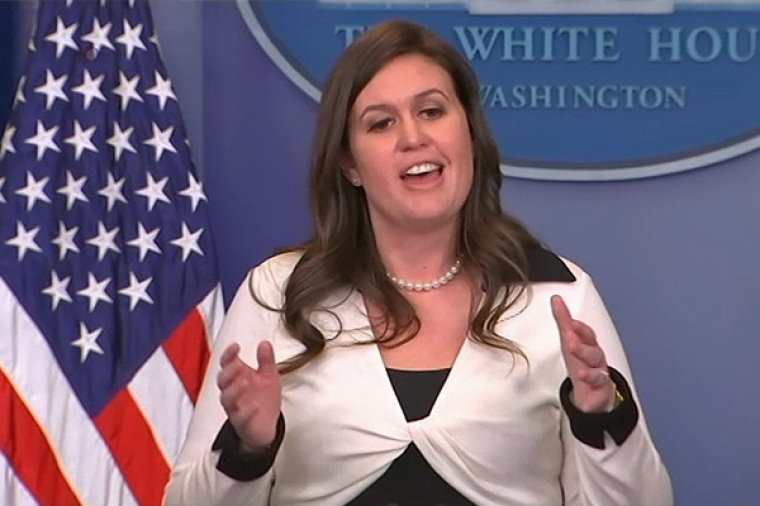 White House Press Secretary Sarah Huckabee Sanders opened up about her controversial encounter at the Red Hen restaurant in Lexington, VA on Friday.
During the White House press briefing Monday, the reporters asked Sanders about the incident where she and her family were asked to leave the restaurant premises because she works for US President Donald Trump.
"Healthy debate on ideas and political philosophy is important, but the calls for harassment and push for any Trump supporter to avoid the public is unacceptable," Sanders said in front of the press. "America is a great country and our ability to find solutions despite those disagreements is what makes us unique," she added.
CBS News reported that Sanders and her companions were having their cheese course when the restaurant's owner Stephanie Wilkinson asked them to leave. Sanders reportedly offered to pay, but Wilkinson shared with The Washington Post that she did not charge them for the appetizer.
Sanders first revealed the incident on her Twitter account to share her story about how the owner of the restaurant asked them to leave. "Her actions say far more about her than about me. I always do my best to treat people, including those I disagree with, respectfully and will continue to do so," the press secretary stated.
Wilkinson's actions received positive and negative backlash from the public. But perhaps the biggest reaction came from the president himself, where he attacked the restaurant for their sanitary practices on his Twitter account.
While the restaurant owner claimed that she has no regrets after showing Sanders the door, owners of other restaurants with the same name in different parts of the country were feeling the effects of the disproval of Trump's supporters.
According to a separate report on The Washington Post, Red Hen restaurants in different places like Washington DC and Virginia were receiving negative reviews on Yelp and on social media.