Satanists Meet $20,000 Goal in Effort to Build Monument for Okla. Capitol That Includes Children Admiring Satan
3 photos
(Photo: Courtesy of Satanic Temple)
The New York-based Satanic Temple on Monday submitted its designs for a monument that it aims to have placed at the Oklahoma Capitol next to the Ten Commandments. The sculpture will feature a 7-foot-tall goat-headed creature, Baphomet, as Satan, which will be flanked by two adoring children – one boy and one girl – smiling as they look up to the creature that will be large enough so that tourists can sit in its lap.
Lucien Greaves, the spokesman for New York's Satanic Temple, told The Christian Post on Tuesday that the organization wanted to include children in the sculpture because they are "very concerned for children's rights and child welfare."
"We are looking to take up the fight against corporal punishment in schools, which is still allowed in 19 states, sometimes results in children's admission into hospital emergency rooms, and has no beneficial effect, according to any credible empirical research. We hope that today's children can grow up in enriching environments that cultivate their curiosity, divorced from the damaging and divisive demonologies of the past," Greaves asserted.
As of Tuesday afternoon, the Satanic Temple had already raised $19,834 of its $20,000 goal to fund the process of sculpting their monument to Satan.
Last month, CP reported that the organization sent a letter to Oklahoma officials expressing its interest in erecting the sculpture that proposes to be a "homage to the historic/literary Satan."
In the letter, Greaves also accuses Republican state Rep. Mike Ritze of "helping a satanic agenda grow more than any of us possibly could," because he has privately funded the Ten Commandments display that sits outside the state's capitol. The Ten Commandments monument was also approved by the Oklahoma legislature in 2009.
Trait Thompson, chair for the State Capitol Preservation Commission, told CP that any proposed artwork "must be evaluated by the architecture and grounds committee." He added that the Decalogue display did not go through the typical process for a capitol monument.
"In the case of the Ten Commandments monument, the legislature passed a bill in 2009 authorizing the monument to be placed, so it was not approved through our typical process. The CPC's only role was to select a location for the monument," Thompson said.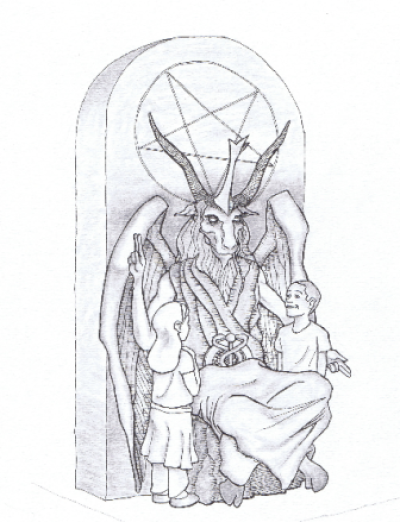 When asked by CP why the monument, if it's ever erected, would be large enough for tourists and visitors to sit in the 7-foot-tall satanic figure's lap, Greaves explained, "We wanted our monument to serve some type of functional purpose – to have some type of interactive element – for the visitors in Oklahoma City who come to see it."
Even though the satanist group is based in New York, they are not petitioning to build a similar sculpture in that state, because as Greaves asserts, the organization is working on behalf of its members who reside in Oklahoma.
"To be clear, it was Oklahomans who petitioned us for this monument, and we filed on their behalf. We have membership in Oklahoma City, and we represent a segment of the population there. Further, we know of no similar circumstances in New York where a religious monument sits on public grounds."
Greaves continued: "Where the separation of church and state is respected, the Satanic Temple will never move to revise the laws to allow a monument of theirs to stand on its own. Our monument is explicitly meant to complement and contrast the Ten Commandments monument. While it may be best if religious monuments are left off of state property, when the situation arises that the state breaks down the separation of church and state, it is best that a multiplicity of religious voices are represented, rather than allowing one group to apparently co-opt the power and authority of the capitol."
In a NewsOK report Republican state Rep. Don Armes affirmed his belief that a satanic sculpture isn't going to be erected at the state's capitol, a location some call the buckle of the "Bible Belt."
"I think you've got to remember where you are. This is Oklahoma, the middle of the heartland," Armes asserted. "I think we need to be tolerant of people who think different than us, but this is Oklahoma, and that's not going to fly here."