Secret Witness in Turkey's Case Against Andrew Brunson Is 'Blackmail Extortionist,' Source Says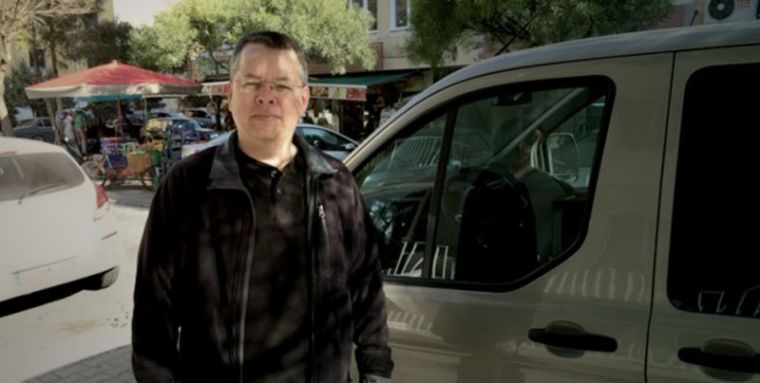 A person who claims to have been blocked from testifying on behalf of imprisoned Pastor Andrew Brunson in Turkey has shed new light on the case and offered concerning details about the identity of one of the prosecution's secret witnesses.
The source, who chose to remain nameless, told Newsmax in a recent interview that the Turkish government has barred him from testifying on the 50-year-old Brunson's behalf. The source went on to explain how one of the secret witnesses used by the prosecution is an extortionist who is known for taking advantage of religious leaders.
Brunson, a North Carolina native who has preached in Turkey for the past two decades, has been imprisoned since October 2016 and has been falsely accused of being connected to the Islamic Gulen movement and Kurdistan Workers Party.
The source explained that the testimony of the secret witness in question comprises a large part of the 107-page indictment against the pastor. They added that the secret witness has previously been involved in other cases against religious organizations.
The secret witness has been described as a person who has used blackmail and physical threats in recent years to try and extort "large sums of money" from several religious leaders.
The article didn't specify what kind of religious leaders the man had extorted.
Sources told Newsmax that in one instance unrelated to Brunson's case, the secret witness allegedly filed a legal case seeking $800,000 from a religious organization. However, the witness lost that case and its ensuing appeal.
Newsmax, which obtained a copy of Brunson's indictment, reports that passages in Brunson's indictment might have been "adapted from distortions of the previous court case."
The Newsmax report comes as human rights activists and politicians worldwide have condemned NATO member Turkey's imprisonment of Brunson, saying that it's essentially a form of hostage diplomacy.
As of Monday afternoon, over 100 European parliamentarians have called for Brunson's release.
The list includes 75 members of the European Parliament who signed onto a letter that will be sent to Turkey's President Recep Tayyip Erdoğan on July 15, three days before Brunson's next court date. Brunson previously had court hearings in May and April.
"Pastor Andrew Brunson has been living peacefully in Turkey for 23 years. We believe he is an innocent political prisoner; therefore, we urge you again to release him without delay," the letter reads.
The politicians signing the letter represent eight political parties and 20 countries, according to the American Center for Law and Justice.
In February, the European Parliament passed a declared in May that it's "urgent that Turkey respects its European commitments in putting an immediate end to this scandalous situation."
In the U.S., a bipartisan group of 66 U.S. senators sent a letter to Erdoğan in April urging him to release Brunson.
Sen. James Lankford, R-Okla., has been one of the most vocal senators speaking out on Brunson's behalf. Last month, Lankford criticized the secret witness' testimony used in Brunson's case.
"You should see transcripts from the actual trial itself. They are bringing in secret witnesses from prisons and saying, 'Someone else in my prison I heard say something about Pastor Brunson.' There is no eyewitness testimony," Lankford explained. "There are no actual facts here. All the people that Pastor Brunson has asked to bring as witnesses, the court is saying that those individuals are suspects and so [they] won't allow anyone to testify on [his] behalf."
Erdoğan had previously indicated that Brunson could be released if the U.S. extradites the leader of the Gulen movement, who it accuses of leading a 2016 coup attempt. Fethullah Gulen lives in Pennsylvania.
"This is a completely invented kangaroo court that is there to try to be able prove some sort of point against the United States," Lankford stressed. "Again, they have held him since October of 2016 and they continue to be able to press this."