Selena Gomez Mouths 'Thank You Jesus' During Tearful AMA's Performance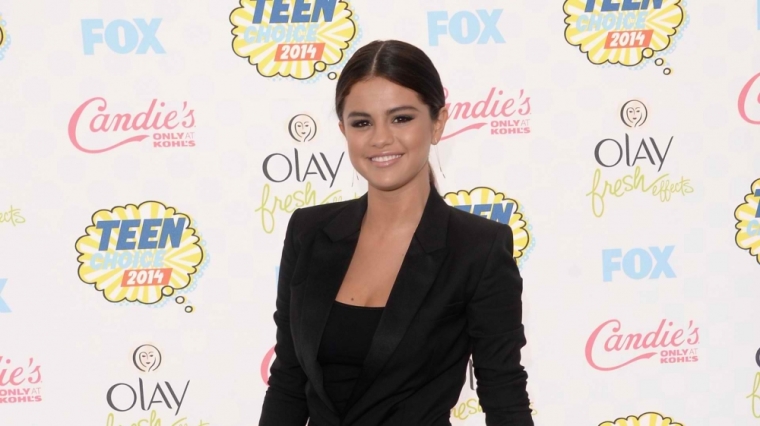 Selena Gomez offered an emotional rendition of her latest single "The Heart Wants What It Wants" before mouthing "Thank you Jesus" at the American Music Awards on Sunday night.
The 2014 AMA's saw the former Disney star take the stage in a floor-length gown before a backdrop featuring a violent storm while performing "The Heart Wants What It Wants," which is said to depict Gomez's tumultuous relationship with Justin Bieber.
"The bed's getting cold and you're not here / the future that we hold is so unclear / But I'm not alive until you call / and I'll bet the odds against it all," Gomez belted out during the chorus.
Toward the end of the heartfelt performance, Gomez was overcome with emotion upon leaving the stage, but not before acknowledging her faith. Directly after finishing the song, the singer dropped her microphone, closed her eyes and uttered "thank you Jesus" while she hung her head to cry.
Shortly thereafter, Gomez posted the same words, "#thankyoujesus," on Instagram along with a photo of the performance. The "Heart Wants What It Wants" performances arrived just days after Gomez released the emotional music video for the new single. The moody black and white clip features opening commentary that clearly refers to Bieber, although the singer never names the pop star.
"I know him, I know his heart, I know he wouldn't do it to hurt me," the candid conversation reveals. "But I didn't realize that I would be feeling so confident and so great about myself and then it just be completely shattered by one thing."
Meanwhile, Gomez remains steadfast in her Christian faith, and the singer was recently spotted worshipping with her on-again, off-again boyfriend at pastor Judah Smith's "Jesus Is" church conference. An onlooker told Radar Online that Gomez and Bieber were sitting in the front row.
"A few of my friends and I walked up to the front to worship, and as I looked over I thought I saw Selena," a fan said. "Turns out, it was really her! She smiled at us, probably because we were going crazy worshiping God. She looked very happy to be there. You don't see young celebrities at a church conference often!"
Watch Gomez's AMA's performance here.