Sen. Orrin Hatch: Claim That Corporations Don't Have Religious Freedom Is 'Total Bunk' (CP Video Interview)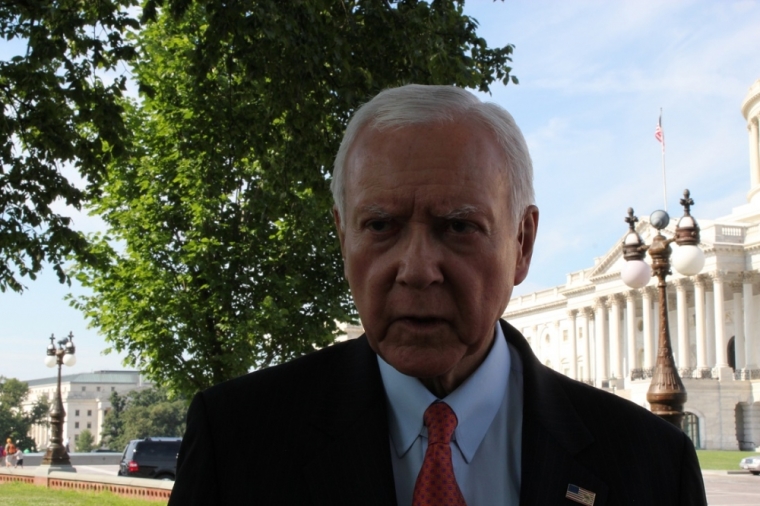 WASHINGTON – The idea that businesses cannot have religious liberty protections because they are not individuals or nonprofits is "total bunk," Sen. Orrin Hatch, R-Utah, said.
In an interview with The Christian Post, Hatch explained that the Religious Freedom Restoration Act, which was sponsored by him back in 1993, was meant for everyone, including business owners.
"[RFRA was] meant to protect everybody and businesses are important as well. If we can impose corrupt or wrong rules on businesses, that would spread corrupt or wrong rules throughout the country," said Hatch.
"Business should have to live up to these principles and we ought to respect businesses that do."
Hatch's comments come in response to the claims by some that businesses should not be given religious exemptions from laws like the Health and Human Services Department's "preventive services" mandate.
On Wednesday, the Senate failed, along party lines, to move forward a bill, S. 2578, which would have rewritten parts of RFRA by mandating that businesses cover certain "preventive services." It also would have overturmed the recent Supreme Court decision exempting some businesses from the mandate whose owners object on religious grounds. In a five to four decision, the Court declared that companies like Hobby Lobby, a family-owned company whose owners religiously object to providing a few of the birth control methods mandated by the Department of Health and Human Services, should be exempted from providing them in accordance with RFRA.
Sen. Hatch told CP Congress has become more political than it was when RFRA was first passed with overwhelming support from Democrats and Republicans.
Hatch, along with multiple groups present at a press conference at the "Senate Swamp" on Capitol Hill, felt that S. 2578 attacked RFRA and religious freedom in general.
"Look at the way Congress is right now," said Hatch, whose comments came Wednesday morning after the press conference.
"The current leadership on the Democratic side wants to play politics a little … they're so afraid they might lose the Senate this time and naturally I hope they do because it's time for a change."
RFRA was passed in 1993 with a vote of 97 to 3 in the Senate. During the process, Democratic Senator Ted Kennedy became a cosponsor for the legislation.
Hatch said "it was not an easy thing to get Senator Kennedy" to support RFRA at first, "but once I really got into it with him he saw the value of it."
"He came on, became one of the biggest supporters and was down there at the South Lawn [of the White House] with me when President Clinton signed it," explained Hatch.
In response to the decision, Senator Patty Murray (D-Wash.) sponsored S. 2578, which was also called the "Protect Women's Health From Corporate Interference Act of 2014."
Multiple faith groups, including the Union of Orthodox Jewish Congregations of America, the United States Conference of Catholic Bishops, and the National Association of Evangelicals, were at the press conference that took place before the bill was defeated.
Speakers included Sen. Hatch, Senator Lamar Alexander (R-Tenn.), World Vision spokeswoman Cynthia Colin, and Melissa Swearingen, associate director of Government Relations for USCCB.
Nathan J. Diament, executive director for public policy at the Union of Orthodox Jewish Congregations of America, gave the introductory remarks and presented some of the speakers.
"The faith communities we represent have different views with regard to contraception … some of us find that permissible, some of us find it unacceptable," said Diament.
"What we all agree upon is the fundamental principle that after the most compelling circumstances no American should be forced to violate their religious beliefs."
S. 2578 was not without its supporters. Americans United for Separation of Church and State, which has been critical of the Supreme Court's Hobby Lobby decision, supports the proposed legislation.
The Reverend Barry W. Lynn, executive director of Americans United, said in a statement released last week that Murray's bill "is a good first step."
"The Supreme Court thoroughly botched the Hobby Lobby case and has distorted the Religious Freedom Restoration Act in pursuit of a reactionary agenda … It's up to Congress to set things right," said Lynn.
"The reality is that the use of birth control is widespread. It's a vital component of women's health care. No alleged 'religious freedom' right of a corporation should trump that."
WNEM TV 5