Sherri Shepherd Seeking Comfort in the Bible as 'Angry' Surrogate Lashes Out Amid Baby Abandonment Claims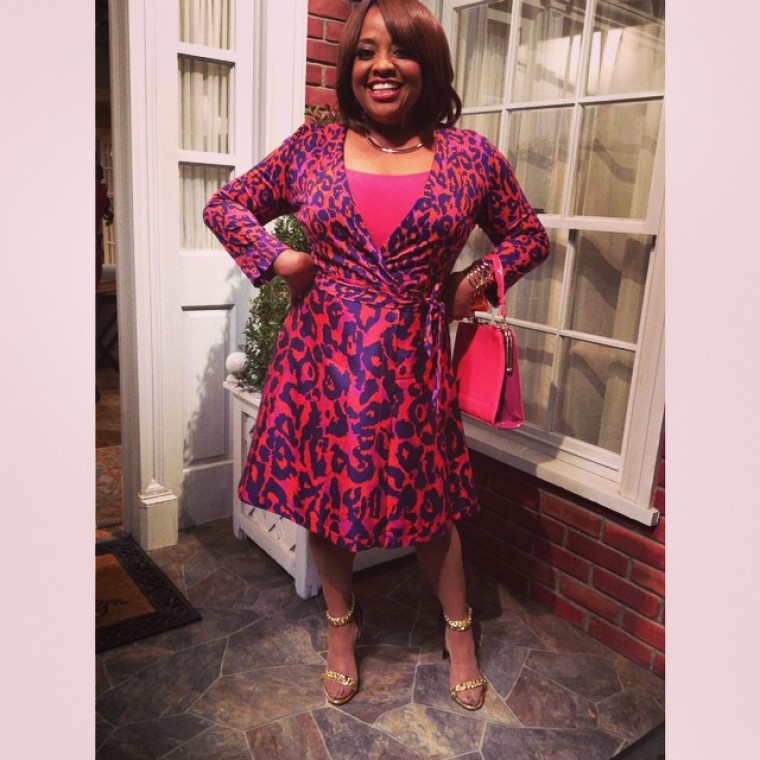 Sherri Shepherd is seeking comfort in the Bible as her private life continues to unravel in the media.
On Thursday, Jessica Bartholomew, a woman claiming to be Shepherd's surrogate, spoke out against the former "The View" cohost in a scathing interview with "Inside Edition." Shepherd did not directly mention Bartholomew on Twitter after the interview aired but she did reference a telling Bible verse, 2 Chronicles 20:15, with her 700,000 followers.
"'What do you do when you've done all you can & it seems like it's never enough… just stand' 2 Chr 20:15 is where I reside #wheresmysaints," Shepherd tweeted.
Bartholomew, a 23-year-old waitress, was hired by Shepherd, 47, and her estranged husband Lamar Sally, 43, as a gestational surrogate to carry their baby which was conceived using Sally's sperm but not Shepherd's egg. However in May last year, when she was six months pregnant, the couple split and subsequently the TV personality allegedly backed out of the agreement.
Sally, who has been taking care of 5-month-old baby boy Lamar Junior (L.J.) since he was born on Aug. 5, is said to be suing Shepherd for child support and alimony, however, she claims he defrauded her into signing the surrogate agreement.
Bartholomew is currently stuck in the middle of their bitter divorce and is frustrated because Shepherd has not reached out.
"I am angry with Sherri because she never once contacted me to tell me what was happening. It was kind of like I was left out in the cold," Bartholomew told Inside Edition, adding that if given the opportunity, "I would ask Sherri why she did what she did if she thought it was okay to do something like that ... …I just don't understand how she can act like this baby is nonexistent. It just blows my mind."
The couple met through mutual friends at a party before tying the knot in 2011 and Sally claims Shepherd insisted on having a baby from the very get go. She reportedly had trouble conceiving herself and ultimately they decided to use a surrogate.
Bartholomew claims that during her pregnancy, the former ABC host was enthusiastic about the baby. Reports claim she was paid $30,000 to be a surrogate for the estranged couple.
"She would call up and check on me during the pregnancy in the beginning. At the 20 week appointment, she seemed very excited. She was going to see the baby for the first time;I didn't see any warning signs right away," she recalled.
Sally has applied for Medi-Cal, a program offering low-cost health coverage for children and adults with low income, to assist with his son's health issues and, as a result the state reportedly reached out to Bartholomew for child support.
"I am now listed as a noncustodial parent in California. I have a child support case coming against me now," she said.
In September, Shepherd said there is more to the story than what has been reported in the media.
"Remember there is always more sides to a story than the 'exclusive' stories one person is selling for money to the tabloids," Shepherd allegedly wrote in a private message to blogger Sandra Rose. "Truth to come out unless you are of the same ilk as everyone else. God Bless."
She also previously told talk show host Wendy Williams that she cannot speak publicly about the matter because it is pending in court.
"We can't say anything about that," Shepherd told Williams last year of the surrogate baby scandal. "I have a lot of lawyers and I'm in court right now and it's very public and it's very painful."
Shepherd reportedly offered Sally a one-time $100,000 payment and $3,000 in monthly child support, even though she changed her mind about the baby, however, he reportedly declined as he wants more.
Under the terms of their alleged "ironclad prenup," Sally waived all rights to collect spousal support from Shepherd and her $100,000 offer is said to be more than he is entitled to under the agreement.
"Lamar rejected the offer, and countered that he wanted $10,000 in child support, which Sherri thinks is ridiculous and absolutely won't pay. At this point, the divorce isn't likely to settle without a trial, which Sherri is more than willing to have," a source told RadarOnline.com.
Shepherd, who has a 9-year-old son from a previous marriage, reportedly filed for divorce from Sally in the state of New Jersey where courts generally don't recognize surrogate agreements. Sally filed in California, where courts are said to be more open to these situations.
The Christian Post contacted Shepherd for a comment but she did not respond by press time.