So. Baptist Leader Henry Blackaby, Author of 'Experiencing God,' Is Missing [UPDATE: FOUND SAFE]
LATEST UPDATE (As posted on Blackaby Ministries International website):  The Blackaby family would like everyone to know that Henry has been found and is safe. His health concerns are being addressed and we will keep everyone posted with the news. We wish to express to everyone our appreciation and gratitude for the prayers and concern over the last 29 hours. Henry has taught us that we can experience God in the good and the bad times. We thank God that we have experienced his grace, peace, and faithfulness in these times.
__________
Urgent prayer requests are being asked for pastor and internationally known author Henry Blackaby, who has been missing since late yesterday afternoon, last seen in the South Atlanta area.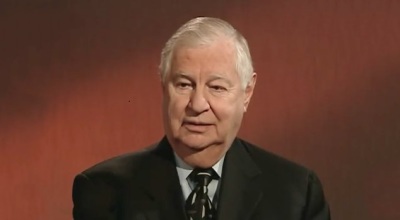 A posting on the Blackaby Ministries website reads:
"URGENT!! The Blackaby family requests your prayers for Dr. Henry Blackaby in the midst of difficult circumstances at this moment. Henry has been missing since 4:00pm yesterday (Thursday) in the South Atlanta area. He was driving a black Lincoln sedan. Please pray for him to be found and if you are in the Atlanta area, please be on the lookout for Henry or his car along the roadside. Please check the BMI Home page for updates. Thank you for your partnership in prayer!"
__________
UPDATE (6:30 PM ET): Blackaby grandson, Daniel, posted at 6:15 pm ET on Twitter: "I've just heard that Henry Blackaby has been seen! Police on his trail right now. Pray hard!"
UPDATE: Additional information provided by Blackaby Ministries International on its website includes the fact that Blackaby is "a Type 2 diabetic and may be disoriented and unable to find his way home." Also, the year and model of car, license plate number, and phone number to contact with any information.
Blackaby was driving a 2010 Lincoln MK2 Black Sedan, Georgia License Plate: ATP 6956
If anyone in the Atlanta area would like to help search, please contact Melody at (205) 612-4023.
__________
Blackaby, perhaps best known as the author of Experiencing God, lives in the Atlanta area. Thom S. Rainer, president and CEO of LifeWay Christian Resources, also posted a prayer request on his blog about the emergency situation.
"This morning we learned of an urgent prayer request for noted author and pastor Henry Blackaby," Rainer states. "Dr. Blackaby lives in the Atlanta area and has been missing since yesterday. His son Richard tweeted this morning: 'Please pray. Henry Blackaby has been missing since 4 p.m. Thursday. He is in black Lincoln without his diabetic medicine in Atlanta area.'"
In addition to asking for prayer for his safe return, Rainer asked that readers pray for strength for his wife, Marilyn, and their children and other family members, according to Charisma News.
Christian leaders from around the nation have been making prayer requests as new spread Friday morning about Blackaby, who is the founder and president emeritus of Blackaby Ministries International. Blackaby, 78, was scheduled to attend a conference in Hawaii next week for a speaking engagement.
"We really have no idea where he is," said Glenn Howe, an associate pastor at First Baptist Church in Jonesboro, Ga., as reported by Fox News Radio. "He left the house yesterday afternoon at 4 p.m. and there's been no other contact with him."
Howe told Fox News, "There are lot of eyes looking and lots of folks praying." Members of his church were gathering for a prayer vigil while others are assisting police in the search.
Blackaby's book, Experiencing God: Knowing and Doing the Will of God, sold 7 million copies and was translated into more than 45 languages.
On the web: http://www.blackaby.net/
Here is an interview of Henry Blackaby which was taken in 2009:
Henry Blackaby - Bringing faith into the workplace based on Biblical principles