'Son of God' Movie's Diogo Morgado Responds to Being Labeled #HotJesus: 'I Don't Want That to Take Away From What We Tried to Achieve'
Diogo Morgado has spoken out against the focus being placed on him personally, with social media users describing him as "Hot Jesus." The actor, who portrays Jesus in upcoming movie, "Son of God," has said that although he's flattered by fans fussing about and complimenting his looks, he insisted he does not want that or anything else to distract from the movie's core message.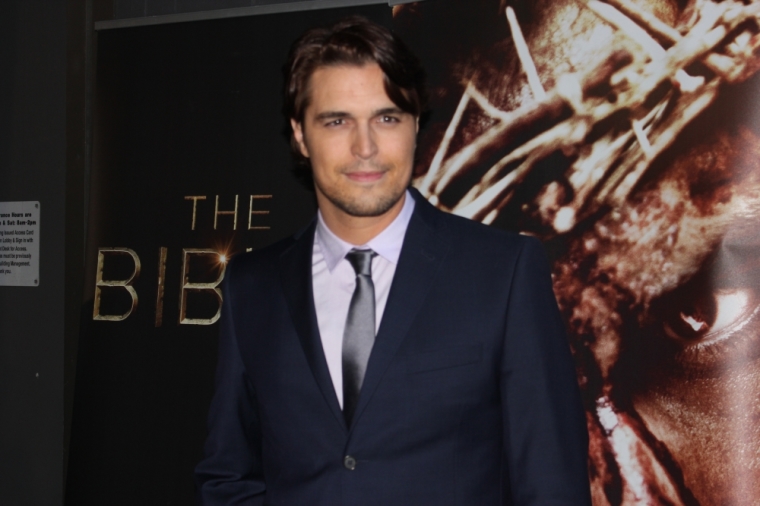 "It's a compliment, obviously but I don't want that to take away from what we tried to achieve," Morgado said, after The New York Times asked him about his reaction to a campaign expressing excitement about his good looks dubbed #HotJesus that went viral on Twitter. "The best story is the story that gets to the most people. If the message of Jesus was love, hope and compassion, and I can bring that to more people by being a more appealing Jesus, I am happy with that."
Roma Downey, who is producing the film along with her husband Mark Burnett, told the NYTimes that in settling on the Portuguese actor, they were looking for someone who was "strong and charismatic, who could also be a carpenter."
"Diogo is 6 foot 3 with broad shoulders. He has a strong presence but also a natural humility. We were really looking for someone who could portray the lion and the lamb," she added.
Morgado told Good Morning America on Wednesday that he came to realize the type of responsibility he was accepting by agreeing to play the role of Jesus after witnessing a father and son praying at the Wailing Wall in Jerusalem.
"I saw this father and a young kid, they were praying. And I stood for like two hours there. By the time I left, they were still praying. And I realized whatever I was about to do would be connecting more with that kid than his father. We live in a visual world now. Kids can learn a lot by seeing things rather than reading it. So I really understood the responsibility," Morgado said.
Morgado said that he believes the movie has the power to clarify different impressions that individuals may have of Christ, as well as teach those unfamiliar with him who Jesus is.
"There's a lot of people out there. A lot of kids especially. They don't know who exactly Jesus was. So, this is actually a tool that can teach these kids about why Jesus was who he was and why the Bible was the most important book," he said.
"I grew up as a Christian and I always think of Jesus as someone right next to us, you know, someone really close, and I never actually saw that onscreen in a way that could be identified," Morgado said. "So I actually tried to go that way and build this relationship of one-on-one with the viewer."
Directed by Christopher Spencer and starring Morgado as Jesus, Darwin Shaw as Peter, Sebastian Knapp as John, and Greg Hicks as Pilate, "Son of God" will be released in theaters across the United States on Feb. 28.