Spires and Crosses: The Church That Doesn't Want You to Take Pictures of It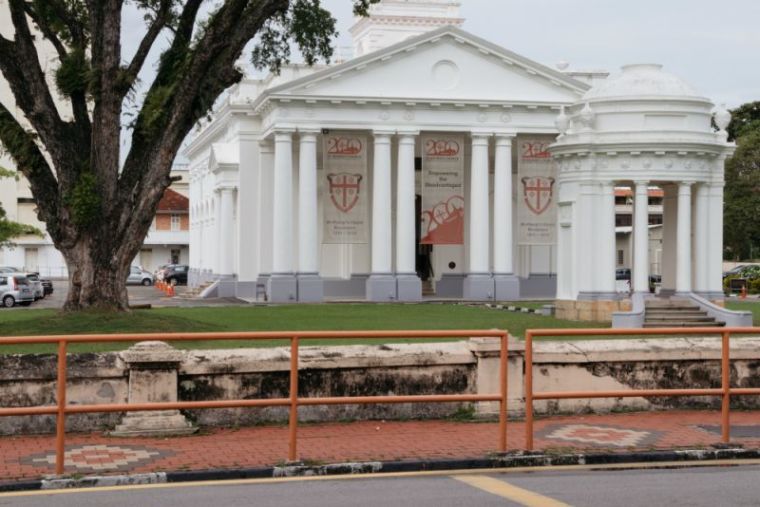 Considering that this column is all about historic churches it shouldn't come as a surprise that I travel a lot. Sometimes I go somewhere just to see churches and nothing else.
In the five years that I've been addicted to visiting churches it's rare that an old church doesn't welcome visitors.
Yes, some churches are regretfully locked. Sometimes you need to stop by the nearby pub or post office, where the proprietor or postmaster does double duty as keyholder of the parish church. Other times the little old lady who lives across the churchyard can let you inside. Regardless, there is always a way, even if it means visiting before or after scheduled worship times.
Only the big ones, some of which charge those visiting for secular purposes an admission fee, can be difficult. Think Westminster Abbey in London.
Some of these famous churches and cathedrals also prohibit photography on the grounds that it can damage religious art and church fittings, though even many art museums now allow photography. The more common explanation, however, is that allowing visitors to take pictures would be disruptive. That's somewhat understandable in the case of Westminster Abbey, which receives thousands of visitors every day. Still, I suspect the real reason is they want you to buy an overpriced keepsake picture in the gift shop.
Needless to say, I was taken aback when on a recent trip to Malaysia I was turned away at the doors of the oldest Anglican church in Southeast Asia.
The church was St. George's in the old British colonial-era city of George Town (founded in 1786), which is its own right a UNSECO World Heritage Site.
Built by the East India Company shortly after the Napoleonic Wars — the years 1816, 1817 and 1818 have all been cited in different sources — the church stands as a testament to the British colonial policy of making the world England. Its architecture draws heavily from London's St. Martin-in-the-Fields, the early 18th century neoclassical masterpiece overlooking Trafalgar Square, and the lesser-known St. George's Cathedral in Chennai (formerly Madras), India, itself from the same post-Napoleonic era.
St. George's is a fine example of not just Malaysia's rich colonial heritage, but also the Church of England's witness and propagation of the Gospel of Jesus Christ.
Today, the church isn't just a colonial-era building in a UNESCO World Heritage Site. It's also an active house of worship with a diverse congregation.
St. George's restricts visitor access on Sunday and during other times of worship. While that is perfectly reasonable the church takes it one step further by banning any and all visitors who carry cameras, including camera-equipped mobile telephones.
Before I could even make it to the grand portico at the west front I was accosted by a security guard, whose English I couldn't understand, even though I was at St. George's during published visiting hours (10 a.m. to 4 p.m., Monday-Thursday).
As I walked under the portico and into the church a docent confronted me and told me I couldn't come inside because photography was banned.
Having come so far — I literally traveled all the way to Malaysia to see this lovely church — I begged, pleaded and tried explaining that I just wanted to come inside and take a single picture. I even offered to speak with the vicar, the Rt. Rev. Charles Samuel, who also serves as suffragan bishop for the Anglican Diocese of West Malaysia.
The docent then told me to bugger off as politely as he could without actually using vulgarity. I probably could have pressed it, perhaps coming back later in the day when he might be away on lunch. After all, it was doubtful that a Christian would get arrested for taking a picture of a church. Banned from coming again? Perhaps. Arrested? Surely not.
So, I left. Never to come back.
I didn't get the picture of St. George's that I wanted, but at least I managed to see the inside when I worshipped during a regular Sunday service a couple days earlier.
If you go, be prepared to leave disappointed. Hopefully, St. George's will change its silly photography ban before the bicentennial of its 1819 consecration by the Anglican bishop of Calcutta.
How to get there
Getting to George Town is easy as with flights between Penang International Airport and the Malaysian capital of Kuala Lumpur almost on the hour. Round-trip airfares are as low as $24 on AirAsia, according to a search on Google Flights.
Avoid renting a car and instead use the ride-sharing application Uber, which is available nearly everywhere in Malaysia. Rides between destinations are super cheap.
Spires and Crosses is published every Sunday.