'Star Trek: Discovery' Cast Not Allowed to Mention God; Creator Wants Show Science-Driven Only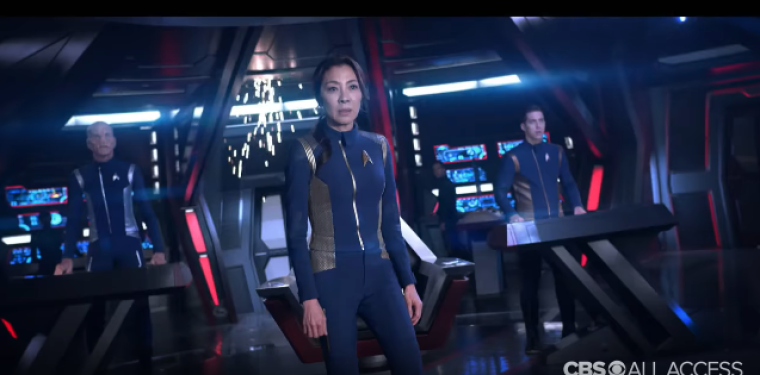 Although Star Trek has nothing to do with God overall, cast members of the new "Star Trek: Discovery" revealed that they are not even allowed to mention the word "God" while on set.
In a recent interview for an Entertainment Weekly cover story ahead of the series' release, the cast of the upcoming CBS TV series implied that any mention of God was out of bounds.
The series star, Jason Isaacs (Captain Lorca), told the publication that he ad-libbed the phrase "for God's sakes" while on set and the episode's writer, Kirsten Beyer, corrected him.
He explained that he was told that the creator, Gene Roddenberry, had a vision for his show to be completely godless, a strictly science-driven 23rd-century telling. Isaacs sarcastically replied: "How about 'for f***'s sake'? Can I say that?"
"You can say that before you can say 'God,'" Beyer responded.
"Star Trek: Discovery" will apparently be very different from the 1989 Star Trek V film where they found an alien that claimed to be God. A famous line from that film is actually when Captain Kirk says, "What does God need with a starship?"
"Star Trek: Discovery" will, meanwhile, feature its first openly LGBT crew member, a crucial character in the plot — Lieutenant Stamets — played by Anthony Rapp.
"I'm really excited and happy when a gay character is a part of a story — especially when a gay character is created in a complex and human and non-stereotypical, interesting way, and that has certainly been the case with Stamets," actor Rapp told EW.
"And you get to see his relationship. There was a little glimpse in Sulu in [Star Trek Beyond], and it was a nice nod. But in this case, we actually get to see me with my partner in conversation, in our living quarters. You get to see our relationship over time, treated as any other relationship would be treated."
"Star Trek: Discovery" will run its first episode Sunday, September 24.
Follow Jeannie Law on Twitter:
@jlawcp