Stormy Daniels Lie-Detector Test Released; Porn-Star Gave Details on Sex With Donald Trump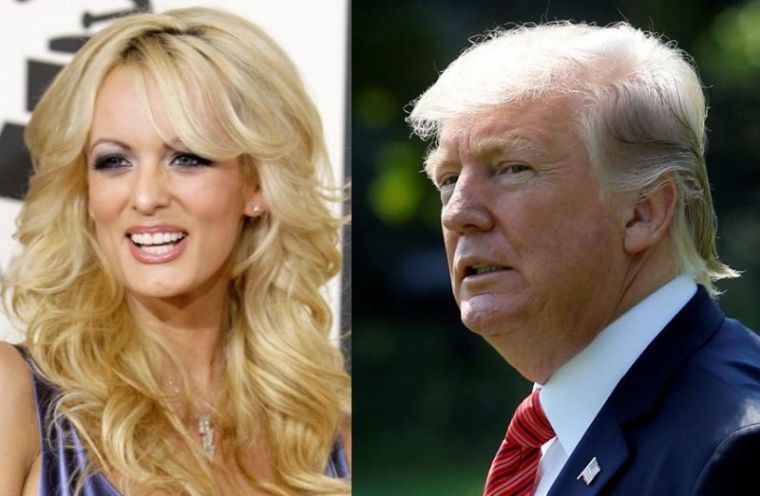 A polygraph report which describes how porn-star Stormy Daniels successfully passed a lie-detector test in 2011 about her sexual affair with now-President Donald Trump has been released to the public.
CNN published the document on Tuesday, with the test conducted in May 2011 by polygraph examiner Ron Slay.
The report lists three relevant questions that Daniels was asked about her encounter with Trump in July 2006, something which the billionaire businessman denies.
The questions include: "Around July 2006, did you have vaginal intercourse with Donald Trump?," "Around July 2006, did you have unprotected sex with Donald Trump?" and "Did Trump say you would get on 'The Apprentice?'"
Daniels answered "yes" and truthfully passed each one of them.
In the pre-test interview, the porn-star, whose real name is Stephanie Clifford, explains that she met Trump at a golf event in 2006 at Lake Tahoe, when he approached her and engaged in conversation.
"She (Daniels) said he (Trump) invited her to dinner at his hotel. She was reportedly surprised to learn she would be having dinner with him in his room," the report explains, noting that they engaged in the sex acts after they "talked a long time."
If Daniels' statement is true, it would mean that the affair took place while Trump was married to his current wife, Melania. The president has firmly denied the accusations, however.
Daniels is currently mounting a legal effort to void a nondisclosure agreement preventing her from going public about the affair, and has alleged that Trump's longtime personal lawyer threatened her.
Michael Cohen, the lawyer in question, pushed back against Daniels' accusations in a statement to Vanity Fair published on Monday.
"I have never spoken to her. I have never e-mailed her. I have never met her. I have never texted her," Cohen said. "Every interaction with Ms. Clifford was always through her previous attorney."
Several other women are also accusing Trump of having an affair with them or engaging in sexual harassment, including Karen McDougal, a former Playboy model. The Guardian reported on Tuesday that McDougal has sued to be released from her own nondisclosure agreement in 2016, alleging an affair with the president.
Summer Zervos, a contestant on Trump's former reality show "The Apprentice," learned on Tuesday that her defamation lawsuit against Trump can go ahead, following a New York state judge ruling.
Zervos is accusing Trump of sexual harassment, alleging that he kissed her aggressively and touched her breast while having lunch at his New York office in 2007, and later while in Beverly Hills.
Trump has denied all accusations on those accounts as well.
Evangelical leaders supportive of Trump have meanwhile been urged by the media to respond to the controversy surrounding Daniels and Trump's alleged affairs. Some, such as Robert Jeffress, pastor of the 12,000-member First Baptist Church in Dallas, Texas, have insisted that believers will not abandon the president.
"Evangelicals know they are not compromising their beliefs in order to support this great president," Jeffress told Fox News earlier in March.
"Evangelicals still believe in the commandment: Thou shalt not have sex with a porn star. However, whether this president violated that commandment or not is totally irrelevant to our support of him," he added, noting that evangelicals backed the president "because of his policies and his strong leadership."
Others, such as John Murdock, a professor at the Handong International Law School, wrote in an op-ed published in The Christian Post that allegiance to a political party should not blind believers "to the failings of our politicians and the impact that those can have on a nation," however.
"Rather than harness energy from the #MeToo movement, which has the progressives of today agreeing with the conservatives of yesterday, the Christian Right seems intent on repeating the other side's mistakes," Murdock warned.