Strictest Abortion Bill in Nation Could Be Passed in Ohio; 'Heartbeat Bill' Resurrected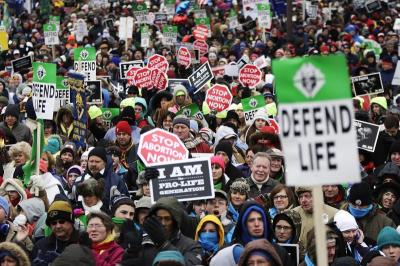 Pro-life Ohio state representatives have revived the so-called Heartbeat Bill, which, if passed, could make Ohio's the strictest abortion law in the country.
Republican Reps. Christina Hagan and Lynn Watchtmann have reintroduced a measure that would ban abortions once a fetal heartbeat is detected, which experts indicate can be sensed as early as six weeks into a woman's pregnancy.
The bill was first introduced in 2011 where it passed the House but failed in the Senate.
Mark Harrington, the executive director of the Ohio pro-life group, Created Equal, refused to be overly-optimistic about the chances of the bill, but at the same time he expressed that the bill was in good shape.
"There are no guarantees in politics and we have no guarantees from our reps whether it will pass or not," he told The Christian Post.
Speaking from his previous experience in 2011, Harrington added, "We were one vote away from getting it through both chambers. Right now, there is a Republican legislature and Republican governor, so there's no better time than now. We've been there, done that, and learned a lot."
Kellie Copeland, the executive director of NARAL-Pro-Choice Ohio, was less sure of the bill's chances.
"There's less support than last session and less co-sponsors. A lawsuit [filed against the bill] could cost the state millions of dollars," she told CP. "You'd think we would have better things to spend money on fighting the infant mortality rate or unplanned pregnancy prevention. We could find better ways to use resources that fighting a losing battle in the courts."
The bill, which has passed in both North Dakota and Arkansas, has faced legal challenges in both states, blocking its immediate implementation. Copeland believes that pro-life advocates are hoping the bill faces legal action.
"[Pro-life advocates] would like to have case to work to Supreme Court and won't be satisfied until they have reached goal [of overturning Roe v. Wade]," she suggested. "We are here to stop them."
Ohio's current abortion laws have already been under fire from pro-abortion activists. State law currently stipulates that a woman seeking an abortion at 20 weeks gestation must first get clearance with her doctor that the fetus would not survive outside the womb. If so, abortions are banned, though exceptions are allowed if the woman's health is in danger.
In June, Ohio passed a law that banned publicly funded hospitals from entering into contracts with abortion clinics to provide them with emergency medical care. Center for Choice, based out of Toledo, closed after their state-funded partner was prohibited from funding them and the two other private hospitals declined.