Supreme Court Rejected Obama Arguments More Than Any President in Over 80 Years, Study Finds
President Barack Obama lost more legal arguments before the United States Supreme Court than any president since the Depression Era, according to a new study.
Lee Epstein of Washington University in St. Louis and Eric Posner of the University of Chicago released a research paper earlier this month noting that the former president had a higher loss percentage than any president going back to Franklin Delano Roosevelt.
The researchers had as a dataset a total of 3,778 orally argued cases between 1932 and 2015, which covered thirteen presidential administrations.
"Presidents prevailed in nearly two-thirds of their cases; and captured over 60% of all votes cast," wrote Epstein and Posner. "Obama's win rate of just 50.5% is significantly lower than the average win rate and, in fact, the lowest in our dataset."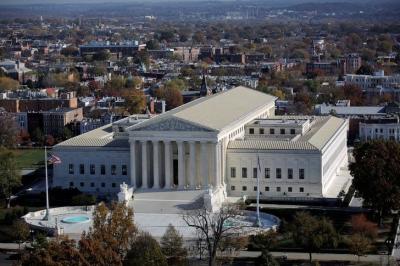 Rather than blame Obama himself, the researchers attributed his court defeats more towards a general trend of decline in administrative success rates that began after the Reagan era.
"Based on these data, we understand why some commentators blame Obama himself for his administration's poor showing; they say the Court merely pushed back on aggressive executive policy making," continued Epstein and Posner.
"But [data] suggests another possibility: Obama was just the latest victim of a Court growing less and less deferential to the executive branch. In fact — and low as it may be — Obama's win rate is not significantly lower than [George W. Bush's]."
During his time as president, Obama nominated three individuals to the Supreme Court, two of which, Justices Sonia Sotomayor and Elena Kagan, were confirmed by the Senate.
Despite this, the Obama administration had many unanimous decisions leveled against them, as noted by the Washington Free Beacon.
"In the 2016 term, the Obama administration argued 10 cases that resulted in unanimous decisions against the government, meaning the president did not receive a vote from his own justices he appointed to the Court," reported the Free Beacon last Thursday.
"Noteworthy losses during Obama's presidency included the blocking of an executive action giving work permits to 5 million illegal immigrants [and] a 'humiliating' loss to Obama in his attempt to make recess appointments to the National Labor Relations Board while the Senate was in session."
Epstein and Posner are not the first to note the many lost legal battles of Obama. The libertarian think tank Cato Institute published a piece in February 2016 describing the Obama administration's win-loss record as "abysmal."
"In the first 6.5 years of Obama's presidency (January 2009 to June 2015), the government lost unanimously at the Supreme Court 23 times, an average of 3.62 cases per year," stated Cato.
"The Justice Department's unanimous loss rate from 2012 to 2014 was especially bad – 13 cases in 30 months – almost three times Bush's overall rate and almost twice Clinton's (and that doesn't count amicus litigating positions with unanimous losses)."