Tauren Wells' 'Hills and Valleys,' Cory Asbury's 'Reckless Love' Dominate 2018 GMA Dove Awards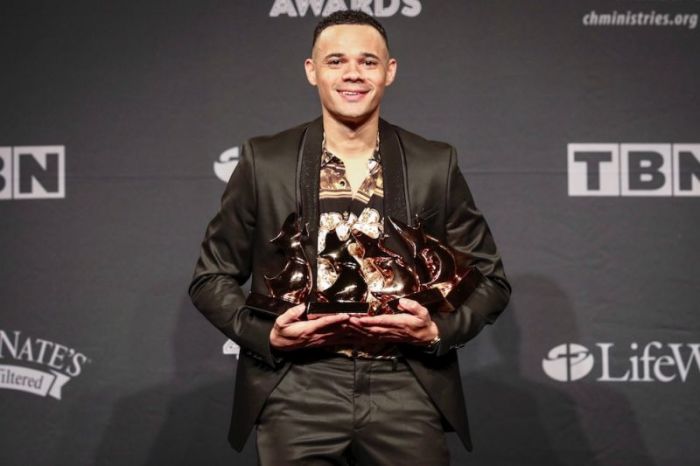 Christian music newcomers Tauren Wells, Cory Asbury and Zach Williams won big at the 49th annual GMA Dove Awards Tuesday night.
The biggest names in Christian music gathered for the prestigious event at Lipscomb University in Nashville, Tennessee, where Wells dominated the awards show, winning four of his eight Dove nominations. Wells received awards for Contemporary Christian Artist of the Year, New Artist of the Year, Rap/Hip Hop Recorded Song of the Year and Pop/Contemporary Album of the Year.
The former lead singer for Christian rock group Royal Tailor also performed his No. 1 single "Known" from his solo debut album, Hills and Valleys, as well as the tune, "War Cry" with show winners Social Club Misfits.
"While it's great to pose for all these pictures and getting to hold all these trophies, this doesn't matter as much as what is happening inside our hearts," Wells said backstage.
Worship Pastor Cory Asbury also had a great night. His hit song "Reckless Love" earned Doves for Song of the Year, Worship Song of the Year and Worship Album of the Year.
"What a privilege this is," Asbury said in a statement shared with The Christian Post. "Isn't it just like the Lord to take our failures and our overall jacked-up mess and turn it into something beautiful? He takes our disappointments and turns them into a dance floor. He allows us to be kids again."
One year after winning a Dove Award for New Artist, southern rocker Zach Williams was given perhaps the most prestigious award of Artist of the Year. Excited to meet the award's presenter, Russ Taff, Williams dedicated his acceptance speech to his family who were present at Tuesday night's awards show.
Other winners of the night included Matthew West, who took home his first GMA Dove Award for Songwriter of the Year. Tasha Cobb Leonard was awarded Gospel Artist of the Year as well as Urban Worship Album for Heart. Passion. Pursuit. Legendary group The Gaither Vocal Band won Southern Gospel Artist, and Southern Gospel Recorded Song of the Year went to Jason Crabb.
The evening's performers included Crabb, who performed with country stars Rascal Flatts; pop star Tori Kelly and gospel singer Kirk Franklin; as well as Koryn Hawthorn and Natalie Grant. Billboard history maker Lauren Daigle closed out the evening performing her hit song "You Say."
The Dove Awards are scheduled to air Sunday, Oct. 21 on Trinity Broadcasting Network. For the complete list of Dove Award winners, visit doveawards.com.