'Thank You for Praying,' US Missionary Kenneth Bae Says After His Release From North Korean Labor Camp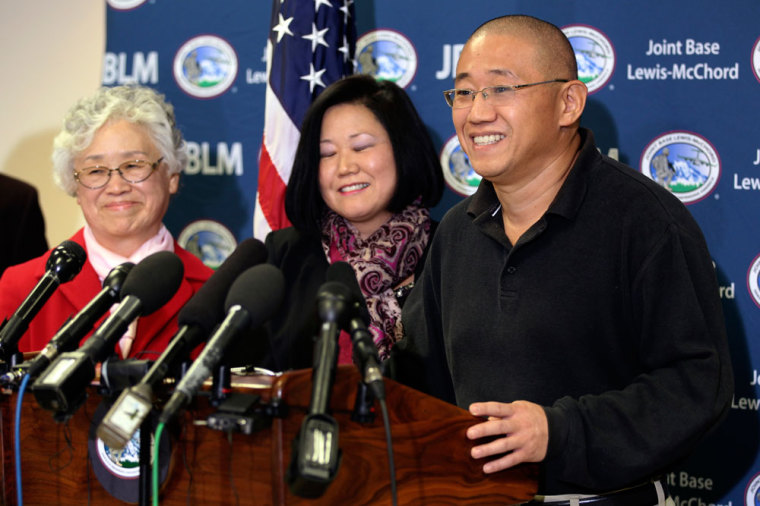 U.S. Christian missionary Kenneth Bae spoke to reporters Sunday and thanked the "thousands of people" who prayed for him during his two-year detention in North Korea, saying, "It's really been encouraging for me and for others."
Bae, who was freed along with U.S. citizen Matthew Miller Saturday, acknowledged that "thousands of people were praying" for him, according to The Seattle Times.
He said, jokingly, he has lost a lot of weight "in a good way" but "I'm standing strong because of you."
"I just want to say thank you all for supporting me and lifting me up and not forgetting," Bae said at a news conference at Joint Base Lewis-McChord south of Seattle, Washington.
He thanked President Barack Obama and the U.S. State Department as well as the North Korean government for "letting me go home."
He described his time in the prison in North Korea as "amazing two years."
"Thank you for all your support and prayer and love," he said. "It's really been encouraging for me and for others."
Bae's sister, Terri Chung, also spoke to reporters Sunday outside her Seattle church, according to The Associated Press.
She said Bae had pizza with family and supporters after returning from North Korea. He requested a "burger or pizza" after arriving and the family had "a late night eating pizza."
"He said, 'I don't want Korean food, that's all I've been eating for the last two years.'"
Chung said her brother was in "better shape" than his family expected, and that Bae had been in the hospital in North Korea for about six weeks before his release.
Bae and Miller landed late on Saturday at the Washington state military base after Director of National Intelligence James Clapper visited North Korea on a secret mission for their release.
Chung posted on her Facebook page: "Our Thanksgiving celebration this year will be one we will never forget."
Bae plans to get rest, eat good food and spend time with friends and family, she added. Neither his wife nor his children could reach Seattle in time for his return.
Bae had been sentenced to 15 years of hard labor for allegedly plotting to overthrow the government, and kept in a labor camp, where he was moved from a hospital in January amid grave concerns about his health. Bae, who was arrested in the city of Rajin on Nov. 3, 2012, was the longest-serving American detainee in North Korea since the end of the war in 1953.
North Korea has been a brutal dictatorship, ruled by one party, the Korea Worker's Party, and led by one family, the Kims, since its formation in 1948. There are at least 100,000 Christians in that nation's harsh prison camps, where prisoners face torture, forced labor and possible execution, Christian groups say.