The Gettys Exclusive: Famed Hymn Writers Talk Irish Christmas Tour, Not Making Music for Radio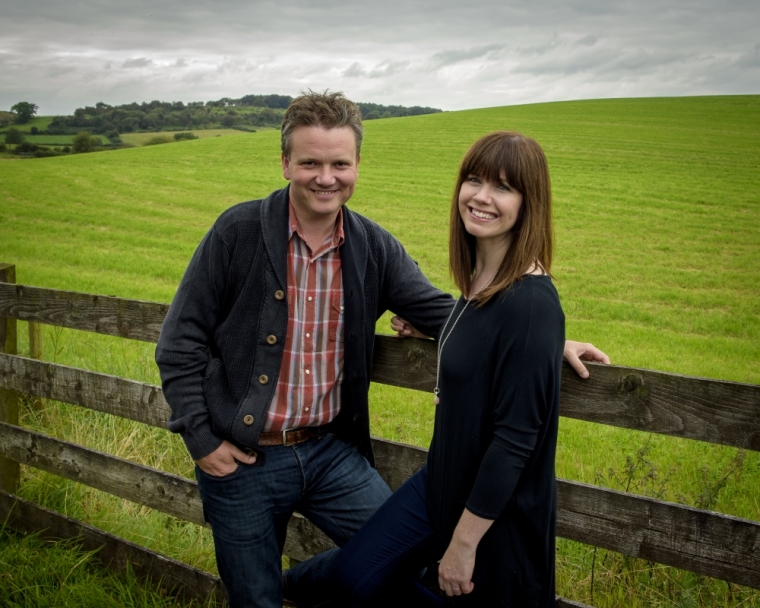 A number of musicians sell records while showcasing their Christian faith, but Keith and Kristyn Getty are making music for congregations to enjoy in worship instead of on the radio.
The Gettys, married musicians and songwriters that consist of Keith and Kristyn from North Ireland, have released six albums and performed all around the world in popular venues such as London's Royal Albert Hall and the Grand Ole Opry.
Keith has received acclaim for his song "In Christ Alone," which is the most-sung hymn in the United Kingdom and among the top 20 hymns sung in the United States, Canada and Australia, according to Christian Copyright Licensing International.
While Keith and his wife Kristyn have been doing a Christmas tour since 2010, they are gearing up for a 16-city tour unlike any other. Everybody might not be able to travel to Ireland for Christmas, but Keith and Kristyn Getty are working to bring the experience to people on their latest tour, "Joy–An Irish Christmas with Keith & Kristyn Getty."
Keith spoke to The Christian Post about reinventing his Irish Christmas show with his wife with new sounds and concepts. While the first half of the show will feature music of the "old world" such as Celtic and Irish music, it will also welcome Spanish and French traditions. The second half of the show promises to introduce influences from Canadian music, Bluegrass, jazz and even the Gospel to help celebrate the birth of Jesus Christ.
"I'm really excited about those things and that gives the show a really unique flavor," Keith told The Christian Post "It's all Christmas-tree-lit so it's a whole kind of different feel. Musically, it's a fresh approach."
Now that the duo is embarking on their U.S. tour to celebrate the Christmas season this month, Keith has some goals for the show each night.
"We want to keep making the show more interesting, more impactful. We don't try and force people into responses, we just try to make a beautiful show and make an incredible story of Christ and His coming to earth," Keith told CP. "So we take an incredible story in history and try to make it as beautiful as possible for everyone because in that story each person can be interactive. Each person can have hope and refreshment as they go into this."
Keith said it is important for the Irish songwriting couple to share their brand of Irish music for audiences because of the history of carols from the Celtic Islands.
"When the Catholic church banned the singing of English in the 15th century, people were still singing carols during the Christmas season. When the Puritans banned music and dance from the church, there were people that would celebrate with music and dance and celebrating the good news, celebrating the story, celebrating the season," Keith told CP. "There's just a sense of energy, of sharing the good news, of celebrating, of singing together. And everyone and my wife and I ... obviously a huge part of our show is the congregational involvement as well."
While The Gettys' music may not sound up-to-date in 2014, Keith revealed that he and his wife purposely avoided trying to follow the popular sounds of today to stay relevant.
"I know the value of what we try to do, we try to write music in the traditional melody or classical structure. It's not music that's tied to any particular popular form," Keith told CP. "It doesn't stand out in 2014 so it's not on the radio as much, but at the same time in 2019 it won't sound out of date. We try to incorporate it with historical church music, what has been going on in the past, because I think the true way to be futuristic is to learn from the past."
Still, more current artists such as Alison Krauss, Ricky Skaggs, Owl City, Newsboys, Mercy Me, Natalie Grant, Passion/Kristian Stanfill, and Heather Headley have opted to record music created by the Gettys. While Keith acknowledged that it was an honor to witness popular modern day musicians record his songs, he also said it was not his intention to have them do so.
"Honestly, what makes me most excited is to hear congregations singing these hymns. I didn't write these songs for artists to cut them," Keith told CP. "But when an artist records them, obviously it's a privilege. It's also interesting to hear their interpretation of it and useful for the song because it helps the song get played more."
CCLI has reported that The Gettys have written eight of the most popular hymns sung in the U.S., and 23 of the most popular in the United Kingdom. Instead of focusing on who listens to their music, The Gettys want to make sure people in churches around the world are encouraged while worshipping God by singing their songs.
"I wrote these songs for congregations to sing them. That's actually what it's all about," Keith told CP. " I get more excited to hear a church from Norway, or India, or China, or Brazil singing these songs or just a little small church somewhere in America which may need encouragement and that's who they are written for."
The "Joy–An Irish Christmas with Keith & Kristyn Getty" tour dates are as follows:
Dec. 1 - Wheaton, IL - College Church
Dec. 2 - Lancaster, PA - Calvary Church
Dec. 5 - Ft. Lauderdale, FL - Coral Ridge Presbyterian Church
Dec. 7 - Hattiesburg, MS - Temple Baptist Church
Dec. 8 - Jackson, MS - First Presbyterian Church *free concert
Dec. 9 - Dallas, TX - Winspear Opera House
Dec. 10 - Austin, TX - The Riverbend Centre
Dec. 13 & 14 - Cleveland, OH - Connor Palace Theater
Dec. 15 & 16 - McLean, VA - McLean Bible Church
Dec. 17 - New York, NY - Carnegie Hall
Dec. 19 - Atlanta, GA - Cobb Energy Performing Arts Centre
Dec. 20 - Knoxville, TN - Tennessee Theatre
Dec. 22 - Nashville, TN - Schermerhorn Symphony Center
For more information about The Gettys and their tour, please click here.