Thousands of Women to Repent for Racial Sins of America in Worship Rally on National Mall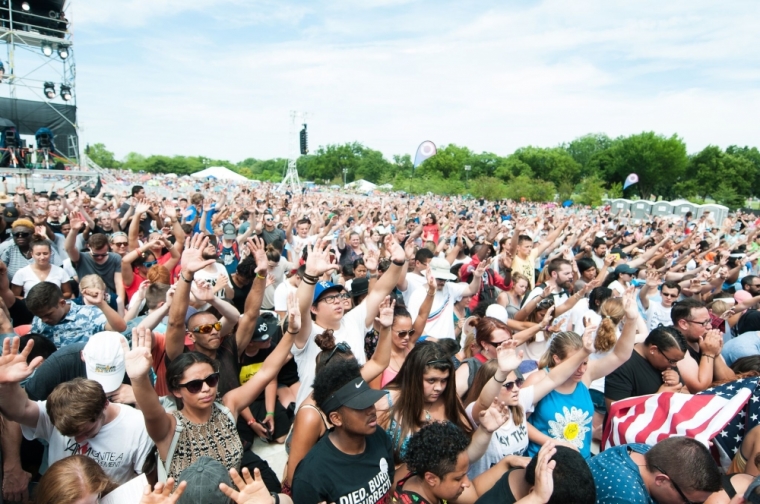 This weekend's worship festivities on the National Mall will culminate on Monday in the form of a day-long women-led worship rally in which people from all across the United States will be called to pray for a "Jesus Movement" to sweep the nation and foster racial reconciliation, gender equality, and for an end to abortion.
Thousands of women are expected to gather in Washington, D.C. for "Rise Up," a worship-focused revival calling on Americans to repent for the country's history of racial and gender-based injustices and for the country's embrace of abortion.
The women's worship rally comes just over 20 years after hundreds of thousands of Christians gathered on the National Mall on Oct. 4, 1997, for the male-centered Promise Keepers' Stand in the Gap rally.
Organized by Lou Engle's The Call, Rise Up will occur as Christians from all 50 states set up tents on the National Mall for three days over the weekend to hold prayer and worship at America's Tent of Meeting sponsored in-part by Awaken the Dawn.
"Rise Up is sort of the culminating event for that three days of prayer and worship," Rise Up organizer Kristina Sabestinas told The Christian Post. "We would like to see another Jesus Movement birthed for a new generation and believing supernaturally that the presence of God would move across this nation and draw people to Him. We believe prayer is a really important part of that."
With the call for women to "rise up" being the central theme of the event, those who gather on Monday will be called to follow the biblical examples of women like Deborah, the only female judge in the Bible who told that God Commanded Israel's troops to attack the forces of the oppressive King Jabin, and Esther, who saved her people from possible genocide.
"When her nation was in a time of crisis, there was a statement that said, 'I Deborah arose as a mother for her nation.' And we are really calling on women to step up and rise up on behalf of their children and the coming generation, and pray that God would move in our country," Sabestinas said. "Although in Esther it doesn't mention God specifically, she is a model of someone who used her influence to help other people."
The worship gathering, which will last from 8 a.m. to 4 p.m., will be broken into various worship segments and prayer segments.
"There will be different themes throughout the day and one of the themes is racial reconciliation and healing. We will be praying and repenting for the oppression of minorities in our nation and asking for forgiveness and believing for reconciliation to be part of what happens in that day," Sabestinas added. "We will also be praying on behalf of the oppression of women in our country and how they have treated women and how women have sometimes been marginalized and thought that they can't lead."
"Also, a key part of what we are doing with Rise Up is drawing attention to the abortion issue and asking women to use their influence to take a stand for life and make a public stand for life," Sabestinas added. "We draw a lot from Esther because she did take a stand for people who were appointed to die."
Sabestinas asserted that women in America can have an impact just as Esther did.
"Her whole people were potentially facing genocide," she continued. "We see similarities in believing that women can actually be a voice on the [abortion] issue and not be afraid to stand up and say we want to see Roe v. Wade overturned — that we want to take a stand for life, we want to see an adoption movement start in our nation and be an answer and a resource to women in crisis and not continue this pattern of killing off the next generation."
A number of pro-life activists are scheduled to speak at the event, including Concerned Women for American's Penny Nance and the Susan B. Anthony List's Marjorie Dannefelser.
Regardless of how many turn out for the Rise Up gathering, Sabestinas told CP that she knows the event will make an impact one way or another.
"When you dream about something like this, we just want the masses to show up. But we believe that even if there is 100 or a 1,000 or 10,000 women there that our prayers are going to make a different and matter and God takes that seriously," she said. "He hears the cry of the people who will humble themselves before Him and pray."