Toronto Raptors' Landry Fields Admits He Made NBA His God Before Injuries Brought Him Back to Jesus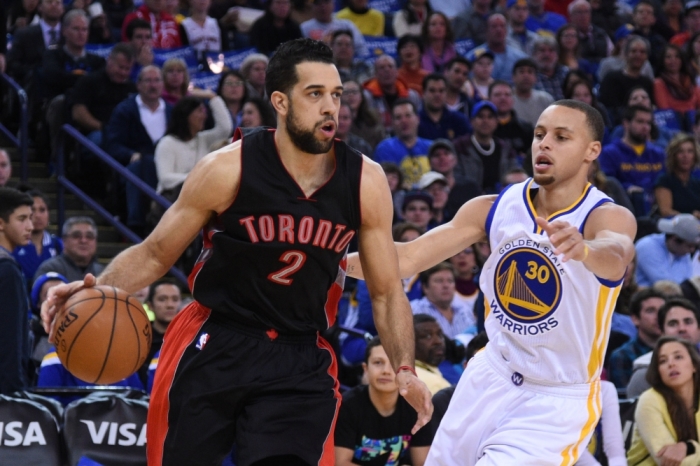 For years the Toronto Raptors swingman Landry Fields publicly professed his Christian faith, but it wasn't until consecutive injuries kept him off of the basketball court that he realized the NBA had become his god.
"I've lived a lot of my life as a person who believes in God, but lives as if he doesn't exist. I already had a 'gospel' of my own — the promise that love and wealth are the world's to give to the popular and gifted," Fields wrote in an article on theologan John Piper's website, Desiring God. I didn't need to trust God, because I already trusted another god: the NBA."
In the article titled "Injury Interrupted My Idolatry," Fields, 27, went on to talk about how suffering through injuries that kept him away from his passion brought him closer to God. He cited scriptures 2 Corinthians 7:10 and Matthew 11:30 to demonstrate how God can use painful situations to bring renewed joy into people's lives.
"Suffering is the hook that God uses to bring us back to Himself, collapsed and tired from slaving for sin, which Jonathan Edwards calls our 'cruel task-master, which oppresses and chastises.' It's the earthquake that exposes idols and dethrones sin in our hearts," Fields wrote.
"When I was playing for the Knicks, I knew God existed and disapproved of the life I was living (overindulging in alcohol and sexual promiscuity), but I preached a gospel of cheap grace to make myself feel better. With the injuries, God exposed that I was relying on something other than grace painted to look like grace — a cheap grace that was as useful for my suffering as a cardboard cutout of Jesus."
After he began to suffer from his injuries, the basketball player knew he couldn't rely on his talents to get him through the tough times. Instead, he turned to scriptures like James 2:17 and James 2:19, which helped him realize he had some soul searching to do.
"When the injuries came, I started reading Scripture. I had the odd, unsettling thought, 'I don't think I'm really saved.' My casual Christianity needed to be told, 'You believe that God is one; you do well. Even the demons believe — and shudder!' (James 2:19)," he wrote. "God dims the light of our life with suffering, so that our hearts embrace a grace that really sustains. Suffering is a time to mourn the loss of that which could never save."
After being injured for over three years, Fields admitted that basketball had become his gospel and finally began to see why he had been allowed to suffer through a painful ordeal. The reason was to find hope in God alone.
"The only thing that lasts in this life is Christ. I started putting all my joy, hope, and life in God's hands," he wrote. "I call my first season of injuries, 'The Wilderness.'"
Other than having to suffer from physical injuries, Fields also revealed that he had to make some life changing decisions when he found out that his girlfriend was pregnant during a time he was not fully submitted to God.
"... Off the court, my girlfriend became pregnant. By God's grace, now she's my wife, but we had only been dating for a few months at the time. At the time, I didn't know what to do," he revealed. "Now, my wife is a believer. We're raising our son to love Jesus."
Although Fields is still working on rehabilitation with a recent hip surgery, his faith in God has been renewed with a testimony he hopes will help others.
"Suffering is beautiful because it sets us free. Suffering has made the Gospel real to me. And God will use suffering to make the Gospel real to you too," Fields wrote. "If you're going through something painful or difficult, it doesn't mean that God isn't paying attention or doesn't care. It means God wants to win you to true faith in Him, a better hope in His salvation, and deep humility and joy in His grace."
After reading Fields' intimate article, his good friend and fellow NBA player Jeremy Lin took to Twitter to support him by writing, "woww very honest and insightful read by @landryfields ... Proud of you bro!! #heavenlyprize."