Trump Admin Transporting Hundreds of Unaccompanied Immigrant Kids to Texas Tent City
Trump Admin Transporting Hundreds of Unaccompanied Immigrant Kids to Texas Tent City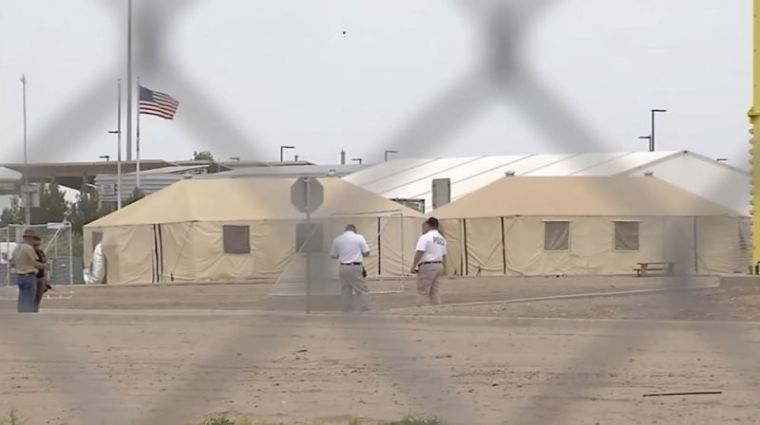 The Trump administration has moved hundreds of undocumented immigrant children in the middle of the night from foster shelters to a tent city in Texas designed to house as many as 3,800 kids.
According to the New York Times, the Department of Health and Human Services has in recent weeks rounded up detained unaccompanied immigrant children held in foster facilities licensed and monitored by individual states and shipped them by bus in the middle of the night to Tornillo, Texas.
In the West Texas border town is a tent city for undocumented immigrant children that was expanded last month from 1,200 to 3,800 beds in order to accommodate the increase of undocumented children in federal custody in what the newspaper calls "a mass reshuffling" that has seen over 1,600 kinds transferred there thus far.
The New York Times reports the move resembles a shift in living conditions for many of the children, who were sleeping approximately two or three to a room in foster homes and shelters but are now being housed in tents of 20 and are sleeping in lines of bunks.
Additionally, the children reportedly no longer have access to the same educational opportunities they did in foster facilities. The only resemblance of an education comes in the form of an optional workbook. In Tornillo, access to legal services is also said to be limited.
The move comes as the federal government has more immigrant children in its custody today (around 13,000) than ever before. Last month, The New York Times reported that the number of immigrant children in federal custody increased from 2,400 in May 2017 to about 12,800 in mid September.
The Tornillo facility, which lies southeast of El Paso, first opened up in June with an original capacity of 450 beds and was only slated to remain open for 30 days. However, the facility's closure was delayed twice throughout the summer and HHS officials confirmed last month that it would stay open through the end of the year.
"The number of families and unaccompanied alien children apprehended are a symptom of the larger problem, namely a broken immigration system," HHS spokesperson Evelyn Stauffer told The New York Times. "Their ages and the hazardous journey they take make unaccompanied alien children vulnerable to human trafficking, exploitation and abuse. That is why HHS joins the president in calling on Congress to reform this broken system."
Stauffer added that it is "common to use influx shelters as done on military bases in the past."
"[T]he intent is to use these temporary facilities only as long as needed," Stauffer added.
While much media attention was paid earlier this year to the federal government's policy of separating of undocumented immigrant children from their parents being detained in immigration detention centers, the growth of the Tornillo tent shelter facility is unrelated because it is due to the growth of unaccompanied children who crossed the border without a parent or legal guardian and were mostly likely trafficked.
"'Family separations' resulting from the zero tolerance policy ended on June 20, 2018, and are not driving this need," HHS spokesman Kenneth Wolfe told Texas Monthly in September.
Mark Greenberg, who headed the HHS's Administration for Children and Families during the Barack Obama administration, told Texas Monthly that facilities like the tent city in Tornillo are among the most expensive option when it comes to housing immigrant children.
A source with knowledge of the situation who is not authorized to speak publicly told Texas Monthly that it could cost about $100 million per month to operate the facility in Tornillo at its expected 3,800-bed capacity.
"[T]here are legal requirements of programs to meet, and the other part is recognizing that it is not in the best interest of children to be in congregate care facilities for long periods of time, and that the best interests of children will be to be with their parents or close family relatives if that's a possible option," Greenberg asserted.
In its report, The New York Times states that the move to Texas is really meant for children who are likely to be released sooner rather than later since they are considered close to being placed with a sponsor.
Yet, immigration advocates are still concerned that some children are likely to spend months in the tent city.
"Obviously we have concerns about kids falling through the cracks, not getting sufficient attention if they need attention, not getting the emotional or mental health care that they need," Leah Chavla, a lawyer with the Women's Refugee Commission, told the New York Times.
Concern has been raised about the arrest of several unauthorized immigrants living in the United States who have volunteered to sponsor an immigrant child.
Last month, a high-ranking Immigration and Customs Enforcement official Matthew Albence told a Senate committee that at least 41 undocumented immigrants were arrested between June and September after they agreed to sponsor unaccompanied children under HHS custody or were a household member of a sponsor.
Those willing to sponsor were subject to background-check and fingerprinting.
Although Albence declared that a "large chunk" of those arrests were "criminal aliens," an ICE official later told CNN that 70 percent of those arrests were for violating immigration laws.
According to CNN, only 12 of the 41 immigrants arrested were criminal arrests while 29 were labeled as non-criminal "administrative" arrests.