Trump and Martin Luther King, Jr.'s Son Meet on MLK Day; Discuss Voting Rights and Other Issues
President-elect Donald Trump met with Martin Luther King III on Monday as the nation celebrated the greatest pioneer of American civil rights.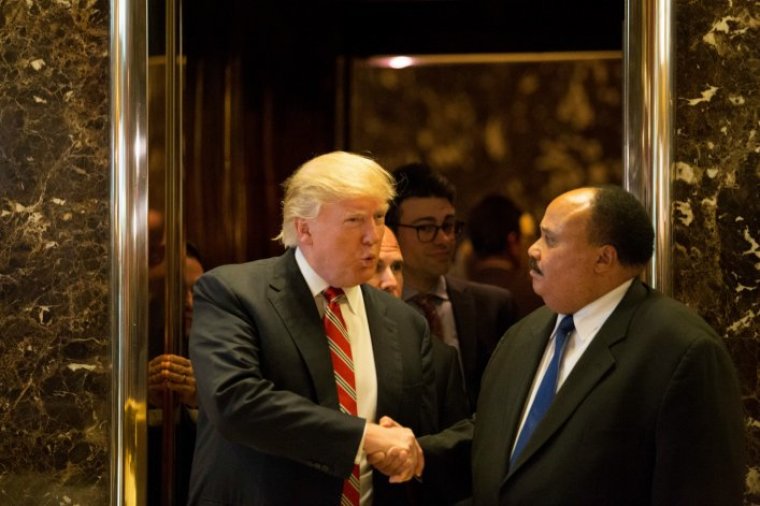 On Martin Luther King Day, Donald Trump held a private meeting with MLK's eldest son and his colleagues at the Trump Tower in New York City.
The meeting, conducted in lieu of Trump's planned visit to the Smithsonian Museum of African-American History and Culture in Washington on MLK Day, was held primarily to discuss voting rights issues. 
Describing it as a "constructive" meeting, Mr. King said that Donald Trump intends to protect interests of all Americans. "He said that he is going to represent Americans — he's said that over and over again," Mr. King, the president of the Drum Major Institute, a progressive public policy think tank in New York, told reporters. "We will continue to evaluate that."
Mr. King has campaigned for years to establish a free government photo identification card that would make it easier for Americans who do not have driver's licenses or other official ID to cast ballots. Mr. King and his colleagues from the Drum Major Institute petitioned Trump to endorse this idea in their meeting on Monday. Many civil rights leaders believe the distribution of a free government ID to be vital for Americans with low incomes who cannot open bank accounts or vote without them.
"It is very clear that the system is not working at its maximum," Mr. King told reporters. "We believe we provided a solution."
The meeting also allowed Trump to work on repairing his relations with African Americans across the country. Trump, who has always been viewed in a negative light by the black community, tarnished his image further by publically sparring with U.S. Representative John Lewis, Democrat from Georgia.
Lewis, who had marched alongside Martin Luther King, Jr. at Selma and other key civil rights demonstrations, had said that he would not be attending Trump's inauguration ceremony as he doesn't view him as a legitimate president. Trump retaliated to these remarks on Twitter, saying that "Congressman John Lewis should spend more time on fixing and helping his district, which is in horrible shape and falling apart (not to mention crime infested) rather than falsely complaining about the election results. All talk, talk, talk - no action or results. Sad!"
His remarks against Mr. Lewis have enraged the black community at large along with several prominent civil rights activists and leaders across the country. There are widespread concerns of Trump's prejudiced view towards black Americans and how they will be treated by authorities under his administration.
"If you can disrespect John Lewis on Martin Luther King Day, then what are you saying about the rest of us?" Mr. Sharpton told the New York Times. "He seems to have a one-dimensional, very negative view of what black America looks like, and that is frightening to many black Americans."
While he readily posed alongside Mr. King for media photographers in the Trump Tower lobby, the President-elect refused to answer questions about his feud with Mr. Lewis. Mr. King attempted to diffuse tensions saying "Well, first of all I think that in the heat of emotion a lot of things get said on both sides. And I think that at some point -- I am, as John Lewis and many others, a bridge builder."
"The goal is to bring America together and Americans. We are a great nation but we must become a greater nation. And what my father represented, my mother represented through her life, what I hope that I am trying to do is always bring people together," Mr. King concluded.