Trump Says Kill Innocent Family Members of ISIS Fighters at GOP Debate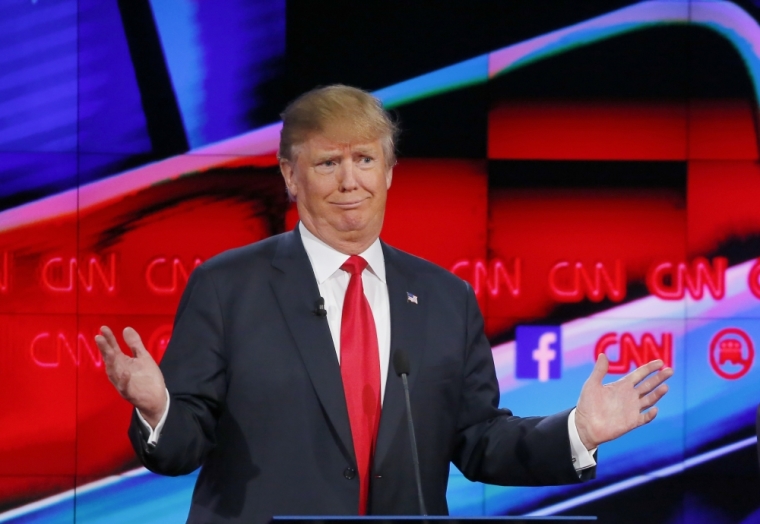 Republican presidential candidate and billionaire Donald Trump defended his promise to kill the innocent family members of Islamic State terrorists during Tuesday night's CNN presidential debate in Las Vegas.
After suggesting earlier this month that the U.S. should "take out" the family members of IS militants and adding that IS is so effective because they use "civilians" as shields and the U.S. is fighting a "politically correct war," the real estate mogul was asked to answer how killing innocent civilian family members would set the United States apart from IS.
Trump responded by reasoning that family members of domestic terrorists, in some cases, knew that their sons or daughters were going to commit a terrorist attacks but did not stop them or alert authorities.
"We have people that know what is going on, you take a look at the attack in California the other day, there were numerous people, including the mother, that knew what was going on. They saw pipe bomb sitting all over the floor, they saw ammunition all over the place," Trump stated. "They knew exactly what was going on."
"When you have the World Trade Center go, people that were put into planes that were friends, family, girlfriends and they were put into planes and they were sent back, for the most part to Saudi Arabia. They knew what was going on," Trump continued. "They wanted to watch their boyfriends on television. I would be very, very firm with families. Frankly, that would make people think. They may not care much about their lives, but they do care, believe it or not, about their families' lives."
Former Florida Gov. Jeb Bush rebuked Trump's comment by saying that it is indicative of Trump's "lack of seriousness" as a candidate.
"This is troubling because we are at war. They declared war on us and we need to have a serious strategy to destroy ISIS. But the idea that is a solution to this is just crazy," Bush stated. "It makes no sense to suggest this."
"Leadership is not about attacking people and disparaging people," Bush added. "Leadership is about having a serious strategy to deal with the treat of our time."
Three minutes later in the debate, Kentucky Sen. Rand Paul used some of his time when asked about whether he believes some Republicans have fueled the rise of ISIS by supporting the arming of Islamic Syrian rebels to go off topic to decry Trump's plan to target IS family members.
"If you are going to kill the families of terrorists, realize that there is something called the Geneva Convention that [the U.S. is] going to have to pull out of. It would defy every norm that is America," Paul argued. "So when you ask yourself, whoever you are that thinks you are going to support Donald Trump, Do you believe in the Constitution? Are you going to change the Constitution?"
Trump responded to Paul by rhetorically asking, "They can kill us but we can't kill them?"
Although Trump has come under much scrutiny for his recent remarks about targeting IS family members and his plan to ban all Muslims from entering the U.S., the Manhattan businessman still tops the RealClearPolitics average of national Republican nomination polling with 33 percent of the support.
Contact: <ahref="mailto:samuel.smith@christianpost.com">samuel.smith@christianpost.com,
@IamSamSmith
(Twitter)