Trump May Shrink Refugee Resettlement Cap to Under 50,000, Sources Say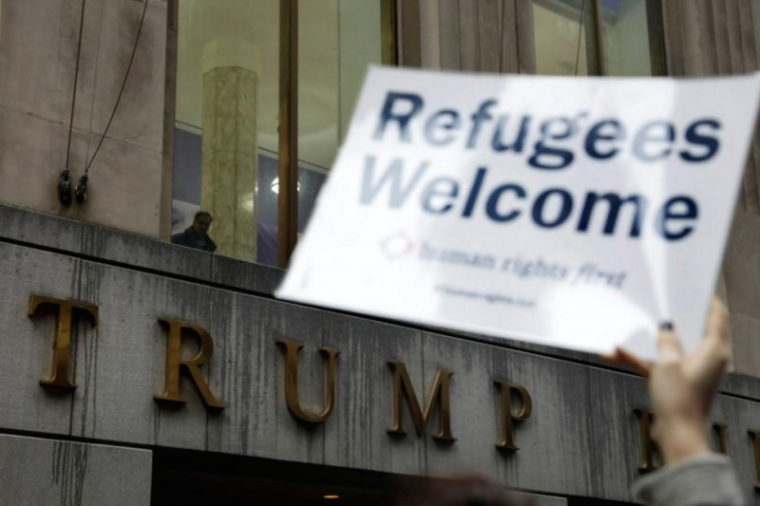 The Trump administration is expected to reduce the number of refugees to be resettled into the United States during the next fiscal year to below 50,000, sources have indicated.
Multiple sources, including a U.S. Refugee Admissions Program official with knowledge of the situation, have told Vice News that the Trump administration is expected to cap the number of refugees allowed to resettle in the U.S. in fiscal year 2018 to no more than 50,000.
Meanwhile, The New York Times cited other sources familiar with the talks in a report on Tuesday who said the administration is considering setting the fiscal year 2018 quota below the 50,000 mark, which would be the lowest U.S. refugee resettlement quota since 1980.
Although sources have said that Trump has not yet made his final decision on the matter, those same sources reportedly told Vice News that the number "won't exceed 50,000" and could be even be lower. The website reports that members of the National Security Council were scheduled to talk about the refugee cap on Tuesday and that an announcement could come as soon as this week.
The reports come as Trump has until Oct. 1, the start of the new fiscal year, to make a decision on the refugee limit. After Trump took office in January, he set a cap of 50,000 on refugees to be resettled in the U.S. in fiscal year 2017. The move cut former President Barack Obama's goal of resettling 110,000 refugees in fiscal year 2017 — higher than any number during his own administration — by more than half. About 85,000 refugees were resettled in the U.S. in fiscal year 2016.
Human rights advocates and refugee resettlement agencies were quick to voice their outrage over Trump's initial cuts in the refugee cap earlier this year because they receive funding from the government on a per-refugee basis.
The leaders of refugee resettlement agencies, many of which are faith based, are still lobbying the administration to increase the refugee cap. World Relief, an evangelical refugee resettlement organization, is asking the administration to raise the cap to 75,000 in fiscal year 2018, according to World Relief Vice President of Advocacy and Policy Jenny Yang.
"[We are] at a time of the worst migration crisis since World War II, we believe U.S. churches are ready and willing to welcome even more refugees than before," Yang told The Christian Post in an emailed statement.
Yang added that World Relief is particularly concerned about the impact a reduction to the refugee cap could have on persecuted Christians throughout the world because a "dramatically reduced refugee ceiling for fiscal year 2018 would inherently mean that fewer persecuted Christians would be able to find refuge in the U.S. especially as persecution of Christians is on the rise globally."
"World Relief is grateful for the president's strong statements of commitment to stand with persecuted Christians and other religious minorities, and urge him to set a refugee ceiling that will allow more — not fewer — persecuted Christians along with other persecuted religious minorities to find safety and rebuild their lives in the U.S.," Yang stressed.
Faith McDonnell, who serves as the director of Religious Liberty Programs and of the Church Alliance for a New Sudan at the Washington, D.C.-based Institute on Religion & Democracy, told CP in a statement she thinks what the Trump administration is expected to do with the refugee cap is "reasonable."
"I am most concerned that actual refugees, those who have a real, credible fear of persecution are able to receive asylum in this country. During the last few years of the Obama administration, the persecuted and sex trafficked Christians and Yazidis of Iraq and Syria were left out for the most part," McDonnell wrote, pointing out the lopsided numbers of Syrian Muslims resettled to the U.S. compared to Syrian Christians. "But if we are attempting to bring balance to the situation and also a realistic, sane concern about not letting potential jihadists and other radicals into the country, then this seems like a reasonable thing to me that the Trump Administration is going to do."
"Now, there are Muslims from places particularly like Sudan who are not potential jihadis, who are against their own government," she added. "We really have to discern carefully who we are talking about if we want to do this with traditional American concern for refugees."
Despite the statistics concerning Syrian refugee resettlement in past years, more Christians have been resettled as refugees in the U.S. in the past 10 years than refugees or any other religious tradition.