Trump Now Unsure If He Would Shut Down Government Over Planned Parenthood Funding; Calls Behavior of Popular Abortion Provider 'Disgusting'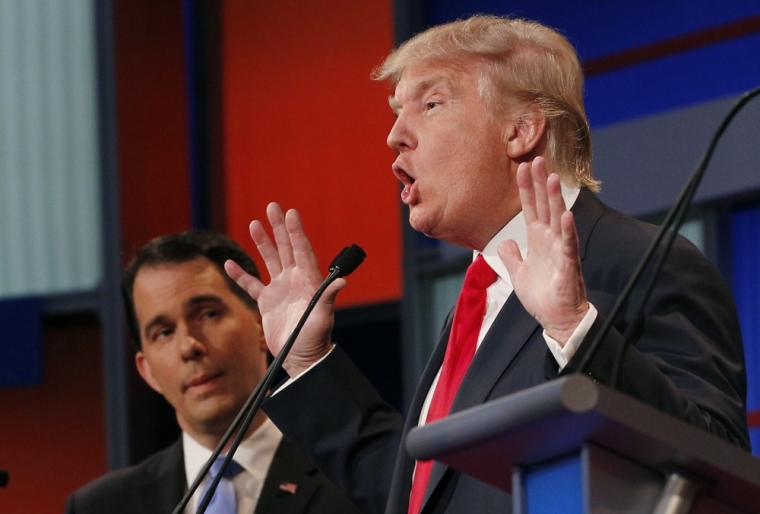 Once a leading proponent of shutting down the federal government over Planned Parenthood funding, Donald Trump now says he has to "think about it."
Republican presidential frontrunner Trump offered the remarks in a pre-recorded interview from his plane in Iowa with Chuck Todd of NBC. His interview aired Sunday on Meet the Press.
Todd asked Trump if he was willing to shut down the federal government over Planned Parenthood's public funding, Trump replied, "I'd have to think about it. It bothers me greatly that they're doing the abortions."
Trump said in previous interviews, "absolutely, I would shut down the government." Trump also previously stressed that Republicans could win the battle on defunding Planned Parenthood if the GOP would just "stick together" on the issue.
Trump told NBC's Meet the Press that he's unsure if he has donated to Planned Parenthood but said "it's possible."
Asked by host Chuck Todd if he has ever financially supported Planned Parenthood, Trump replied, "I don't think so, but it's possible."
"I give to so many, Chuck. I give to so many organizations over the years," added Trump.
Todd reported after the pre-recorded interview that the Trump campaign had contacted him saying there is no evidence that the GOP frontrunner has ever donated to Planned Parenthood going back 20 years.
He challenged Planned Parenthood to stop providing abortions, and Trump has previously said he would not consider funding the organization with tax dollars if they continue providing abortions. Trump addressed the half dozen undercover videos released by the Center for Medical Progress, which shows Planned Parenthood officials negotiating over the price of fetal tissue and organs with actors pretending to be procurement companies.
"The first five tapes or six tapes, I think they were outrageous," said Trump.
"I think they were terrible, disgusting by any standpoint," Trump added. "And they have to stop."
Trump stressed that the abortion provider's behavior was "terrible" and added that the Planned Parenthood officials and doctors "talked about it [baby parts] almost like we're making widgets or gadgets."
Trump said he only supports abortion in the case of rape, incest, or if the life of the mother is endangered, stressing that Ronald Reagan "and many Republicans have those same exceptions."
"People do evolve on different issues. And, you know, I'm pro-life. And I was begrudgingly the other way," declared Trump.
I've always hated the concept of abortion, always hated it, through various things and seeing various things, I have totally evolved on it," he said. Trump told Todd that he wants "great intellects" on the court and said to Todd that he would ask court nominees their views on abortions before agreeing to put them forward for appointment.
Trump said he "cherished" women's health issues and the role of women in society.
"Women's health issues to me are very important. I cherish women," declared Trump.
"My mother was this incredible woman. I have great children. I have a great wife. I have such great respect for women. I understand the importance of women, added Trump. "I have many executives in my organization that are women that frankly get paid more than many of my men executives. They've done great with me."
A new Fox News Poll released Sunday showed Donald Trump leading the Republican field by double digits at 25 percent, with Ben Carson in second at 12 percent, and Ted Cruz third with 10 percent. In the Fox News Poll, the rest of the GOP field are polling at single digits. According to the poll, Trump also leads among white Evangelical Republican voters.
Trump told Todd that he believes Democrat presidential candidate Hillary Clinton may be finished in her quest for the White House.
"I think [Clinton] may not be able to run, to be honest, because this whole email thing is a horrible thing," Trump declared.
When asked about the meaning of conservatism by Todd, Trump said it means "a strong country with little debt." Todd asked Trump when he last thought "America was great," and Trump responded "during the Reagan administration."