Turkey Airstrikes Target Iraqi Christian Villages; Activists Call for War Crimes Investigation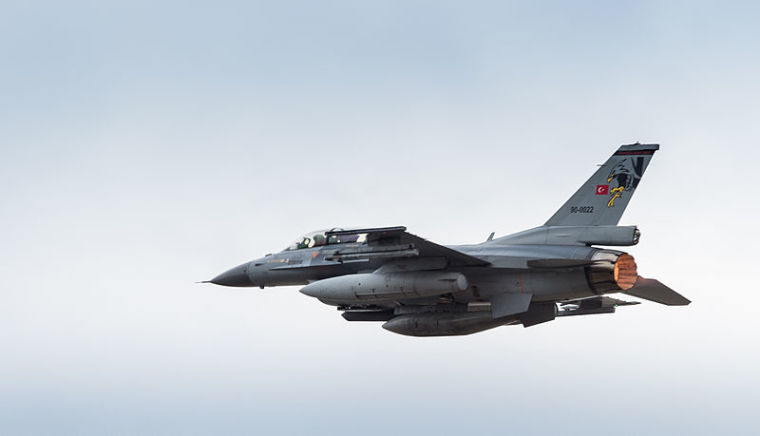 The Turkish military launched airstrikes targeting Iraqi Christian villages in northern Iraq, a rights group warned.
Local sources have told International Christian Concern, a U.S.-based persecution watchdog, that seven predominantly Christian villages were targeted by Turkish airstrikes last month. September saw an increase in Turkish airstrikes in the north of Iraq.
"Turkey attempts to justify these airstrikes by claiming that these villages support or have a PKK (Kurdistan Workers' Party) presence," an ICC report reads. "Turkey is occupying a significant swath of land in northern Iraq and is deepening its presence daily."
According to ICC, Christian villages in Iraq have historically faced challenges spurred by the PKK and the Kurdish Regional Government. However, the situation for the Christians in largely agricultural northern Iraq has "worsened while the NATO member continues to gain more territorial control in Iraq's north."
"Human rights groups have repeatedly warned that Turkey is using the PKK's general presence as an excuse to expand its territory and that by conducting airstrikes where there is no specific legitimate military target, Turkey is in violation of international law," ICC asserted in its report.
In September, Human Rights Watch suggested that there were at least four Turkish military operations in northern Iraq that claimed to have targetted the PKK (recognized by the United States as a terrorist group) dating back to May 2017 that should be investigated for possible war crimes.
The PKK has been active in Iraq, with its presence near the border of Turkey, Iran and Syria. The Turkish government has actively launched operations against the PKK for over 10 years.
Turkey's airstrikes in northern Iraq have killed at least seven non-combatants and wounded at least one more, witnesses and relatives told the human rights group.
"As Turkey steps up operations in Iraq, it should be taking all feasible precautions to avoid harming civilians there," Lama Fakih, deputy Middle East director at Human Rights Watch, said in a statement. "Turkey should investigate possible unlawful strikes that killed civilians, punish those responsible for wrongdoing, and compensate victims' families."
Over the weekend, the Turkish military claimed to have "neutralized" at least 18 PKK militants through airstrikes that targeted various regions of northern Iraq.
HWR noted that Turkish forces have extended their presence in northern Iraq by about 10 miles and has multiple outposts in rural governorates under the control of the Kurdistan Regional Government.
Concern was raised earlier this year that Turkey-backed violence targeting the Afrin region of Syria was putting the lives of Christians and other civilians in "mortal danger."
"As the leaders of the Christian churches in North Syria, in the town of Afrin we hereby confirm that we are under attack by Turkey," an open letter from a pastor (name omitted for security purposes) in the region to international leaders read. "The lives of our women and children are in danger. The city of Afrin is being bombarded by Turkish airstrikes. We are asking for intervention, and protection against the violent attacks which are being levied against use at the moment."
In addition to Christians, Yazidis in the region also raised concern about their safety.
Murad Ismael, executive director of the Yazda relief organization for Yazidi victims of genocide, warned in March that the Yazidi towns of Bafloun and Qutma were also being targeted with airstrikes.
"We are evaluating what to do when the [whole] city falls, including an option to ask our people to leave the region altogether," he wrote on Twitter. "We cannot have our people in Afrin under Al Nusra and other fundamentalists."
In August, the Iraqi Foreign Ministry condemned Turkish airstrikes in the civilian-populated, Yazidi-majority Sinjar region in northern Iraq. The ministry also denied reports that suggested that there was some level of coordination between Ankara and Baghdad when it comes to Turkey's military activities.
In 2014, the Sinjar region was over taken by Islamic State militants, who killed thousands of Yazidi men and boys and sexually enslaved thousands of Yazidi women and girls. The Turkish airstrikes came while the community has been trying to recover from the atrocities it suffered.
Since 2015, Turkey has been operating a military camp near Mosul in northern Iraq where it was said to be training rebels to fight the Islamic State. Iraq Prime Minister Haider al-Abadi accused Turkey in 2015 of failing to respect an agreement to withdraw its troops from northern Iraq.
"[W]e request that the Turkish government announce immediately that it will withdraw from Iraqi territory," al-Abadi said at the time.
Iraqi-led coalition forces liberated the Mosul region from the Islamic State in 2017.
The Kurdish Regional Government has also denied involvement in Turkey's actions in the region. KRG's coordinator for international advocacy, Dindar Zebari, told HRW that the KRG has "encouraged a peaceful settlement of conflict between both sides."
The KRG shared reports with HRW that show that at least 50 civilians were killed between December 2016 and July 2018 thanks to Turkish and Iranian military operations in northern Iraq.