Turkey Sets Trial Date for Pastor Andrew Brunson, Who May Face 35 Years in Prison on Terrorism Charge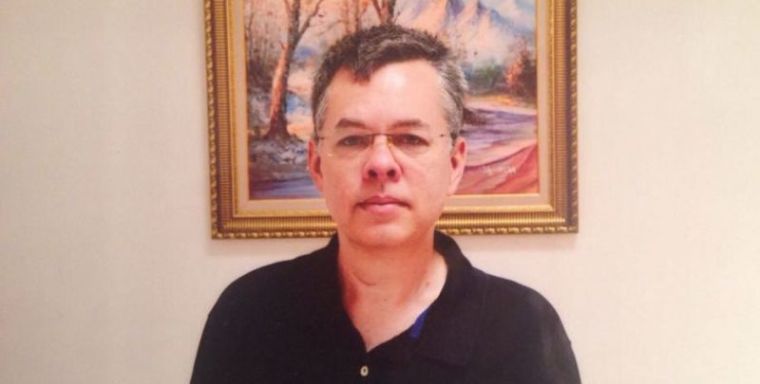 The Turkish government has officially set a date for the trial of American Pastor Andrew Brunson, who may face up to 35 years in prison on charges of espionage and terrorism.
World Watch Monitor reports that Brunson, a North Carolina native who has led a small congregation in Izmir for the past two decades, is set to stand trial before a Turkish criminal court on April 16, 17 months after his arrest.
According to rights groups, the pastor is falsely accused of working with the FETO network of Islamic cleric Fethullah Gülen and the outlawed Kurdistan Workers Party to overthrow the Turkish government and divide the country.
Last week, the Second High Penal Court in the Aegean province of Izmir accepted an indictment written by the Public Prosecutor's Office, which demands up to 15 years in prison for crimes in the name of the Gulen movement and the PKK and up to 20 years for obtaining state secrets for political or military espionage.
Soner Tufan, spokesperson for the Association of Protestant Churches in Turkey, called the indictment an "eclipse of reason."
"To claim that Andrew was a FETO executive and sought to destroy this country is like an insult and offense to reason," he told World Watch Monitor. "Who would believe such a thing? He has spent an important part of his life trying to stay in this country, telling about Jesus in all his sermons and works. How could such a person be the member or the executive of an Islamic order?"
"Andrew Brunson is an innocent person," he continued. "The indictment does not contain any real evidence. There is no real legal proof to use against him. It is a very political hostage case. That is why [the Turkish authorities] had to demand the worst punishment against him, to make him more valuable."
The state-run Anadolu news agency reports that the accusations against the pastor rest heavily on the testimony of several "secret" witnesses interrogated by the prosecution.
One witness claimed Brunson had met frequently with a local leader of the FETO network; under prosecution questioning, the pastor denied knowing or ever meeting the named individual, and said he had never "knowingly or willingly" met with any FETO member.
Brunson has repeatedly denied the allegations, and both President Donald Trump and members of Congress have called for the pastor's release.
The U.S. Commission on International Religious Freedom on March 13 issued a statement condemning the indictment charging Brunson.
"USCIRF urges President Trump and others in the administration to redouble their ongoing efforts to secure Pastor Brunson's release. No stone should be left unturned in our efforts on behalf of this unjustly imprisoned American. We call again for his immediate release and, if this is not forthcoming, for the administration and Congress to impose targeted sanctions against those involved in this miscarriage of justice," said USCIRF Vice Chairs Sandra Jolley and Kristina Arriaga.
David Curry, president of the persecution watchdog group Open Doors USA, said Brunson "essentially" is a "hostage" held by Turkey as part of its attempt to pressure the U.S. to extradite Gülen, who Turkish President Recep Tayip Erdogan believes is responsible for a failed coup attempt in 2016. Gülen currently lives in Pennsylvania.
"There's not a lot that can be diplomatically done by Christian churches here because we're talking about a dictator who's not going to respond to our pleas," Curry said in a news release. "And in some cases, in some ways, it may be counterproductive. So we're going to have to be prayerful about this."
Primarily due to "Islamic oppression," Turkey is ranked 31st on Open Door USA's World Watch List of 50 countries where Christians face the most persecution.