Two Christian Colleges Extend Employment Benefits to Same-Sex Spouses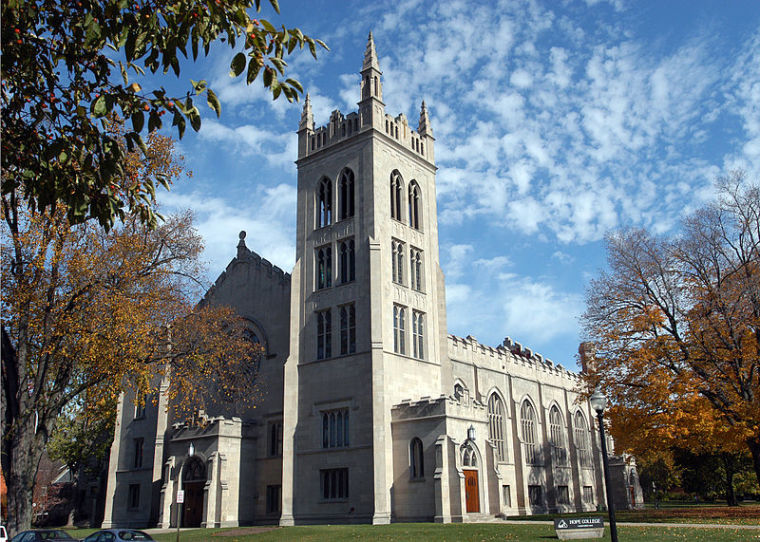 Two Christian colleges located in states that had their same-sex marriage bans struck down by the United States Supreme Court's June 26 decision that nationally legalized same-sex marriage are offering employment benefits to legally recognized same-sex spouses of school employees.
The employment practices of Hope College, a small Reformed liberal arts school in Holland, Michigan, and the nondenominational Belmont University in Nashville, Tennessee, will both comply with their states' new legal definitions on marriage after the high court's ruling.
On Monday, Hope College President John Knapp sent an email to the Hope community explaining that while Hope will continue to offer benefits to spouses of employees recognized by the state, the Supreme Court's ruling has effectively changed the definition of marriages recognized by the state of Michigan to include same-sex couples.
Knapp explained that after consulting with members of the Hope community and other Christian educators, it was determined that it's in the best interest of the school to keep the same employment policy and extend benefits same-sex spouses recognized in Michigan.
"Spouses are eligible for benefits, so long as their marriage is legally recognized by the State of Michigan. This policy remains in place, meaning that a same-sex spouse of a Hope employee will now be eligible for benefits," Knapp wrote in his email, which was shared with The Christian Post. "This is a continuation of Hope's longstanding commitment to our employees' health and well-being, and a reminder that Hope is best served by recruiting and retaining people based on their ability to contribute to the life of the college and its Christian mission."
"We recognized early on that the Supreme Court was likely to issue a decision that would present new challenges for our college," Knapp's email continued. "After much prayer and consultation with our Board of Trustees, legal experts and others in Christian higher education, we determined that this continued policy serves the best interests of our college and campus community."
Knapp also explains that although the school will extend benefits to same-sex spouses, that does not mean the school will open use of the Dimnent Chapel for same-sex wedding ceremonies.
"Another response by the college to the recent Supreme Court ruling is a decision to follow the polity of the Reformed Church in America in the use of Dimnent Chapel for weddings," Knapp wrote. "To that end, Dimnent Chapel will continue to be reserved for wedding ceremonies that are consistent with the RCA's definition of marriage as 'a joyful covenanting between a man and a woman.' This respects our enduring affiliation with the RCA, a relationship that is also reflected in the Board of Trustees' Position Statement on Human Sexuality."
Although employees' same-sex spouses will now receive benefits from Hope college, Hope's statement on sexuality still states: "This biblical witness calls us to a life of chastity among the unmarried and the sanctity of marriage between a man and a woman."
Knapp's email added that following the Supreme Court's ruling, there is still much left to debate on issues of sexuality. He stated that Hope will facilitate such dialogue in the fall.
"More than ever, this is a moment to engage one another in a spirit of love and respect," Knapp asserted. " I recently reviewed the early results from our Trust Index survey and found that Hope employees have a great desire for thoughtful and sincere conversation about challenging issues, including sexuality, where Scripture is taken seriously and we have confidence to express our opinions respectfully and while listening carefully. In the fall, we will provide opportunities for such dialogue."
As for Belmont University, university counsel Jason Rogers told CP in a Friday email that the 7,200-plus-student Christian school, which was affiliated with the Tennessee Baptist Convention until 2009, also offers benefits to all legally married couples, including same-sex couples.
However, this is not a change to the school's employment practices, as Rogers explained that Belmont extended benefits to same-sex spouses a couple years back.
"Belmont has had a longstanding practice of not discriminating on the basis of sexual orientation," Rogers wrote. "This practice was confirmed in a written policy in January 2011. We were first asked to extend benefits to legally married employees of the same gender a couple of years ago. Since Belmont doesn't discriminate on the basis of sexual orientation, we extended benefits to same-sex couples at that time and continue to offer employment benefits to legally married same-sex couples today."
Belmont University's vision and mission statement explains that the school "welcomes men and women from diverse backgrounds" and "upholds the dignity of all and fosters an atmosphere of respect for civil expression and divergent perspectives."
However, the statement also asserts that Belmont is a "Christian community" and community members must "uphold Jesus… as the measure of all things."
"Belmont University is a Christian community," the document added. "The University faculty, administration and staff uphold Jesus as the Christ and as the measure of all things. Students encounter Christian values relevant to personal growth and spiritual maturity and are expected to commit themselves to high moral standards."
Neither Belmont University nor Hope College are members of the Council of Christian Colleges and Universities.