Va. Ministry Opens First-Ever Church-Run Grocery Store to Provide Affordable Food to Needy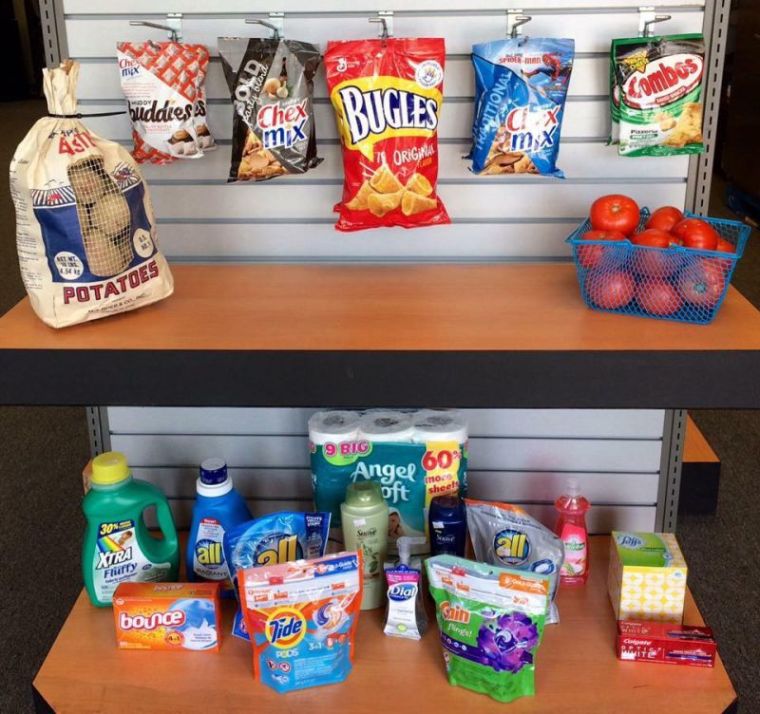 A nondenominational church in Virginia claims to be the first church in history to open up its own nonprofit grocery store to provide its local impoverished community discounted groceries at up to three-quarters of the cost of regular grocery stores.
Last month, The Vineyard Church in Hampton hosted the grand relaunching of its nonprofit, The Storehouse. The Storehouse, which is located in the back of the church, exists with the purpose of providing affordable food and household necessities to many in the Hampton Roads area who don't know where their next meal is going to come from.
Although The Storehouse first opened in October 2015, it was initially only a benefit available to church members, pastor Jacob Hopson told The Christian Post on Thursday. But as the store grew and Hopson and the church leadership got a better understanding of how to run it, the store was eventually opened up to the public.
"We went from once a month to every Saturday to doing it weekly. It went from doing it two or three days a week to doing it five days a week now and opening it up to the general public," he explained. "We started off and saw that our members had about a 75 percent reduction in their grocery budget."
The grand relaunching of the store, which took place on April 15, was attended by local politicians and several community members. Over 18,000 people have benefited from shopping at the store since its inception.
At the store, customers can find a wide variety of needs they might find at a normal grocery store — anything from Poptarts and laundry detergent to produce, dairy and meat. 
"We don't do anything like skirt steak, we actually do filet mignon and New York strip. We do bone-in sirloin," Hopson explained. "We do high-end stuff that keeps them eating like kings and queens on a pauper's budget."
In the Hampton area, there is a high percentage of the population that suffers from food insecurity, or the lack of consistent access to a sufficient quantity of nutritious food.
According to WAVY, as many as 16 to 26 percent of the Hampton area suffers from food insecurity.
"That is the number of people who don't know where their next meal is coming from," Hopson, a disabled Air Force veteran who has survived two heart attacks and cancer, said. "The area that we are in is an economically challenged area. Even though it is right down the street from the beach, there are a lot of drugs in the area. Not only are we doing this in helping them in their need, but we are actually here to help some people get off of drugs. We are still doing other missions of the church but we are just doing this other aspect as well."
Open five days per week to the public — Tuesday through Saturday — and to the church members on Sunday, customers of The Storehouse are aided in their experience by a personal shopper who will hold their basket and take them throughout the store. When the customer is done, the shopper will even carry the customer's bags to their car.
Hopson assured that the mission of the store is not to evangelize to the customers and added that the store is open to people of all faiths. In fact, Hopson said, the store carries kosher and halal meats to accommodate Jewish and Muslim shoppers.
"They will not be preaching to them," Hopson said of the store staff. "They are going to love them and will be showing them love."
In total, Hopson said that the store has about five professional glass-door refrigerators and several professional grade product shelves.
The pastor added that The Storehouse, which accepts EBT and food stamps, is able to save customers money because it shops at local farms in Virginia and Northeast North Carolina and local butchers in Virginia, who provide the the store with great rates.
Additionally, Hopson said The Storehouse marks up the price on products no more than $0.20 for what the ministry paid. The profits from the items, Hopson said, go right back into the store. Often times, the ministry takes a loss on certain food items if they are not purchased before they expire.
On a good day, Hopson stated that as many as 30 customers will come into the store.
"Until we get a clientele that will bring a steady flow of people through the doors, sometimes we take a loss on some of the food that goes bad. We have not gotten to a place where it is self-sustaining as of yet but we are praying that it happens very soon," Hopson told CP. "Everything is either out of the church budget or out of the pastor's pocket. We are ensuring that no matter what, the vision has to go forward and we are not going to let it die because of a few dollars."
The store is supported mostly by its 45 to 50 church members with the exception of two or three outside donors. 
The Storehouse was included in the The Vineyard Church's founding vision as a nondenominational church in 2015. Hopson said that the store was a vision that God had given him.
"Living in the greatest and richest country in the entire world, I don't understand why we still have people who have children who get their only real meal for the entire day from school," Hopson said. "That bothers me when a family can sit back and not know where their next meal is coming from. That is a problem. I think that it is time we stop talking about the problem and start doing something about it. This is our attempt to do something about it."
According to Hopson, this is the first church-run grocery store in Virginia and, to his knowledge, the first in the country.
Although the church is getting its produce from local farms, it recently acquired an 18-foot trailer it will use to start a hydroponic garden. Additionally, the church recently bought at auction about a half-acre of land in Franklin, Virginia, where it plans to start another garden.
Those looking to donate to the cause can do so by contacting the ministry.