Video Shows Worship Leader Killed by Dallas Officer Singing in Church Days Before Tragedy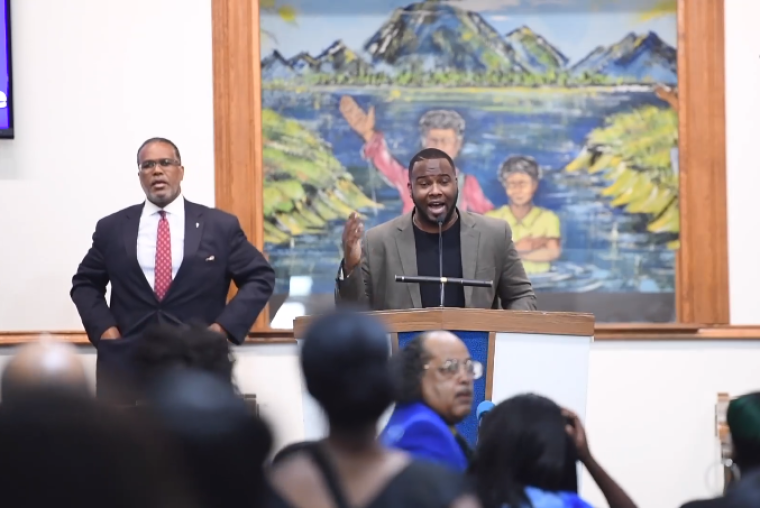 Just days before he was fatally shot inside his apartment near downtown Dallas by officer Amber Guyger, 26-year-old Botham Shem Jean faithfully led the congregation at Dallas West Church of Christ in worship with no idea it would be his last Sunday at the church.
Now a video of Jean singing the lyrics of Holland Davis' "Let It Rise" during the Sept. 2 service has gone viral, triggering an outpouring of support for his family.
"I had no idea we would be filming this young man's final church service on last Sunday. We would like to send our prayers to the friends and family & ask God to send peace to those close to him who are mourning at this time," the production company that recorded the video wrote on their Facebook page on Saturday.
The company, CLJ Productions, also shared a GoFundMe campaign seeking $15,000 to help Jean's family with travel and burial expenses and it has already exceeded twice the requested amount.
"We are mourning the loss of our brother Botham Jean. He was a great Christian example and an inspiration to us all. We are asking for donations to cover funeral arrangements, his family's travel expenses, and anything else they may encounter. He will be missed," the campaign's organizer, Grant Smith, wrote.
The video, which gives another glimpse of the exemplary life those who knew Jean have testified that he lived, has been viewed nearly 200,000 times as of Tuesday morning and shared more than 4,000 times, including by Dallas West Church of Christ where members are still reeling from his death.
An arrest warrant affidavit made public Monday said Guyger parked on the wrong level of the South Side Flats garage where she lived on the third floor directly below Botham's apartment. On Thursday night, she got off on the fourth floor where Botham lived.
She went to Botham's door, which she thought was hers. The four floors of the South Side Flats look the same with concrete floors and tan doors but a light at each door displays the apartment number. The affidavit, cited by The Dallas Morning News, said Guyger inserted her unique door key embedded with an electronic chip into the keyhole to Jean's apartment door. The door was reportedly slightly ajar, so the force of inserting the key pushed it open. The lights were off in the apartment so when Guyger saw "a large silhouette" she thought she was being burglarized.
The officer then drew her gun, "gave verbal commands that were ignored" and she responded by firing twice, striking Jean once in the torso investigators said.
She then called 911 from her cellphone and started giving first aid to the worship leader. When she turned the lights on in the apartment she realized she was in the wrong apartment. She explained this to the 911 operator and responding officers the affidavit said. Jean was pronounced dead at Baylor University Medical Center.
In addition to the affidavit, a video taken from outside the building shows Guyger on her phone, pacing back and forth outside the apartment, and crying after the shooting. Paramedics are also shown moving a man on a gurney and performing CPR on him.
Despite the official account of what the officer alleges happened, Lee Merritt, a lawyer for Jean's family, said at a news conference that Jean was meticulous and would not have neglected to close and lock his door.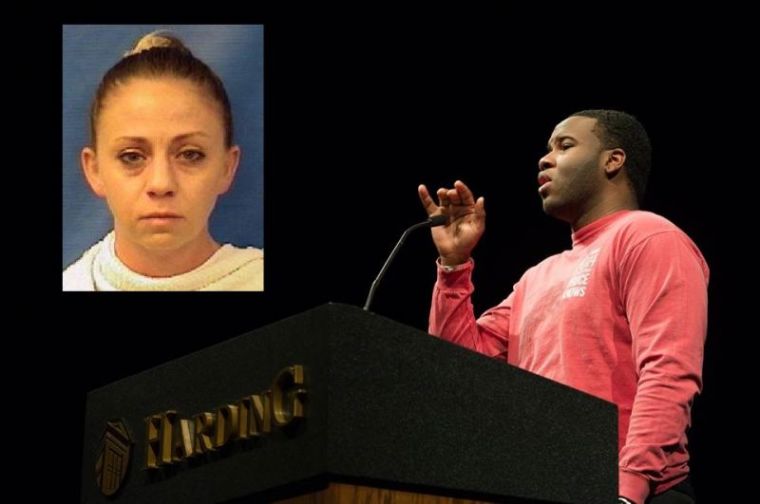 Merritt also said two independent witnesses had come forward to say they heard knocking on the door in the hallway before the shooting. One witness reported hearing a woman's voice saying, "Let me in, let me in." Then they heard gunshots.
"They heard knocking down the hallway followed by a woman's voice that they believe to be officer Guyger saying, 'Let me in. Let me in,'" Merritt said.
One of the witnesses then heard gunshots followed by a man's voice, the lawyer noted.
"What we believe to be the last words of Botham Jean which was 'Oh my God, why did you do that?'" Merritt said.
The worship leader's mother, Allison Jean, who is a former government official in St. Lucia where the family is from, said: "I'm not satisfied that we have all the answers."
Jean's memorial service is scheduled for noon on Thursday, Sept. 13 at Greenville Avenue Church of Christ located at 1013 South Greenville Ave., Richardson, Texas. The viewing will begin at 10 a.m. and end at noon.