We Know Gay Is a Choice Because Prisoners Become Gay, Ben Carson Says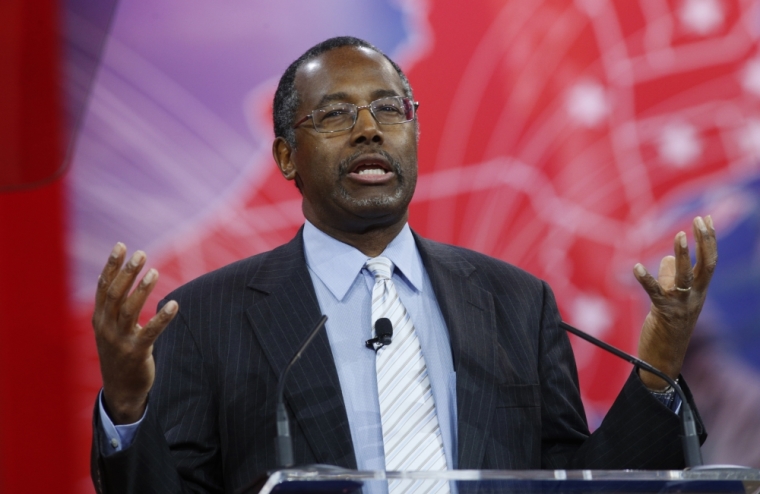 Since some people go into prison straight and come out gay, homosexuality must be a choice, neurosurgeon and potential presidential candidate Ben Carson told CNN Wednesday.
"New Day" host Chris Cuomo agreed that prison makes some people gay, but disgreed that that fact supports Carson's view that gay is a choice.
Carson was responding to a line of questioning about gay marriage. Cuomo was implicitly making the argument, often heard by same-sex marriage supporters, that denying same-sex couples a marriage license is akin to racism, and that the equal protection clause of the 14th Amendment, written to give former slaves equal rights, requires the redefinition of marriage.
Carson first argued that each state should be able to decide what marriage is for residents of that state. Cuomo then pointed out that federal laws have been used to override state laws in the case of racial discrimination.
People cannot choose their race, Carson then noted.
"It's not the same situation," Carson said, "because people have no control over their race, for instance."
"Do you think they have control over their sexuality?" Cuomo interrupted.
"Absolutely," Carson answered.
Cuomo then asked for clarification: "You think being gay is a choice?"
"Absolutely," being gay is a choice, Carson said, "because a lot of people who go into prison go into prison straight — and when they come out, they're gay. So, did something happen while they were in there? Ask yourself that question."
Cuomo responded that some people go into prison and never become gay and "there is a whole theory of dominance."
Carson then pointed out that he said "a lot of people," not all people that go into prison.
"Are you denying that that's true?" Carson asked.
Cuomo answered that he does not deny that some people go into prison straight and come out gay, but he does deny that prison is "a basis for homosexuality."
"If in fact" some people go into prison straight and come out gay, "it obviously thwarts" the notion that homosexuality is not a choice, Carson retorted.
Scientific evidence on whether there is a genetic component to homosexuality has been mixed.
One study showed, for instance, that men who share certain genetic characteristics on a region of the Xq28 chromosome are more likely to be gay. However, not all men who have those characteristics are gay, and not all gays have those characteristics.
Similarly, twin studies show that the twin of a gay is more likely to be gay, but not all twins of gays are gay. Additionally, the evidence of a genetic connection has only been found among gays. There has been no evidence found of a genetic connection for lesbians.
Others have argued that the nature versus nurture debate is irrelevant to the question of whether same-sex attraction is a choice. While sexual behavior is a choice, sexual attraction is not.
In a Sept. 9 op-ed, for instance, CP guest columnist Matt Moore, a Christian who has struggled with same-sex attraction, wrote, "Today's mainstream culture assumes that people attracted to the same sex are born that way because the same sex attraction is something that comes naturally to them. They didn't choose it, they didn't will it, they didn't ask for it. It has just always been there. And that's been my personal experience as a same-sex attracted person."