Westboro Baptist Church Protest of Soldier's Funeral Blocked by 'Human Wall' (VIDEO)
A planned picket by the Westboro Baptist Church at a soldier's funeral in Colombia, Mo., was foiled on Saturday when thousands of locals formed a human shield to block the group's efforts.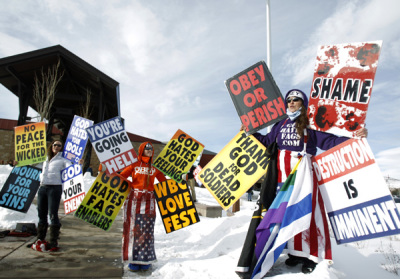 Westboro, considered a radical group by many that falls outside mainstream Christian beliefs, often pickets the funerals of soldiers, celebrities and people they deem to live a lifestyle inconsistent with their interpretation of the Bible. The organization believes that America is cursed for embracing homosexuality, and therefore is against all displays of patriotism, including honoring soldiers.
As family and friends gathered on Saturday for the funeral of 21-year-old Army Specialist Sterling Wyatt, who lost his life earlier this month while serving in Afghanistan, thousands of Colombia residents decided to stand up for the fallen soldier by blocking the Westboro protest.
They joined hands and formed a "human shield" that stretched several blocks and guarded the funeral, practically forcing the picketers to give up on their plans. They were also helped out by the Patriot Guard, who attend military funerals to honor fallen soldiers. Reports state that members of the radical church packed up their signs and left Colombia in the afternoon.
A video by KBIA shows the residents, wearing red shirts in support of Wyatt, creating the human wall and blocking off the small group of Wesboro members, who held signs reading "Not Blessed Just Cursed," "God Hates Dead Soldiers" and "God Hates Your Feelings."
"I believe this nation was built on e pluribus unum, you know, out of many there is one, and I think someone who is willing to die for our country deserves respect at his burial," expressed Shaun Christopher Webb, a community member. He said that although he never knew Wyatt, he along with many others wanted to stand up for the local hero and his family.
Randy and Sherry Wyatt, parents of the fallen soldier, shared their gratitude to all those who came out to express support for their son.
"Thank you so much," Sherry Wyatt said, unable to say much more, the Colombia Tribune reported.
"The outpouring of love has been overwhelming," added Judy Baker, described as a close family friend. "It's so great to live in a community that is willing to honor the fallen. … This is what Americans are made of, and to see it on display is an experience I'll never forget."
Many attending the counter-protest explained that they felt it was their duty to stand up for those that protected their freedom overseas.
"We wouldn't be standing here if it hadn't been for military fighting for our freedom," said Jamie Ogden. "This totally needs to be about honoring and celebrating the life of Sterling Wyatt and the others who have and are fighting for this country."
Westboro Baptist Church Protest of Soldier's Funeral Blocked by 'Human Wall'