Wife Stands by Pastor Accused of Plotting Her Death With 'Girlfriend' During Mission Trip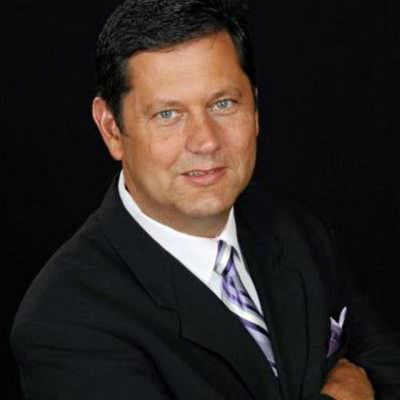 The former pastor of Second Baptist Church in Union City, Tenn., and a woman he is accused of having an affair with have been charged with plotting to poison his wife during her mission trip to Honduras. The Christian minister, who served the congregation for 15 years before quitting in February, was supported by his wife as he answered to the charges in court.
The family of Edward Paul "Eddie" Mallonee, 54, appeared with him in court where he and Shelley Shannon Moran both pleaded not guilty to charges of conspiracy to commit first degree murder and attempt to commit first degree murder, with the target said to be Cathy Mallonee.
Mr. Mallonee's father-in-law and other relatives were also in attendance with him at court. Church members also expressed support for their former pastor, with one news source reporting the presence of flyers outside the Obion County Courthouse during his appearance last week reading "the blood of Jesus forgives sins."
"One thing I would say is Mr. Mallonee, who has been married almost 34 years now, his wife and his entire family stand with him. What I know is what everybody in this community knows, is that what he's meant to this community in building the biggest church in Obion County," defense attorney John Miles told news cameras as his client stood by, supported by his wife. The Mallonees held hands as they exited the courthouse.
Mrs. Mallonee stood supportively by her husband during his court appearance: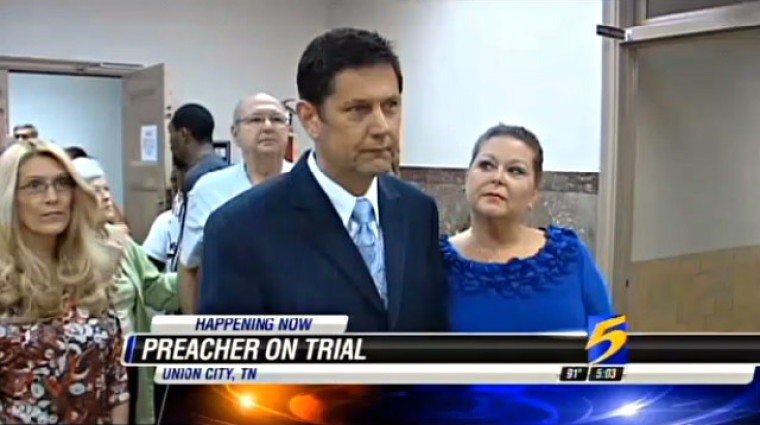 Mr. and Mrs. Mallonee are seen in this photo shared online August 2012: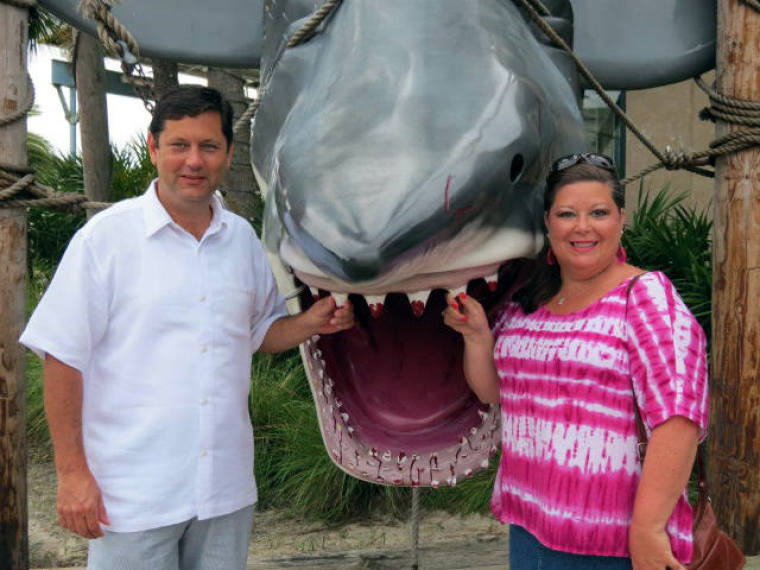 It was reportedly due to rumors of an affair with his co-defendant, 40-year-old Shelley Shannon Moran, described by local news sources as his "one-time girlfriend" and a church member, that led to Mallonee resigning from Second Baptist Church Union City in February.
Church member David Parks told local media that two days before his resignation from the pastorate Mallonee had confessed to the congregation that he was sinning.
Parks appeared crushed by the latest allegations of attempted murder against his former pastor.
"It was just hard to deal with at the time. These latest allegations are about too much to comprehend. Someone you put so much trust in and look up to, let's face it, it's a form of betrayal when they don't live up to what you expect and thought they were," said Parks.
Second Baptist Church Union City is seen in the photo below: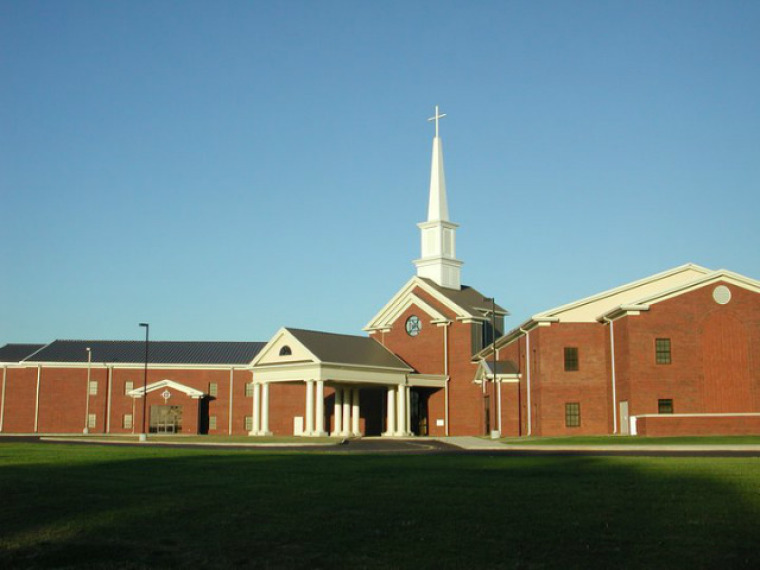 Second Baptist Church said in a statement previously sent to local media and shared Wednesday with The Christian Post that the situation has been a source of grief.
"Second Baptist Church is broken-hearted and grieved over this situation. We will seek God's will and direction on how to love and minister to all of those affected. As brothers and sisters in Christ, we will continue to serve God in our community through ministry and missions for his glory," read the statement.
Despite the difficulty of the situation, Parks was confident his church would eventually find peace.
"As bad as we hate all this, we're confident the church will thrive and come through just fine," he said. Parks also expressed remorse for Mrs. Mallonee.
It was not known what kind of poison Mallonee and Moran are accused of using in their alleged plot, but Union City investigators reportedly had been monitoring the pair from 2011-2012. Investigators claim Mallonee and Moran entered a pact to get a hold of poison, transport it to Honduras and give it to Mrs. Mallonee in a drink.
Mallonee and Moran were expected back in court next month. Mallonee is facing additional charges of facilitation of attempt to commit first-degree murder and reckless endangerment. Moran's full charges include three counts of attempt to commit first degree murder.