Will 'Son of God' Dethrone 'Passion of the Christ' as Top-Grossing Christian Film of All Time?
'Son of God' to Open Feb. 28 in Movie Theaters; Projected to Gross $13 Million in Opening Weekend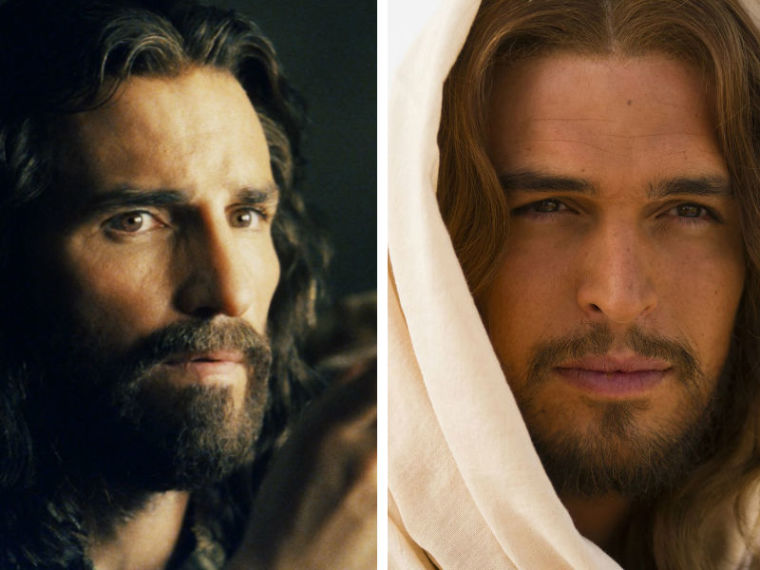 While "Noah" may or may not be having a hard time winning over Christian audiences, "Son of God," in theaters this weekend, appears to be enjoying the favor of the faithful nationwide. But can the new PG-13 Jesus film unseat 2004's "The Passion of the Christ" as the top-grossing Christian film of all time?
Christian producers Mark Burnett ("Survivor," "The Voice") and Roma Downey ("Touched by an Angel") have rallied the same network of powerful and influential Christian leaders that in 2013 got behind their History Channel miniseries, "The Bible," for a "Theater Take-Over" campaign in anticipation of the nationwide release of "Son of God," a pared-down theatrical version of the series' Jesus narrative.
A who's-who of evangelical Christian leaders, like Joel Osteen, Craig Groeschel, Miles McPherson and T.D. Jakes to name a few, have signed on to support "Son of God," buying out theater screens and distributing nearly half a million tickets. Archbishop Jose Gomez, whose Archdiocese of Los Angeles represents 4 million Roman Catholics, has also signed on to help promote the film, which stars Downey, also a Roman Catholic, as Jesus' mother, Mary.
In addition to theater buyouts and mass ticket distributions, some supporters, such as Saddleback Church Pastor Rick Warren, are using "Son of God" in their churches as a teaching and preaching tool. Warren has developed his own related Bible study, titled "Son of God: The Life of Jesus in You Leader Kit."
"The Bible" miniseries, using the same kind of grassroots effort, drew in more than 100 million viewers during its telecast on the History Channel. The five-part miniseries also became the top-selling TV series of all time across Blu-Ray, DVD and Digital HD formats, a boon for distributor 20th Century Fox, also distributing "Son of God."
Boxoffice magazine, a film industry staple since 1920, predicts that "Son of God" will pull in $13 million during its opening weekend, and gross $42 million total from domestic audiences. In comparison, "The Passion of the Christ" grossed $83.8 million in its premiere weekend, the turnout "fueled by an unprecedented media frenzy and religious fervor," according to Box Office Mojo. Private church group screenings accounted for about $3 million of its opening day figure.
"It feels like around $12 million, maybe $15 million," Chris Aronson, head of distribution at Fox, told The Wrap of his estimates for opening weekend. "But honestly, because of the faith-based element, we just don't know, so it wouldn't shock me if it did $25 million."
"If a movie is really to take off, the way for instance 'The Passion of the Christ' did, you need to kind of hit a lot more people than just church groups that are going to see the movie," Boxoffice.com Vice President and Chief Analyst Phil Contrino told The Christian Post.
Even with 500,000 tickets sold ahead of its weekend premiere, Contrino said it was difficult to tell how that might transfer into a monetary figure, although The Hollywood Reporter suggests that it's almost $4 million in box office revenue.
"Let me put it this way, it's a great start. Anytime a movie can sell half-a-million tickets before it's even open ... every movie would love to be able to say they've done that. But in terms of the big picture and how much it's going to gross, it's really hard to tell because with that you're dealing with the passionate Christian fanbase that really wants to come out to support a movie like this."
To predict "Son of God's" potential figures, Boxoffice.com considered historical data, comparing "The Bible" series' theatrical spinoff to other films aimed at religious audiences, current competition, and other factors.
"There's a lot of strong movies in the marketplace right now so that has an impact on everything new that opens," explained Contrino.
Does he think "Son of God" has the potential to surpass in sales "The Passion of the Christ," which grossed more than $611 million worldwide?
"I don't think it's going to get anywhere near where 'The Passion of the Christ' did. The fact that they took footage that was already from the TV miniseries 'The Bible ...' and 'The Passion of the Christ' was such a unique event that tapped into the desire to see that kind of a movie, it's hard to mimic that, especially when you're telling essentially the same story. So no I don't think it will get anywhere close."
"The Passion of the Christ" marks 10 years this week since its Feb. 25 Ash Wednesday release. The film, which received the same kind of Christian grassroots support as "Son of God," proved controversial among critics for its graphic depiction of Christ's (Jim Caviezel) torture and crucifixion and perceived "anti-Semitic" portrayal of Jesus' Jewish antagonists.
MovieGuide, dubbed the "Christian Oscars," raved  at the time that "The Passion of the Christ" was a "masterpiece" and "a must-see movie, beautifully directed, powerfully acted, and with terrific sound." The film went on to receive MovieGuide awards for being the "Most Inspiring Movie" and for lead actor Jim Caviezel's "Most Inspiring Movie Acting." In February, at its annual awards gala, MovieGuide blessed Downey with a Grace Award for her portrayal of Mary in "The Bible" miniseries.
For his part, Anti-Defamation League National Director Abraham Foxman thinks it's a disservice to "Son of God" to even compare it to "The Passion of the Christ," and said he personally hopes the former will be an "antidote" to the latter film. The ADL director, who is honoring Burnett and Downey with a special dinner on May 8 and provided them input after "The Bible" series aired, was among "The Passion of the Christ's" most vocal critics.
"Gibson bloodied the Jews by portraying them as such villains," Foxman told The Wrap this week.
As for "Son of God," he finds that it is "the most sensitive, caring depiction of the story of Jesus that I have ever seen. The producers have done everything possible to put the events into historical, political and psychological context."
Foxman, who said he hopes "Son of God" replaces "The Passion of the Christ" as the go-to Jesus film, added, "It's not perfect, but it's done with the proper sensitivity and perspective and I would hope that for future generations, 'Son of God' will be the vehicle used to teach that part of history."
"The Passion of The Christ" is not only the world's top-grossing Christian film, but the R-rated movie also is ranked as the most controversial, according to Box Office Mojo, and was considered the most violent by some film critics, titles the "Son of God" filmmakers perhaps wouldn't want to own although controversy would certainly draw a bigger crowd this weekend.
But even if "Son of God" does manage to overtake "The Passion of the Christ" during opening weekend and onward, both could potentially be eclipsed by Darren Aronofsky's upcoming  "Noah"epic, despite the film reportedly not being "biblical" enough for some Christian audiences.
"If anything, I think the one movie that you can compare to 'The Passion of the Christ' opening this year would be 'Noah' potentially," said Contrino of Boxoffice.com. "That could be a big film, and would get a lot closer to what 'The Passion of the Christ' did than 'Son of God' will."
"The Son of God" opens in theaters Friday, Feb. 28 on more than 3,000 screens nationwide. Diogo Morgado stars as Jesus. "Noah," starring Russell Crowe as the Old Testament figure, premieres Friday, March 28.