Willie Robertson of 'Duck Dynasty:' 'God's Not Dead' Inspired Me, Strengthened My Faith
Willie Robertson of "Duck Dynasty" testified that the forthcoming film "God's Not Dead," which tells the story of a college student who accepts his professor's challenge to provide a defense for the existence of God and the Christian faith, inspired him and strengthened his own faith.
"I was very impressed with how they made the movie," Robertson told The Christian Post in an interview on Friday. "I would definitely say my own faith was strengthened – I was glad to be on the side of the kid defending his faith."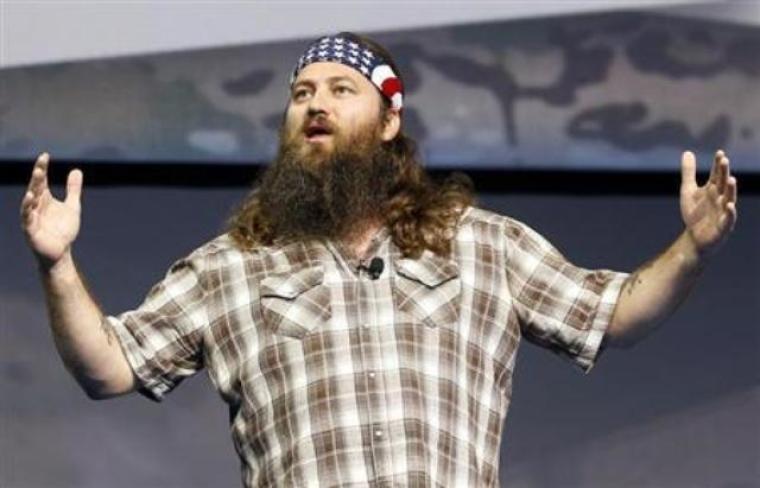 Robertson and his wife Korie play themselves in the film, movie stars interviewed about their faith in God by a reporter also covering the outspoken student's debate with his professor. Since the movie was filmed in separate takes, the actor told CP he had no idea how the story all fit together until he saw the entire film recently. "I thought it was well written and it came together," Robertson said. "It inspired me."
"I think the movie was certainly made as a teaching tool to definitely bring people to a belief in God," Robertson told CP.
In contrast to other explicitly Christian films, however, this movie has a true blockbuster feel, the actor said.
"I've seen some Christian movies where the acting's not as good or the story's not as good, or it's just a lower budget film," Robertson admitted. This film, however, "really raised the bar with these faith-based movies."
"God's Not Dead" encourages watchers to evaluate what is most important in their lives, Robertson reported. The film prompts audiences to consider "our own death," and how they make decisions about "careers and money," in a way that values the most important things.
The movie does this through presenting many different people struggling with faith in their lives, Robertson explained. "It takes you through several different lives that are interconnected … relationships where one is a believer and one is not," he said. The "Duck Dynasty" star mentioned a pastor whose faith gets rejuvenated and a reporter who is skeptical about faith but interviews the Robertsons about it.
The stories tie in in a "very compelling" way, Robertson told CP. He claimed that "God's Not Dead" will remind believers of their own struggles with faith as well as teaching them something new – "I learned a lot myself."
This testing of faith will nourish the faith of believers, keeping it from growing "stale" as well as allowing nonbelievers to learn about Christianity, he argued.
Reaching College Kids
Robertson predicted "God's Not Dead" would do well with college audiences. "I really think it's going to hit them well," he suggested. "They'll be encouraged and their faith will grow," despite many challenges they may face after high school.
"I've got kids that are right at that age of going to college and they're going to go through this," the "Duck Dynasty" star stated, noting that most college students struggle with their faith. He anticipated that this film will help his own children as well as other young believers as they begin to own their faith in God.
"At college, kids really have to learn their own faith," Robertson said. "I think this is a great tool to help them do that." He added that only after a young person struggles with faith and comes to their own conclusions about God does it become "most powerful."
God's Not Dead and Duck Dynasty
Robertson also shared the differences between working on a full-length feature film and putting on his reality TV show. "Duck Dynasty's a totally different show – it just follows our lives around," the star told CP. Filming for the TV show has made his family more comfortable on camera, it did not drastically alter his day-to-day life.
As for "God's Not Dead," the experience "wasn't something totally different, but it was a different way to film it and shoot it," Robertson said. He recalled learning a great deal about how movies are made – "movies are filmed in chunks and you don't exactly know what the other parts are." Nevertheless, the TV star praised the final product, saying "it inspired me," and declaring "I have a lot of respect for those guys who make movies."
While episodes of "Duck Dynasty" end in prayer, Robertson noted that "God's Not Dead" finishes up with a song from the Newsboys, which he praised as an excellent ending.
"God's Not Dead" premiers in theaters March 21.