Woman With Down Syndrome Says Twitter Blocked Pro-Life Posts Though It Allows Explicit Sexual Content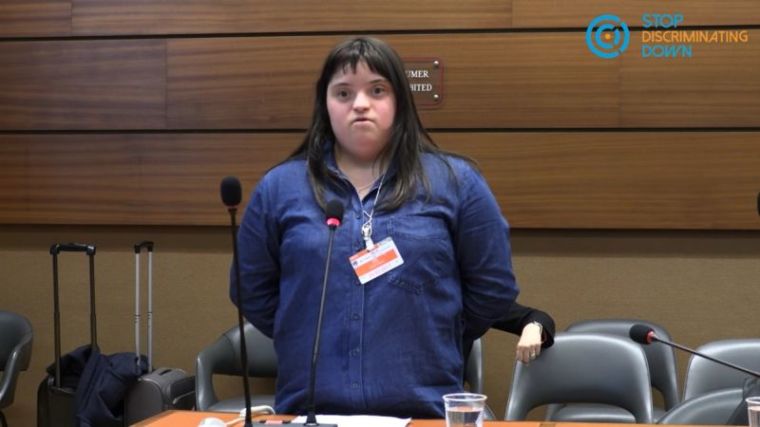 A U.K. pro-life activist with Down syndrome, who in the past has spoken before the U.N. against abortion, said that social media giant Twitter temporarily blocked her account for posting pro-life material.
"Hi Followers, After more than 24 hours I'm allowed back into my Twitter account. Funny how Twitter allows willy pics and boobs. Funny how Twitter allows paedophiles and other scum. Funny how Twitter doesn't like my Pro Life pics and blocks them," tweeted Charlotte "Charlie" Fien on Tuesday.
The 22-year-old girl from England, who has just under 3,000 followers on her Twitter handle, then linked to another one of her pro-life pictures, this time in support of saving the 8th Amendment, which prohibits most abortions in the Republic of Ireland, but is under threat of being repealed.
"We won't be quiet anymore...I won't ever stop fighting for our right to exist," Fien declares in the quote.
The pro-life activist spoke before the United Nations in March 2017, where she talked about the long history of poor treatment people with disabilities have been subjected to by nations.
"In the 1930s and 1940s, the Nazis decided to get rid of all disabled people. More than 200,000 disabled people were murdered, including many children with Down syndrome. Today the same thing is happening. A test that checks for Down syndrome is being used to kill all babies with Down syndrome," Fien said at the time.
"In Iceland, Denmark, and China, not a single baby with Down syndrome has been born for seven years. Seven years! The goal is to eradicate Down syndrome in the future. This makes me angry and very sad."
As Live Action has pointed out, while babies with Down syndrome are sometimes still born in China, due to stigma they are often neglected, left to die, or placed in orphanages.
Several countries have hit extremely high rates of abortion for unborn babies with Down syndrome. In Denmark, 95-98 percent of such babies are aborted while in Britain, 90 percent are.
"We just have an extra chromosome," Fien said earlier. "We are still human beings. We are human beings."
She pointed out that she still lives a full life and does not allow her condition to hold her back.
"Please do not try to kill us all off," the activist stressed. "Do not allow this test. If you do allow it, you are no better than the Nazis. ... I have a right to live, and so do other people like me."
Most recently in the United States, the Pennsylvania House voted in favor of a measure that seeks to ban abortion based on a diagnosis of Down syndrome.
House Speaker Mike Turzai said that the bill looks to tackle discrimination against preborn children with Down syndrome.
"How many of us could have been eliminated through abortion because ... some segment of the world doesn't think we're good enough? Who are these people to be so judgmental?" Turzai posed.