YouTube Briefly Terminated Christian Account With Over 5,600 Sermon Videos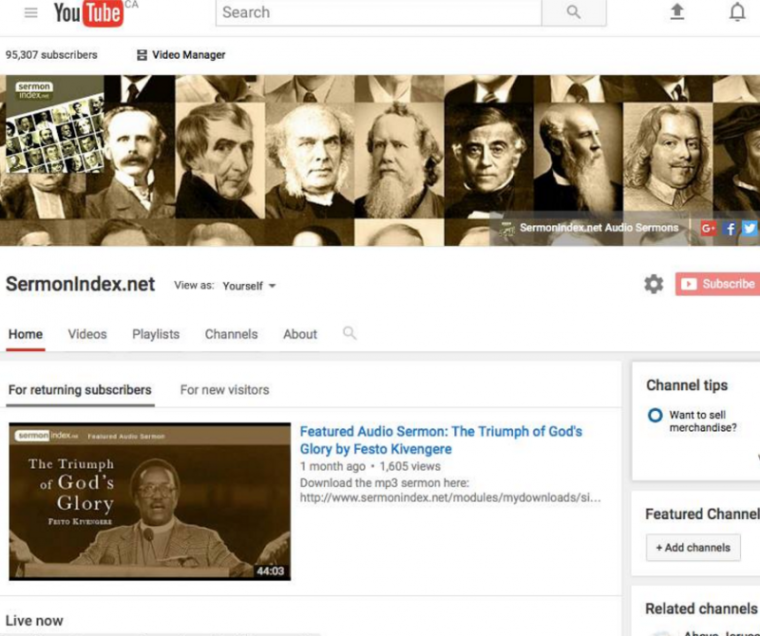 YouTube briefly terminated an account that has over 5,600 videos of sermons before reinstating it without giving the account holder a detailed explanation.
SermonIndex.net, a Canadian-based website that archives large numbers of Christian sermons, has posted thousands of videos of preachers to YouTube, accruing more than 95,000 subscribers.
However, earlier this week SermonIndex's YouTube account was officially terminated, purportedly because of extensive violations of the social media site's terms of service.
In comments emailed to The Christian Post on Wednesday morning, a representative of SermonIndex explained that they discovered the termination on Monday.
"On further investigation, submitting a form to YouTube the website founder of SermonIndex.net received the more vague reply of the reason why the account was deleted," wrote the representative.
"At this point he had to believe there is possible religious discrimination involved and this does not seem normal to have no email warning or exact reason why the account is deleted."
After news of the termination went around assorted websites, SermonIndex.net's overseers learned that the YouTube channel was restored days later.
"This still raises concerns for Christian ministries running YouTube, we had 1000's of people praying and advocating, emailing YouTube and calling," said SermonIndex in an email on Wednesday afternoon.
SermonIndex provided CP with a copy of the message that YouTube sent them regarding the restoration of their channel.
"We have re-reviewed your account and have concluded that it is not in violation of our Terms of Service. Therefore, we have unsuspended your account. This means your account is once again active and operational, and in good standing," read the message.
This is not the first time that YouTube has blocked or censored Christian content from its site. In February of last year, the website removed a short film on Christian persecution titled "Chased."
Last September, YouTube opted to block a trailer for the Pure Flix film "I'm Not Ashamed," though eventually the trailer was allowed back on the site.
"With the massive volume of videos on our platform, sometimes we make the wrong call on content that is flagged by our community," explained YouTube to Fox 411 regarding the trailer's removal.
"When this is brought to our attention, we review the content and take appropriate action, including restoring videos or channels that were mistakenly removed."