Nursing: Four Ways to Succeed as a New Employee by Developing Resiliency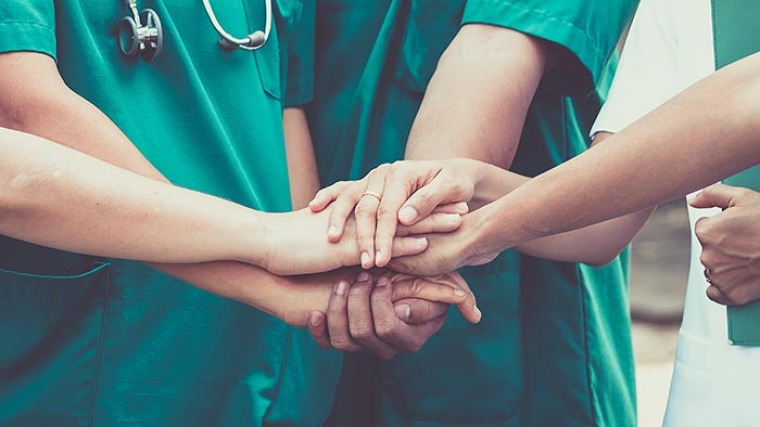 When it comes to enjoying a successful nursing career, the importance of developing resiliency cannot be underestimated.
While nursing is fulfilling and exciting, it's also fast-paced, competitive, and ever-changing. Because of this, nurses are experiencing burnout and exhaustion at a dramatic rate across the United States. A recent report found that nearly half a million registered nurses had left their profession nationwide, with about one-third of nurses surveyed reporting an emotional exhaustion score that qualified them as "high burnout."
Consequently, the U.S. is experiencing a growing shortage of Registered Nurses (RNs) that is only expected to worsen in coming years. According to the Bureau of Labor Statistics, 1.2 million vacancies will emerge for registered nurses between 2014 and 2022 — demand is dramatically outpacing the supply.
To succeed in the workplace and contribute to a thriving healthcare industry, it's important for nurses to develop mental, physical, and emotional safeguards against burnout. Resilience — defined as an individual's ability to bounce back from and grow and thrive during a challenge — is arguably one of the most important qualities a nurse can develop.
But how can nurses increase their resiliency? Here are four ways.
Be Adaptable to Change
Regardless of age, sex, or age, those who demonstrate resilience are attractive to employers because they are flexible and not flustered by change. In fact, in one survey, 91 percent of HR directors identified the ability of a candidate to deal with change as a major recruitment goal.
This is particularly true in the field of nursing, as the industry is continually evolving to adapt to the current needs of society. Due to constant changes in technology, patient care models, and job requirements, healthcare facilities need nurses who can think outside the box and are agile enough to work through challenges.
By learning how to be adaptable, you will become better equipped to manage change and respond efficiently when faced with a crisis. Instead of balking at workplace setbacks, a resilient nurse stays engaged and appropriately handles unforeseen circumstances.
Continually Engage in Learning
To develop resilience, strive to be a continual learner. By keeping your nursing skills relevant, whether through additional schooling or tackling new assignments, you will be prepared for any challenges you encounter working in a healthcare facility. Additionally, nurses with increased knowledge and training provide high-quality, compassionate care to their patients and help determine the best course of treatment.
Lifelong learning does not end with graduation from nursing school; rather, it means continually gaining new skills, knowledge, and practices to better yourself and your career. A recent study from the Pew Research Center found that 63% of those who are working identify as professional learners – meaning they have taken a course or gotten additional training in the past 12 months to improve their job skills or expertise connected to career advancement.
An impressive 65% say their learning in the past 12 months expanded their professional network; 47% say their extra training helped them advance within their current company, and 29% say it enabled them to find a new job with either their current employer or a new one.
Because nursing is one of the many professions that is changing rapidly, lifelong learning is essential. Extra training provides additional skills in leadership, critical thinking, and clinical technique that help you establish resilience and make you invaluable to employers.
Take Mental and Physical Breaks
Burnout, a term used to describe the consequences of severe stress and high ideals experienced by people working in "helping" professions, and job dissatisfaction can affect even the strongest nurse. A recent survey involving more than 3,000 private sector employees, including 93 nurses, found 7 in 10 respondents reported feeling burnout in their current roles. To avoid this common pitfall and remain strong, it's important to take the occasional restorative break, both mentally and physically.
During the workday, be intentional about taking breaks — even if it's just five minutes at a time. Getting physically away from stressful situations will help you recharge and regain mental clarity. Other times, you may need a longer break. Don't be afraid to use your accrued vacation time to truly relax and take time for yourself. Balancing work and personal life preserves energy and fosters greater stamina, resiliency, and focus.
Ensuring your mental well-being is important, as well. To be more efficient in the workplace, incorporate beneficial activities into your personal life such as exercise, reading, or other activities that help reduce stress. Strive to make sleep and adequate nutrition a priority. By living a healthier, more balanced life, you will have more energy to not only take care of yourself, but your patients, as well.
Demonstrate Compassion
Compassion is an important ethical foundation of nursing. But far too often, nurses fall short when it comes to self-compassion — failing to care for their own well-being physically, professionally, emotionally, and personally. This can lead to job fatigue, burnout, and a myriad of other problems.
Compassion — both for yourself and others — is essential to creating resilience in the workplace.
Research shows that compassion in the workplace fosters relationships, increases positive emotions, and contributes to cooperation and collaboration. One study found that the level of burnout in nursing staff is inversely related to their level of self-compassion. Another study emphasized the importance of nurses developing self-compassion to create a defense against the negative, stressful events occurring in the hospital setting. Self-compassionate nurses, then, contribute to excellence in the workplace, which can lead to higher levels of patient satisfaction.
When difficult situations arise, showing compassion to yourself and others allows you to move more smoothly through adversity, cope with workplace pressures, and establish a healthy environment.
The healthcare field attracts helpers — those defined by their compassion, empathy, and desire to serve others. And the most impactful, successful helpers are the ones who develop resilience, allowing them to consistently care for patients to the best of their ability.
>>>Request for Liberty University Online degree info now.
Liberty University, also referred to as Liberty, is a private, non-profit Christian research university in Lynchburg, Virginia. Liberty is one of the largest Christian universities in the world and the largest private non-profit university in the United States, measured by student enrollment.