Overachieving Undergraduate Programs: Demanding Courses, Faculty Mentorship Prepare Students for Graduate School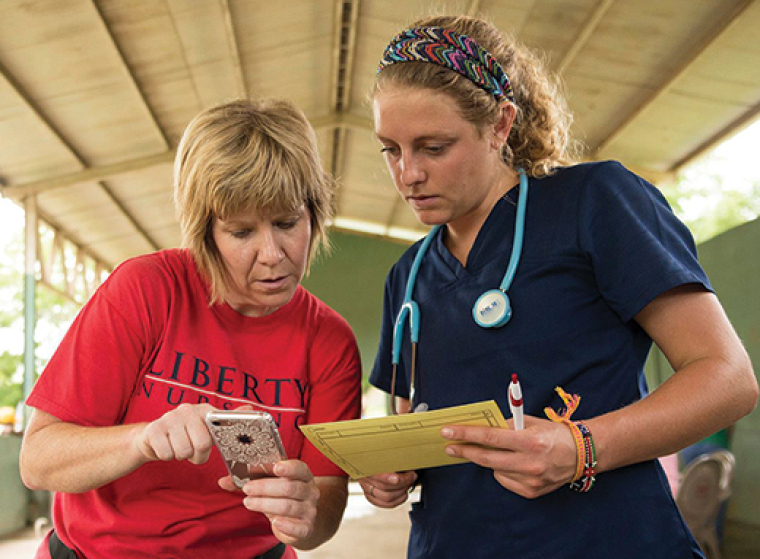 Liberty University's mission of Training Champions for Christ fuels a tenacious drive in its faculty to ignite a passion for wisdom in their students — a passion that not only empowers them to achieve their educational and career goals, but also encourages them to work toward a higher purpose: improving the world around them.
"One of the hallmarks of a university is a commitment to expanding the universe of knowledge. For us, that is not just about adding something additional to the information possessed by a human being," said Vice Provost Dr. Ronald Hawkins. "The expansion of knowledge is for the express purpose of playing a role in the extension of God's shalom (peace) in the world. … And to always be mindful to utilize various resources and knowledge to make things better."
This is evidenced by the unique educational culture found in Liberty's undergraduate programs, where faculty at all course levels, both residentially and online, are developing mentor relationships and increasing hands-on learning and research opportunities for students outside the classroom.
"We want students to be curious. We want them to learn the value of inquiry, to test assumptions, to learn methods of research, and to be mentored by faculty," said Hawkins. "There is such amazing design and complexity to God's creation, and we want them to celebrate that."
For this reason, Liberty's undergraduate programs are exceeding expectations, preparing students for graduate education sooner than most. Year after year, Liberty's biology and chemistry programs demonstrate this dynamic as undergraduate students present research at the Virginia Academy of Science Annual Meeting alongside graduate students (from Liberty as well as other institutions). Their projects regularly take home awards, beating out graduate-level work.
Biomedical sciences is one of Liberty's top undergraduate majors. Recent pre-med graduates have finished above the 90th percentile on the Medical College Admission Test (MCAT), with one student finishing in the 99.9th percentile.
Last summer, three undergraduate students in the Department of Biology & Chemistry helped conduct research that could prove the power of a popular super fruit, the acai berry, in battling multiple health problems. The ongoing research project is being funded by the National Institutes of Health (NIH) and led by Dr. Greg Raner. Using high-tech equipment and labs in Liberty's Center for Natural Sciences, students are developing ways to measure activities that occur at the cellular level by breaking the berry down into different chemical compounds and then inserting them into human liver cells being grown in the university's culture facility.
"The students are actually the hands in the lab," Raner said. "It is their opportunity to experience firsthand the trials and successes of being a part of original laboratory research, working side-by-side with faculty. The students themselves provide direction and guidance throughout the process."
He added that the investment in undergraduate research at Liberty is a "huge blessing to students because it shows them a side of science they are never going to see in the classroom."
According to senior Noelle Addair, who worked on the project, "It's a really unique experience, being able to use thousands of dollars of equipment as an undergrad student, because that's not something a lot of other universities offer."
Caroline Roberts, a biomedical sciences graduate, was involved in an ongoing study on the genetic effects of folate on mice. She received a Provost's Award for Research Excellence, which funds domestic and international research programs for students at the undergraduate and graduate levels, for her work.
"This study has given me an advantage as I apply to medical schools, many of which highly regard prior research experience," she said. "Liberty's biomedical sciences program prepared me to stand out both as a medical school applicant and, hopefully, as a future physician."
While Roberts expected to be challenged intellectually in college, she did not realize how much of an impact the university would have on her character, as well. "I feel blessed because I have been dared to grow in so much more than head knowledge," Roberts said. "Most importantly, my experience at Liberty has reinforced my desire to love God and people. This mindset will help me to practice medicine with compassion."
Undergraduates like Roberts who plan to further advance their education are finding that they can already stand shoulder-to-shoulder with graduate students.
In the Helms School of Government, the Law & Policy: Pre-Law degree, launched last fall, is preparing students for their first — and most important — year of law school in unprecedented ways. Available both residentially and online, the pre-law program takes a unique and focused approach to law school preparation, exposing undergraduates to nuanced analytical skills and fundamental legal ideas from the start. Far from a traditional legal studies program, it requires core courses  in legal reasoning and in the specific areas of the law, such as torts, contracts, civil procedure, and property — courses that serve as the foundation for law school and, eventually,
the bar exam. The pre-law faculty is comprised of accomplished attorneys and, through an innovative partnership with Liberty University School of Law, three of the core courses are taught by Liberty Law professors.
"I don't think there's anything like it," said Shawn Akers, vice provost and former dean of the Helms School of Government. "Liberty has had a long history of success with its pre-law program, but now we've taken it to an entirely new level. This program is strategically designed to deeply immerse students in the skills and knowledge they will need as they prepare for the LSAT (Law School Admission Test) and the all-important first year of law school. Our close partnership with Liberty's outstanding law school makes it easier than ever for serious students to succeed in life, law school, and legal practice. From the first day of college to graduation from law school, Liberty is a great place to study law."
Keith Faulkner, dean of Liberty Law, said the pre-law program is highly effective. "The talented faculty and staff have done an amazing job in preparing Liberty students for law school. I can affirm that some of our strongest and most academically gifted law students studied at the Helms School of Government, and they are making an impact in law school classes, in externships and internships, and in practice. The sophisticated undergraduate curriculum provides a solid foundation for these young people to excel in the study of law at Liberty or at any other school."
The rigor of Liberty's undergraduate programs is also attracting new students to the Honors Program, which continues to add more National Merit students and finalists each year. Doug Stephens IV entered Liberty as a National Merit Scholar in 2012 and continued to shine academically throughout his undergraduate studies in English. He was part of a three-time Big South Quiz Bowl Championship-winning team and competed in two national championship tournaments, in addition to being an honors student, a member of the Sigma Tau Delta English Honor Society, and a student consultant for Liberty's Quality Enhancement Plan Committee, which plays a key role in Liberty's regional accreditation.
"My honors courses were, without exception, challenging in new and often unexpected ways and forced me to expand my skill set in response," Stephens said. "Furthermore, the experience of writing a senior honors thesis concluded my time at LU with a deeply researched and argued sample of scholarship that I was able to add to my (cover letter) — a true feather in my cap as I moved into graduate school."
Stephens went on to earn an M.A. in English at James Madison University, and started his juris doctor at Harvard Law School (HLS) in 2017. "The fact that I have been admitted to the Class of 2020 at HLS is testimony that I am as well prepared for the rigors of this program as any other student here," he said. "It is irrefutable proof that a degree from Liberty allows students to perform at the highest levels with excellence."
>>>Request for Liberty University Online degree info now.
Liberty University, also referred to as Liberty, is a private, non-profit Christian research university in Lynchburg, Virginia. Liberty is one of the largest Christian universities in the world and the largest private non-profit university in the United States, measured by student enrollment.