Setting the Tone: Liberty University Alumni TobyMac Impacts the Music Industry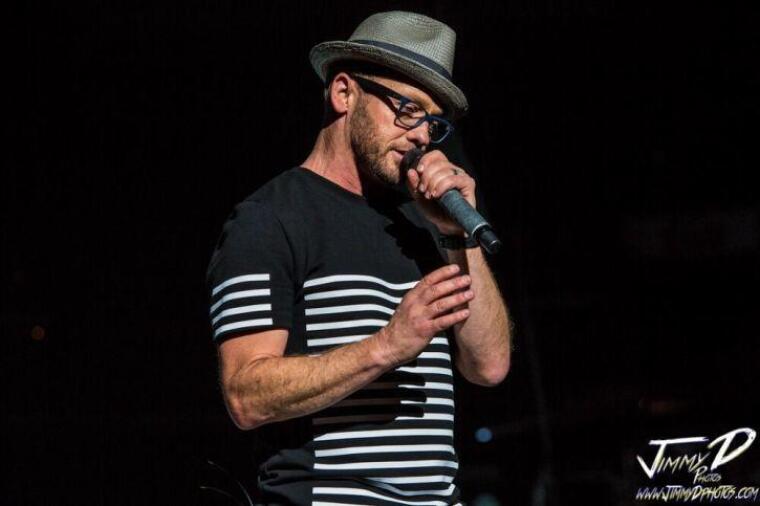 Hip-hop megastar Toby McKeehan ('88), better known as TobyMac, was at the center of the action during College For A Weekend in April. The Grammy Award winner is easily one of the most prolific Christian recording artists.
And it all started at Liberty.
Together with classmates Michael Tait and Kevin Max, McKeehan formed the groundbreaking group dc Talk, which transformed contemporary Christian music in the 1990s. Tait is currently frontman for the Newsboys, and Max recently led a reincarnation of Audio Adrenaline.
Two more alumni who have achieved success as musicians returned to their alma mater for Convocations last semester: gospel singer and former Gaither Vocal Band member Guy Penrod and gospel artist Robbie Hiner, who helped found the Old Time Gospel Hour Quartet and eventually moved into producing.
Another Gaither Band and Liberty alumnus, Mark Lowry, penned one of the most popular modern Christmas songs, "Mary, Did You Know?"
But these successful alumni are far from the only ones who are making a mark in the music industry today.
Liberty's footprints are everywhere in Music City and beyond. Alumni work as managers, songwriters, studio instrumentalists, and touring band members.
Keith Everette Smith, a producer, songwriter, and instrumentalist, has won a number of Dove and Grammy Awards and is also a member of TobyMac's Diverse City Band. He's worked with other artists, too, including Jack White, the Jonas Brothers, Plumb, Dave Barnes, MercyMe, Marc Broussard, and Amy Grant.
Recording artist Kyle Kupecky has performed across the U.S., opening for acts like MercyMe and Steven Curtis Chapman.
Alex McVey is a drummer for the Irish worship band We Are Messengers;  musician Caleb Blair tours with Sidewalk Prophets; Nashville-based drummer Elizabeth Chan has worked with Carrie Underwood, Lauren Daigle, Keith Urban, and Lady Antebellum, and she has performed live with Amy Grant for a CMA Country Christmas Special.
Some have made a career out of life on the road, like 2011 LU graduates Whitney Walker, Mary Pat Smissen, and Nick Williamson, who travel full time as the worship group Water Within.
But just as importantly, graduates are serving as music leaders or instrumentalists at churches across the country, such as recording artist Meredith Andrews of the Chicago-based Vertical Worship. (Several members of Vertical Worship are LU graduates.)
Whether working behind the scenes or poised to break out as artists, Liberty Flames are burning bright.
"Pretty much anyone I have played with has had some Liberty connection," said Jesse Phillips, who studied worship and music at Liberty before earning a master's in leadership and management. Phillips works as a guitarist and bassist, laying down tracks in studios and touring. He has performed with Chris McClarney of Jesus Culture and Passion's Christy Nockels, among other independent artists.
"I played with a pop artist recently, and his guitarist was asking the drummer and me about where we went to school. Both of us said, 'Liberty,' and he said, 'I just got off a gig with another Liberty person. … You guys are taking over Nashville.'"
Liberty's School of Music is the nation's seventh largest and houses some of the most popular and fastest-growing degree programs on campus, with over 1,450 undergraduate and graduate students enrolled. Residentially, Liberty offers 12 unique Bachelor of Music (B.M.) degrees, including a B.M. in Music in World Cultures and a B.M. in Commercial Music, with a number of specializations.
The school also offers multiple Bachelor of Science programs. Graduate degree programs include an online Doctor of Worship Studies, as well as four residential and five online Master of Arts programs, such as ethnomusicology, music and worship, and music education.
*Article originally published in the 2018 Summer edition of the Liberty Journal.
>>>Request for Liberty University Online degree info now.
Liberty University, also referred to as Liberty, is a private, non-profit Christian research university in Lynchburg, Virginia. Liberty is one of the largest Christian universities in the world and the largest private non-profit university in the United States, measured by student enrollment.