Chrissy Teigen Tells John Legend: Marry Me in 2013 or 'I'm Out'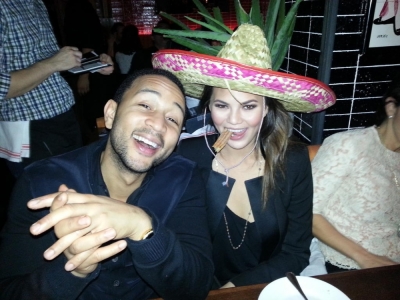 Chrissy Teigen has reportedly given her fiance John Legend an ultimatum of marriage before the end of the year, otherwise she will leave him.
The 29-year-old food blogger, who has been dating the Grammy Award-winning singer for six years, accepted his proposal during a romantic vacation in the Maldives in 2011. Teigen, who is seemingly anxious to become his wife, admitted that she is growing impatient with Legend, 34.
"We keep pushing the date. Definitely this year, but this year just started," Teigen told the New York Daily News adding that "If it's not this year, I'm out."
Teigen, who will allegedly be featured in the upcoming Cooking Channel special "Chrissy Teigen's Hungry," admitted that she is growing tired of the wedding questions. The former model admitted that they got engaged to relieve some of the pressure from friends and family who insisted that they commit.
"We were sick of people saying, 'When are you getting engaged?' — so we did and now everyone's asking when we're getting married," she said.
Despite her not yet having a wedding date set, Teigen has already selected not one but four potential wedding gowns.
"I have four wedding dresses at this point and no location," Teigen told recently New York magazine at the launch party for Sports Illustrated 's swimsuit edition.
"I was engaged on this carpet last year. We've been together for almost seven years. We were going to get married in Tennessee at a beautiful farm, but we overhauled it. I can't ever make up my mind," she explained.
Teigen, who is notorious for engaging in celebrity feuds, was reportedly left shaken in 2012 when she began receiving death threats on Twitter for criticizing singer Chris Brown.
Brown, 23, chose not to sing live during his Billboard Music Awards performance and Teigen began ridiculing the Grammy award-winning winger on Twitter.
Other celebrities who have been attacked by Teigen include singer Avril Lavigne and actor Jay Mohr.