Donald Trump Slams Beyonce: 'Suggestive' Super Bowl Performance 'Not Appropriate'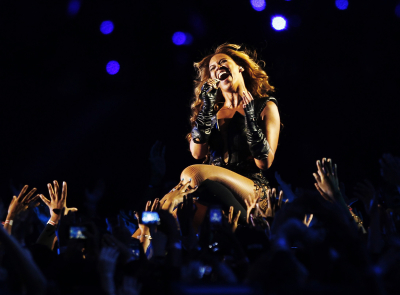 Donald Trump recently lashed out at singer Beyonce over her Feb. 3 Super Bowl halftime show performance.
The feisty real estate tycoon criticized the singer's "suggestive" dance routine arguing that it was inappropriate for a national audience during an appearance on the "Howard Stern Show."
"When Beyonce was thrusting her hips forward in a very suggestive manner, if someone else would have done that it would have been a national scandal!" Trump said according to Mail Online.
Beyonce, 31, took to the stage in a skimpy black leather costume designed by American designer Rubin Singer. The outfit resembled a one piece bathing suit and Trump believes that she looked "ridiculous."
"I thought it was ridiculous ... I thought it was not appropriate," he continued. "There's been no mention of it...So obviously, it must not have been so bad. She gets a pass."
Trump, 66, is notorious for bad mouthing celebrities and previous targets include actress Kristen Stewart and comedian Rosie O'Donnell.
Stewart, 22, infamously cheated on her boyfriend of three years Robert Pattinson with a married father in 2012, but by the year's end, the "Twilight" star appeared to forgive her as they managed to salvage their relationship. Trump openly advised Pattinson, 26, that taking Stewart back after she admittedly cheated was a big mistake.
"Robert Pattinson should not take back Kristen Stewart. She cheated on him like a dog & will do it again--just watch. He can do much better!" Trump tweeted on Oct. 18.
In the past Trump has used words like "disgusting," "slob" and "truck driver" to describe O'Donnell – who is his long time enemy.
The pair began their public feud in 2006 when O'Donnell accused Trump of using controversial Miss USA Tara Conner's public scandal to generate publicity for the national beauty pageant, which he owns. This prompted a series of nasty responses from the entrepreneur.
The mogul's back-and-forth is not limited to Hollywood stars. Trump has attacked politicians like President Barack Obama. The billionaire blasted Obama's 2012 election victory as a "sham."
"We can't let this happen. We should march on Washington and stop this travesty," Trump tweeted after Obama's defeat over former Republican nominee Mitt Romney. "The world is laughing at us. This election is a total sham and a travesty!"