Fergie Expecting Baby Boy, Changes Last Name Ahead of Birth (VIDEO)
Fergie Expecting Baby Boy, Changes Last Name Ahead of Birth (VIDEO)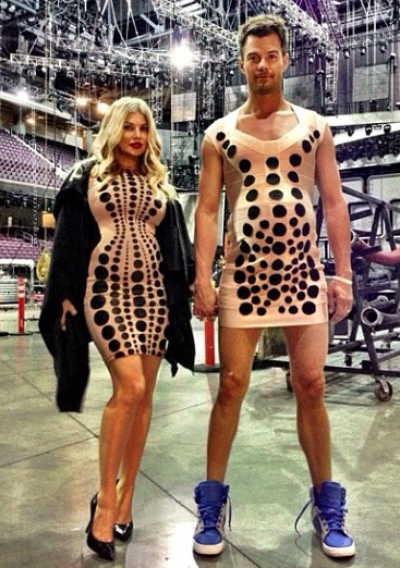 Pop singer Fergie is reportedly expecting a baby boy with her husband Josh Duhamel, the actor recently confirmed.
During an appearance on the "Live! With Kelly and Michael" show Duhamel, 40, shared the news after co-host Kelly Rippa held up two different colored onesies and asked him to choose "pink or blue?"
The actor paused, which drew audience applause, and he eventually confirmed "it's a boy!" according to HollywoodLife.com.
Fergie, 38, is reportedly due to give birth to her first child towards the end of the summer. The Black Eyed Peas singer, whose real name is Stacy Ann Ferguson, expressed her excitement during an interview with "Good Morning America."
"We're thrilled! I know that my husband told everybody what I said. My quote when we found out [was] "This s--- just got real," Fergie joked to ABC's Lara Spencer.
"But it's true, when that moment occurs to you, there's going to be a human being growing inside of you … it's reality," she continued. "It's amazing, we're thrilled."
The singer confirmed the news in March and she shared her experience with combating morning sickness. Reports claim she used acupuncture, Chinese herbs and water to overcome nausea.
"I'm feeling great, I had a little bit [of morning sickness] in the beginning," she said. "But very little."
The "Fergalicious" singer admitted that while she and Duhamel are eager to become parents, she is not fully prepared.
"I have no idea what I'm doing!" Fergie revealed. "I'm just going to play it by ear and see how things go, and let the natural instincts kick in."
In 2009 Fergie, who met Duhamel in 2009, married the actor after five years of dating. On Monday it was revealed that the singer had filed to legally change her name to Fergie Duhamel, according to TMZ.com.
The website claims Fergie is changing her name to "conform to the first name which she is commonly and professionally known as, and has been for many years."
EXCLUSIVE: Fergie and Josh Duhamel -- Baby Boy or Girl?